When I first heard about ChatGPT, I was a little scared — "artificial intelligence" is quite the controversial topic these days.
And when the editor of the ADHD blog suggested we use ChatGPT as a creativity aid to help us create rough outlines, I started digging into ChatGPT and found some troubling information.
This was at the beginning of the hype surrounding the tool when some of its limitations weren't as well known as they are now. But as a freelance writer making an income by writing articles that AI-powered search engines could reference, I feared I might soon be out of a job.
But then I actually tried the tool myself.
I used it to create text outlines, do preliminary research (that I would then verify,) and answer simple questions. I soon realized my little AI helper allowed me to stay focused on my tasks. Now, I look at ChatGPT quite differently, and I'm here to help other ADHD brains learn how to use AI effectively.
Too long; didn't read
Artificial intelligence (AI) could transform the lives of ADHDers through various applications, including intelligent time and task management tools, text-to-speech AI, and behavioral tracking.
AI can speed up the ADHD diagnosis process by assisting in evaluating large numbers of questionnaires, brain scans, and other diagnostic data.
Limitations and concerns of AI in ADHD diagnosis and treatment include overreliance on technology, the complexity of ADHD symptoms, and privacy concerns with regard to medical data storage.
How can AI help people with ADHD?
The possibilities of using artificial intelligence as an ADHD management tool are seemingly endless. But naturally, there are some concerns surrounding the broad integration of AI into everyday life.
Tools to try for common ADHD struggles
Grammarly can help anyone clean up their writing, but it's particularly helpful for those of us prone to "careless mistakes."
ChatGPT is a great starting point for research and makes it easier to stay focused on your task (no more getting lost in research rabbit holes of countless open tabs).
Goblin Tools: task manager, time estimator, "neurotypical translator"
One major issue with getting things done is task avoidance, often caused by not knowing where to start. The standard advice is to break down tasks into smaller chunks, but sometimes we can get stuck on that step, too. That's where the Magic ToDo by goblin.tools comes in handy: It breaks down any task into several smaller steps - how many depends on your choice of "spiciness level".
"Breaking things down so you don't" (quote from website)
There are several other helpful tools in the collection:
Formalizer: Changes the tone of your writing (informal, formal, more friendly— "waffle," more to the point—"unwaffle")
Judge: Can help you understand how a message comes across.
Estimator: Estimates how long a task might take.
Compiler: Turns chaotic brain dumps into a task list.
Chef: Makes suggestions on dishes you can make with the ingredients you have on hand.
Written by fellow neurodivergent Bram De Buyser, it is available for free (and ad-free), to help other neurodivergent people with things we may find overwhelming.
Scheduling and time management tools
For appointments, assignments, deadlines, and medication schedules, an AI-powered organizer can help immensely, both in the realm of keeping track of your commitments and also when it comes to avoiding burnout.
Scheduling apps like Reclaim.ai rely on AI to help you schedule in time for tasks, defend your me-time, and automatically add buffer time after meetings or travel time for any appointments with a physical address in their calendar entry.
Time blindness is a genuine hazard. The tools Toggl and Rescue Time can help with tracking what you spend your time on.
Alternative ways of reading
Many people with ADHD struggle with reading longer passages of text. For some, concentrating on the spoken word is easier; others may find it helpful to alter the appearance of the text.
Text-to-speech: NaturalReader has a bunch of different voices, languages, and accents to choose from, and their basic voices are free to use for anyone.
Bionic reading: If you have difficulty listening to text, Bionic Reading can help increase your reading speed and understanding. With apps and browser extensions, it lets you customize how text is presented to make it easier for your eyes to follow along without losing focus.
Spending control tools
Impulse spending or keeping track of due dates can be tricky. Rocket Money uses AI to help with budgeting, managing subscriptions, and regulating spending.
Tools to help you finally keep track of your keys
Some apps automatically remember where you parked your car, a dream for many an ADHDer. Tile Tracker is a device you can attach to your keys and actually find them for once.
Behavioral tracking tools
AI is naturally good at recognizing and predicting patterns, which is basically all that ChatGPT does: predict the most likely word following another by sorting through billions of possible word combinations. It's not sentient; it's just predictive text on steroids.
An AI tracking your behaviors would do precisely that: It would predict behavior, and, based on your rating of a particular pattern, it would recommend the most likely successful routine. For example, by tracking your sleep-wake cycle and behaviors that affect your sleep, AI could help determine your chronotype and make suggestions to improve your bedtime routine, so you can get the sleep you need.
AI in education
There's been a loud outcry from educators against using ChatGPT in schools. At the same time, other adamant voices insist that learning how to use it best needs to be incorporated into the education system.
Should students be allowed to use large language models like ChatGPT to write papers or do research? Is AI a danger to the education of children or a benefit? While this may be a more significant issue later down the line when ChatGPT is more refined, in its current state, it is not a solidly reliable source and makes factual errors fairly frequently.
One undeniable fact is that schools and universities simply won't be able to stop students from using it. The proverbial cat is out of the bag. The New York Times, Time Magazine, and The GW Hatchet make many convincing arguments about why it should be incorporated into lessons. Still, they missed an important one: AI tools like ChatGPT have the potential to help disabled people disproportionately more. 1
AI as assistive technology
Think of it as a calculator for people with dyscalculia, a dictaphone for people with dysgraphia, or a reader for dyslexic people. Everybody can use these tools, and they help everybody, but who do they have the potential to help the most?
Neurodivergent and disabled folks.
Denying the responsible use of these tools without considering how many people could stand to benefit from them shows the inherent ableism within our society.
ChatGPT and co. for people with learning disabilities
Text-to-Speech and vice versa: Speechify uses AI to make texts more accessible to people who struggle with reading or concentrating on written text. Text is converted into spoken words, and spoken words are converted into text.
Alternative teaching: Every teacher has their own way of explaining things, and not everybody always understands. As a student with concentration issues, I would have loved a tool that could rephrase a concept from a lesson.
Enhancing communication: Social anxiety can be crushing, and writing an email sometimes takes a whole day (at least for me). ChatGPT helps me speed up the ordeal and get it over with.
Personal Reminders: ChatGPT can be programmed to give personalized reminders at certain times.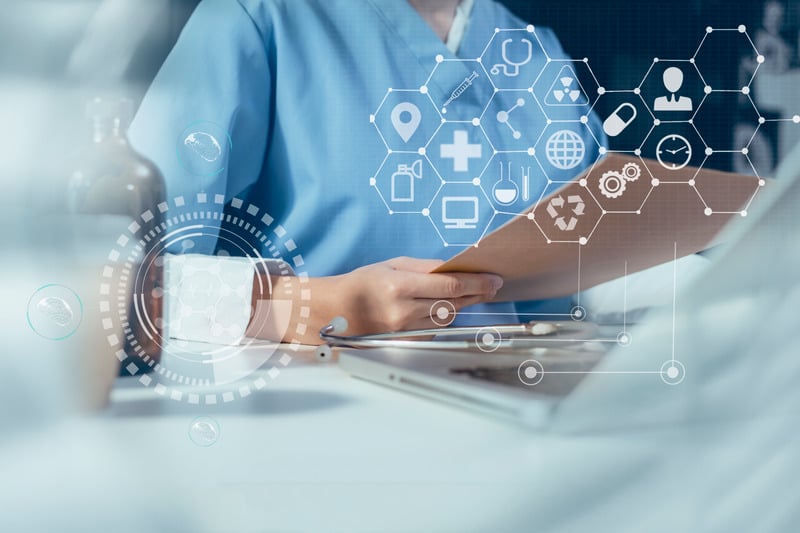 Potential for AI-assisted ADHD diagnosis
This technology is not yet available but could soon be part of daily clinical practice. AI is already being tested in a clinical environment to see how it can help streamline the ADHD diagnosis process.2 This could greatly enhance the accessibility to diagnosis and treatment for countless ADHDers currently on month- or even year-long waiting lists.
AI-assisted evaluation of ADHD questionnaires
Artificial intelligence could be employed in the ADHD diagnosing process to evaluate score-based questionnaires.
Of course, if answering a few questions and receiving a score was all there was to the process, you wouldn't need a medical professional to diagnose ADHD at all. But to diagnose the vast spectrum of ADHD presentations out there, more nuance is needed than just counting ticks on a questionnaire.
British researchers have developed a "hybrid approach for supporting the clinical diagnosis of ADHD in adults" by using two AI models. 2
Hybrid approach: training AI to diagnose ADHD
The first is a machine-learning model that evaluates assessment data from several ADHD rating scales, both self-reported and observed, as well as a diagnostic interview and - in some cases - additional risk assessment data. This AI model produces "yes" and "no" results.
The second one, a knowledge model, is trained on the empirical knowledge of experienced healthcare providers to spot more nuances and account for symptoms that can overlap with other mental health conditions and disorders. It produces the potential answers "yes," "no," and "expert."
This hybrid approach is more robust than a single model, as it only produces clear "yes" or "no" results if both agree. Any disagreements between the two models result in a referral to a medical expert.
It's important to note that this is meant to speed up the diagnosis process and assist healthcare professionals, not replace them.
The ongoing trial is supposed to determine the algorithm's accuracy, how to integrate AI into clinical practice, and establish the economic value of this approach. Researchers mention that it's crucial to determine the percentage of cases that can be handled automatically vs. those that require consultation with an expert.
Another suggestion is to refer clear-cut cases to a junior physician to verify the AI recommendation and have senior physicians deal with the complicated cases (the "expert" AI results).
In other words: If both AI models result in a clear recommendation for an ADHD diagnosis, a less experienced doctor can check and confirm the diagnosis. Only difficult cases where it's not as clear-cut would need a more experienced doctor to weigh in. The accuracy is around 95%, which is outstanding for assisting diagnosis, not making autonomous decisions. The technology is currently undergoing trials in the NHS, the UK's healthcare system.
Brain scan evaluation by AI
AI may also be used to detect ADHD by evaluating brain scans. The ADHD brain has distinct characteristics that differentiate it from a neurotypical brain, such as connectivity and activation patterns of brain regions utilized during decision-making, which can be used as biomarkers.
Feeding these biomarkers into an AI trained in spotting subtle differences between these patterns could assist in identifying the different subtypes of ADHD. 3,4,5
Several other approaches use AI to evaluate brain scans or other data, e.g., electroencephalograms (EEG), electrocardiograms (ECG), or game simulators, to identify ADHD. So far, they've yet to be used in clinical practice. 6,7
Final thoughts
In contrast to Matrix-like fears of humankind's oppression by machines, AI isn't currently advanced enough to make a big difference in diagnosing or treating ADHD.
The ongoing research is promising, though. We might see AI being used more widely in the near future, but most likely (or hopefully) never, as a fully autonomous ADHD diagnosis solution, but rather as an assistive tool for clinicians.
In terms of ADHD treatment, an AI-aided approach could benefit many as long as it's paired with data protection and privacy.
‍
-
Sources
1 International Journal of Information and Education Technology | Impact of Artificial Intelligence in Special Need Education to Promote Inclusive Pedagogy (2020)
2 Health Inf Sci Syst | A hybrid AI approach for supporting clinical diagnosis of attention deficit hyperactivity disorder (ADHD) in adults (2021)
3 Frontiers in Physiology | Linking ADHD and Behavioral Assessment Through Identification of Shared Diagnostic Task-Based Functional Connections (2020)
4 Biomedical Signal Processing and Control | ADHD classification combining biomarker detection with attention auto-encoding neural network (2023)
5 Artificial Intelligence in Medicine | ADHD classification using auto-encoding neural network and binary hypothesis testing (2022)
6 Biomedical Signal Processing and Control | Computer aided diagnosis system using deep convolutional neural networks for ADHD subtypes (2021)
7 Computers in Biology and Medicine | Automated detection of ADHD: Current trends and future perspective (2022)