On February 24, 2023, Takeda Pharmaceuticals will lose its patent for the prodrug lisdexamfetamine dimesylate, a compound more commonly known as Vyvanse in the USA and Elvanse in Europe. However, despite an impending patent expiration later this month, a pediatric exclusivity period will extend Takeda's market exclusivity through August 24, 2023. Only then will the FDA consider approving generic formulations from competing manufacturers.
Confused?
Me too—until I took a deep dive into FDA patent records, spent hours researching terminology, and watched long, dry YouTube videos of FDA expert panels. Now I feel confident enough with my understanding of the Vyvanse patent expiration to share with the ADHD community, with the hopes that you'll be a little less confused by the end of the article.
Love learning about ADHD? The Inflow app is packed with ADHD learning modules on topics like impulsivity and improving memory. Gain a deeper understanding of ADHD with fascinating brain hacks and personalized ADHD management techniques. There's so much to discover on the Inflow app. Take our ADHD quiz to get started.
In a hurry? Here are the highlights:
Vyvanse is used to treat attention-deficit/hyperactivity disorder (ADHD) in children and adults, and binge-eating disorder in adults.
The Vyvanse patent application was originally filed as "NRP104" in 2005 by Shire plc and collaborative partner, New River Pharmaceuticals. Takeda Pharmaceuticals acquired Shire in 2019.
The FDA approved Vyvanse for treating ADHD in children on February 26, 2007. It was approved for adults in 2008, adolescents in 2010, and deemed "safe" for long-term treatment in ADHD adults in 2012.
Technically, the Vyvanse patent expires on February 24, 2023. However, the pediatric exclusivity extended Takeda Pharmaceuticals' market exclusivity until August 2023.
Takeda Pharmaceuticals currently has a legal monopoly on the production and distribution of Vyvanse, but this will end in August.
What is a drug patent?
A drug patent is a legal right granted by the US Patent and Trademark Office to the inventor or holder of a drug, allowing them complete control over the drug's formulation, branding, and production details. The length of the patent can vary, but the typical length is 20 years from the filing date. (This is obviously not the case for Vyvanse.)
What will happen when the Vyvanse patent expires?
The expiration of the Vyvanse patent means that Takeda's legal monopoly over Vyvanse will end. At that point, other companies would be allowed to start selling generic versions of the drug, but only if there aren't additional exclusivities added.
⚠️ Spoiler alert: there's an added exclusivity on the Vyvanse patent.
What does "exclusivity" mean?
Granted only by the FDA, exclusivity (also "market exclusivity") refers to a drug manufacturer's legal right to be the only company allowed to produce, sell, and market a drug for a certain period. This usually ranges between 180 days and seven years. In other words, it "extends" the length of the patent.
There are different types of exclusivities that exist for drug patents, but the relevant one in the case of the Vyvanse patent is the pediatric exclusivity period.
What is pediatric exclusivity?
When a pediatric exclusivity period is approved, the FDA grants the original drug manufacturer an additional six months of market exclusivity. During those six months, the FDA will not approve any generic versions.
Takeda pharmaceuticals to profit from pediatric exclusivity?
Technically, pediatric exclusivity is supposed to be used to confirm safe and effective drugs for children through clinical trials. However, pharmaceutical companies often pursue pediatric exclusivity to extend the life of their monopoly and gain additional profits before generic versions are made. This is sometimes referred to as "patent fencing."
The latter is likely the case with Takeda, as they've had more than 16 years to conduct pediatric studies for Vyvanse. In other words, Takeda is likely using the pediatric exclusivity period as a strategy to increase their profits. But, unfortunately, this means they're also delaying accessibility to anyone who cannot afford their expensive branded formula.
A 2007 study investigated the use of patent-fencing strategies and discovered that children very rarely use the drugs that are granted pediatric exclusivity. A quote from the literature is provided below.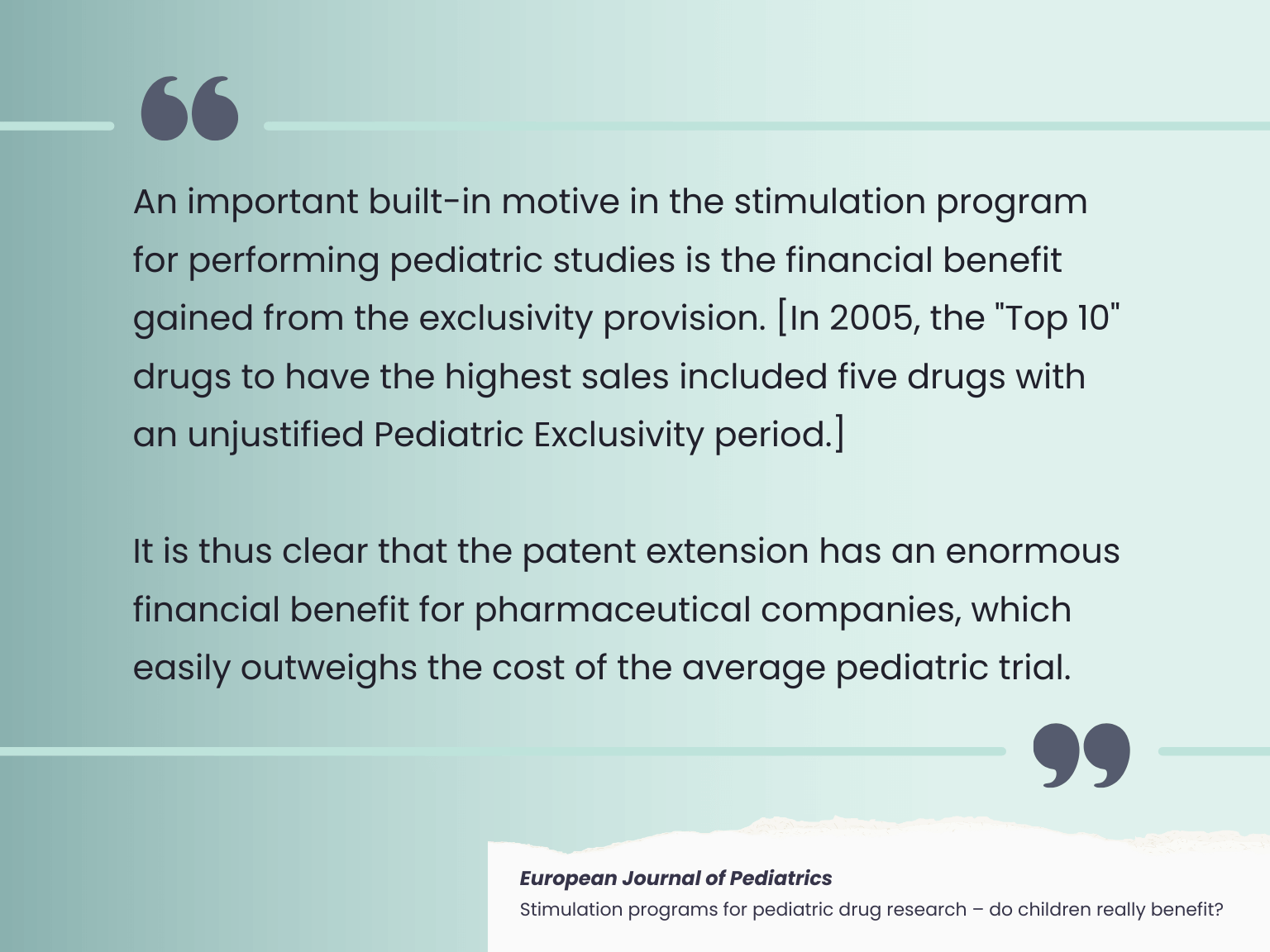 The history of Vyvanse
2005
January 31, 2005 - Shire plc and New River Pharmaceuticals (NRP) sign an agreement to collaborate on the development of NRP104 (lisdexamfetamine dimesylate; Vyvanse)
December 7, 2005 - Shire plc announces NRP's patent filing for NRP104
2006
January 27, 2006: Vyvanse patent accepted for review
October 6, 2006 - Revisions to patent application requested by the FDA (this is called an "approvable letter")
October 24, 2006 - NRP submits revisions to the FDA
December 21, 2006 - FDA sends a second approvable letter
2007
February 20, 2007 - Shire plc acquires New River Pharmaceuticals and will gain 100% of the profit once Vyvanse is approved for retail
February 26, 2007 - FDA approves Vyvanse capsules to treat ADHD in children (ages 6-12)
2008
January 3, 2008 - Additional doses are approved for production
April 23, 2008 - Approved for use in adults with ADHD
2010
November 15, 2010 - Approved for use in adolescents (ages 13-17) with ADHD
2012
February 7, 2012 - Approved for long-term ADHD treatment for adults
2015
January 30, 2015 - Approved for the treatment of binge-eating disorder
2019
January 8, 2019 - Takeda Pharmaceuticals acquires Shire
2023
February 24, 2023 - Vyvanse patent expires
August 24, 2023 - Pediatric exclusivity period ends, opening up the market for generics
What does all of this mean for people taking Vyvanse?
The patent expiration for Vyvanse will improve accessibility and affordability for ADHD patients looking for treatment options because Takeda Pharmaceuticals will no longer have a monopoly over lisdexamfetamine dimesylate.
We hope to hear more news of generic versions pending FDA approval in the coming months. Once the pediatric exclusivity period ends in August 2023, ADHD treatment will be within reach for more people who need it.
What should I do while I wait for generic Vyvanse to hit the market?
If Vyvanse isn't an affordable option for you at the moment, here are a few options to consider while waiting for generic versions to become available at your pharmacy:
Discuss alternative medication options with your doctor, such as stimulants like Adderall, Ritalin, Concerta, and Focalin, or nonstimulant options like Strattera or Wellbutrin. (⚠️ Heads up! There's an Adderall shortage right now that might affect availability in your area.)
Contact your insurance provider to ask them about how new generic versions of Vyvanse may impact your prescription coverage.
Explore medication-free methods to manage your ADHD, such as neurofeedback therapy, cognitive behavioral therapy (CBT), or science-based learning apps with community features, like Inflow.
Use this Vyvanse coupon to get a discount on your co-pay for prescriptions.
‍
-
Sources
- European Journal of Pediatrics | Stimulation programs for pediatric drug research – do children really benefit?
- Food and Drug Administration | Qualifying for Pediatric Exclusivity Under Section 505A of the Federal Food, Drug, and Cosmetic Act: Frequently Asked Questions on Pediatric Exclusivity (505A)
- Drug Patent Watch | Which patents cover Vyvanse, and when can generic versions of Vyvanse launch?
- Eureka Alert | FDA approves VYVANSE, first and only once-daily prodrug stimulant to treat ADHD in adults
Neuropsychiatric Disease and Treatment | Update on optimal use of lisdexamfetamine in the treatment of ADHD