We have all walked into a room and forgotten what we were looking for - misplaced keys, phone, wallet. But how forgetful can we be before considering it's a symptom of ADHD?
The truth is - many people with ADHD experience difficulties with memory function. However, the relationship between ADHD and memory is complicated, and unanswered questions remain.
Let's dive in and explore the most current research on ADHD and memory to understand their connection.
Too long; didn't read
ADHD can have an effect on the three types of memory: working memory, short-term memory, and long-term memory.
Memory loss can have other causes like head trauma, dementia, brain tumors, depression, or other mental health disorders.
Mild cognitive impairment, dementia, and ADHD are somewhat connected and exhibit similar symptoms, but they would exist in different parts of the brain.
More studies need to be done to determine whether ADHD can be a cause of memory issues.
The different flavors of memory (and how ADHD is linked)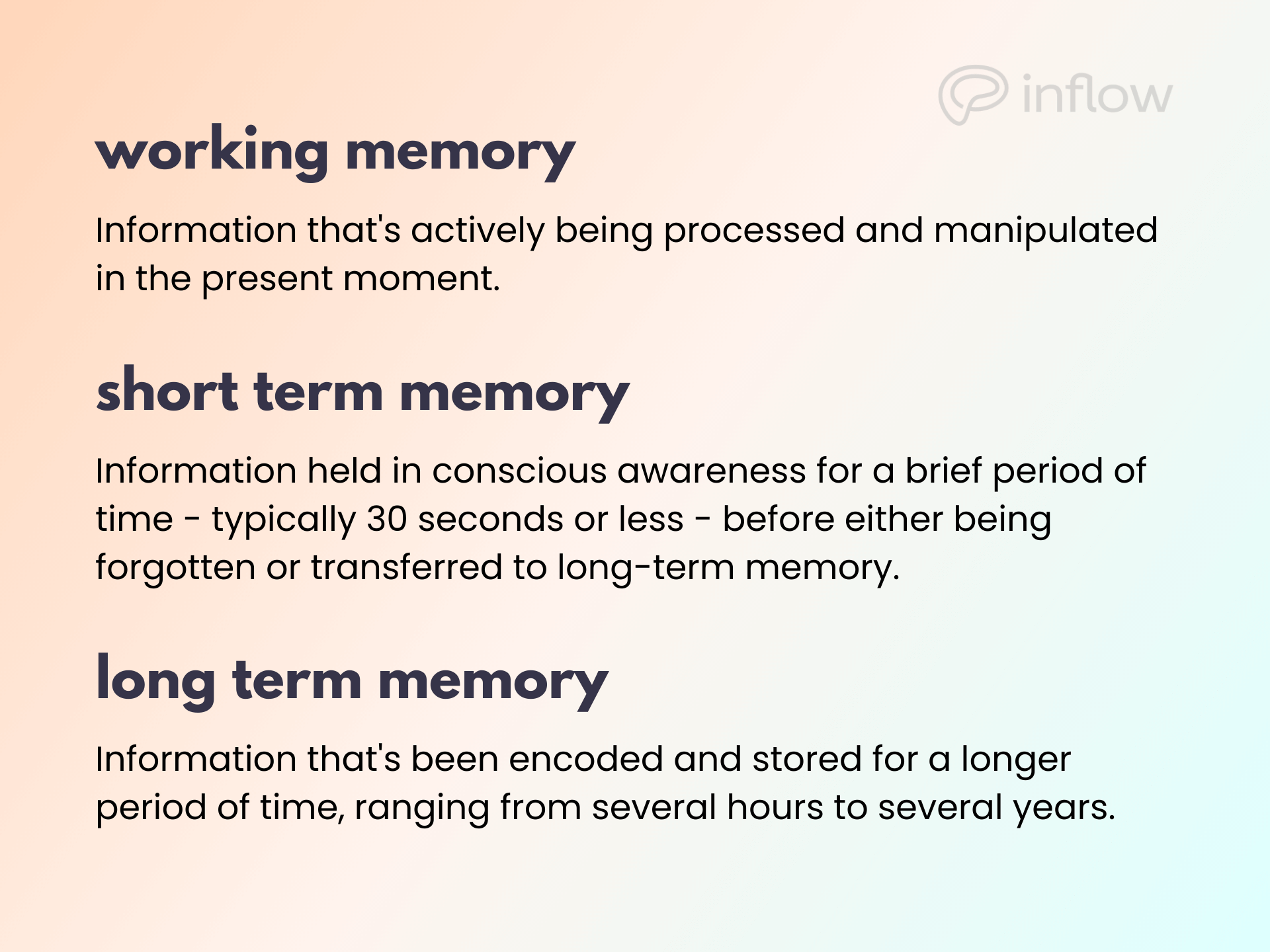 Working memory
Working memory refers to your brain's capacity to use, modify, and apply information to use immediately to complete a task. Working memory retains details like the name of the person you wanted to text and the food you were looking for in the fridge.
Studies show that children with ADHD have markedly impaired working memory.1 Additional studies show that the same is true for ADHD adults, which may explain some ADHD learning struggles.2
Short-term memory
Short-term memory is the actual storage of immediate information. It's related to working memory, but not the same.
Short-term memory lasts longer than working memory because working memory is responsible for interpreting information in real time, whereas short-term memory is just the stored information itself.3
So, you can imagine how the effect that ADHD has on working memory can also impact short-term memory.
Long-term memory
Preliminary research has found that ADHD may be tied to long-term memory issues, but more investigation is still needed.
Adults with ADHD may struggle with verbal long-term memory and memory acquisition, but less with visual memory.4 This suggests that how the information was initially encoded plays a part in the ADHDer's ability to recall it. In other words, ADHD brains might be more likely to remember something they physically see.
For someone with ADHD, the encoding can be warped or organized in a way that makes it difficult to grab, leading to forgetfulness and even long-term memory problems.
What causes memory loss?
Whether you have ADHD or not, memory loss is possible. Forgetfulness can be expected and becomes more common in older people, but there are differences between age-related forgetfulness and memory problems.
Conditions that can contribute to memory issues
Head trauma, such as a traumatic brain injury (TBI)
Brain tumor
Depression and other mental health conditions
Dementia
COVID-19 and other viruses5
Can ADHD cause memory loss?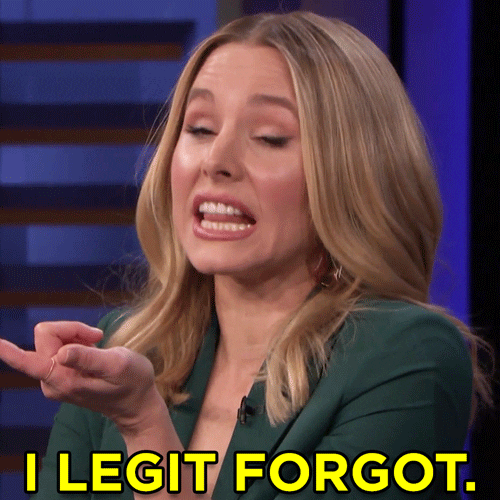 If an ADHDer starts experiencing memory loss in adulthood, it's unlikely ADHD caused it. However, if memory loss is present early on, it may be caused by ADHD.
It's important to note that if someone is diagnosed with ADHD as a child, it doesn't go away as they age. Instead, it evolves into something different, especially as you learn to manage the symptoms with age.
ADHD and mild cognitive impairment (MCI)
Mild cognitive impairment (MCI) is the middle-ground between expected memory loss that comes with aging and more severe memory issues like dementia.6 People in this stage have some difficulties but can still function independently.
MCI-related cognitive impairment7
Impaired visual memory retrieval
Delayed memory recall
Delayed recognition
While some studies show that ADHD and MCI are related, others show that they are fundamentally unrelated.8 The missed connection may be because cognitive tests used in diagnosing MCI may fail to see the executive functioning struggles of adults with ADHD.
Though adult ADHD and MCI show memory loss, the specific brain regions influencing that memory loss differ.9 ADHD affects the frontal lobe cortex, while MCI affects the hippocampus.
ADHD and dementia
Because MCI can be a prerequisite for dementia, researchers explored how ADHD relates to dementia.
Researchers attempted to find a link between ADHD and Alzheimer's disease (the most prominent form of dementia) and indeed found a connection. However, rather than ADHD serving as a risk factor for dementia, it may just exhibit similar cognitive symptoms.9
TL;DR: it's difficult to determine whether ADHD causes memory loss. More research is needed to find a definitive answer.
6 ways to improve your memory
Here are some of the best ways to sharpen your memory, despite having ADHD.
1. Create a routine. Establishing a regular schedule creates a pattern that requires less memory than doing new tasks daily.
2. Leave them unread. I know this sounds harsh, but it's for your own good. Opening up every text or email notification takes you away from your task and takes you longer to get back on track.
3. Use technology. Calendar apps are a dream for ADHDers because they keep everything organized and can send helpful reminders.
4. Invest in sticky notes. Writing notes and sticking them up around your house is a great way to boost your memory. But, of course, the simple act of writing something will help you remember, too!
5. Kick caffeine. As awful as this sounds, your brain will thank you. Caffeine can cause more disorganization and stress, so stick to lower doses of matcha or herbal teas.
6. Play memory games. Find games on your phone or with friends to play, like Concentration, to help improve your memory.
Final thoughts
The relationship between ADHD and memory is complicated, but preliminary research shows that ADHD is correlated with working, short-term, and long-term memory. But - that doesn't mean ADHD is the sole cause of forgetfulness and memory loss.
Despite these challenges, there are ways to improve memory as an ADHDer, such as establishing routines, utilizing technology, and playing memory games.
💡You try it! The Inflow app has a library full of ADHD information, and one of the modules is titled "Improving focus and memory." In the module, members learn what can improve (and worsen) memory, how to stop losing things, stay on top of projects, and more!
‍
-
Sources
1 Neuropsychology | Working memory and short-term memory deficits in ADHD: A bifactor modeling approach
2 PeerJ: Life & Environment | Neural processing of working memory in adults with ADHD in a visuospatial change detection task with distractors
3 Progress in Brain Research | What are the differences between long-term, short-term, and working memory?
4 Journal of Attention Disorders | Long-Term Memory Performance in Adult ADHD: A Meta-Analysis
5 Neurología | Post-COVID-19 memory complaints: Prevalence and associated factors
6 Mayo Clinic Proceedings | Mild Cognitive Impairment and Mild Dementia: A Clinical Perspective
7 Frontiers in Psychiatry | Mild Cognitive Impairment or Attention-Deficit/Hyperactivity Disorder in Older Adults? A Cross Sectional Study
8 Frontiers in Aging Neuroscience | Adult ADHD: Risk Factor for Dementia or Phenotypic Mimic?
9 ASPARD | Cognitive and Neuroimaging Profiles of Older Adults With Attention Deficit/Hyperactivity Disorder Presenting to a Memory Clinic