When I was a kid, I could never stand still. No matter how hard I tried, my body was always in motion. So I concluded I must be moving with the earth as it rotated on its axis (yes, seriously). I eventually learned that it was all in my head — but not in the sense that I'd imagined it. Instead, I'd been experiencing a phenomenon caused by my brain. And it had a name: postural sway.
Too long; didn't read
Postural sway is a neuromuscular condition that causes you to sway on the spot and/or fall over.
People with ADHD are highly susceptible to postural sway.
Symptoms of and treatments for postural sway can also be applied to other conditions, including ADHD — and vice versa.
What does "postural sway" mean?
Postural sway refers to the movement of the center of mass when standing.
When we stand upright, our body continuously makes subtle posture adjustments to ensure our balance and prevent us from falling. These adjustments primarily engage the leg and core muscles, which are controlled by the central nervous system. They're prompted by sensory inputs from the eyes, inner ear (vestibular system - sense of balance), and proprioceptive receptors (they're responsible for sensing your body's movement and position) in our muscles and joints.
Postural control
To fully understand the concept of postural sway, it's important to also understand postural control - the ability to use our center of gravity as a stabilizing force for balance.
In simpler terms, postural control is the ability to balance, while postural sway is a deficit in that ability. The extent of postural sway is directly related to the level of postural control—the less postural control you have, the greater your postural sway.
What does postural sway look like?
Postural sway takes all sorts of forms. For instance, it can affect your gait (aka the way you walk.)
If you lack postural control, you probably have poor spatial awareness — and, as a result, you become more likely to be clumsy or bump into things often.
Since postural control is essential for motor control, the result of having postural sway could be anything from frequently dropping things to having trouble zipping up your jacket.
What causes postural sway?
There are two mechanisms involved in postural control and, as such, postural sway:
The vestibular system: responsible for balance
Proprioception: your awareness of your body's position and movement
Both are connected to the cerebellum, the brain region that controls and regulates muscular activity. The vestibular system, located primarily in the inner ear, gathers information about balance and spatial orientation and communicates it to the cerebellum. At the same time, the cerebellum processes proprioceptive information, such as what position you're in and how you're moving.
How much (or how little) postural control you have corresponds to the size of your cerebellum; those with a smaller cerebellar volume are more likely to experience postural sway.
Is ADHD related to postural sway?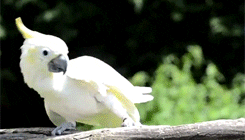 ‍
Everyone loses their footing or feels dizzy sometimes. Generally speaking though, most neurotypical people have adequate postural control as a baseline. On the other hand, neurodivergent people tend to fall (pun intended) firmly on the "sway" side of the postural spectrum.
How can we "prove" this?
"Decreased cerebellar volume has been observed in individuals with ADHD [which is also] associated with increased [ADHD] symptom severity."1
Postural sway and ADHD are closely intertwined. If you have one, there's a good chance you have the other. And the worse one is, the worse the other will be.
⛑ Translation: Brace yourself for some serious clumsiness.
What else can cause postural sway?
There are a few other risk factors associated with postural sway:
Neurological condition(s)
ADHD
Autism
Developmental dyslexia (especially if it co-occurs with ADHD)2
Dyspraxia, aka developmental coordination disorder (DCD)2
Parkinson's disease
Other mental health disorders
Age and health
When it comes to postural sway, the brain — at least not the brain you're born with — isn't always to blame.
No matter who you are or what you've experienced, your risk of postural instability increases with age. For some, this can begin as early as age 50.4
How do you manage or treat postural sway?
Simply trying not to fall over probably won't prevent you from actually falling. There are several established treatments for ADHD that could also improve postural sway symptoms.
For instance, research suggests that the stimulant methylphenidate (Ritalin or Concerta) reduces postural sway in children.5 Additionally, engaging in memory games or tasks could help with postural control.
(Your mileage may vary; after all, the effects of any ADHD treatment depend on the person.)
Given that both ADHD and depression are indicators of postural sway, effective treatments for both conditions, such as transcranial magnetic stimulation, have shown promise in improving postural sway.6
This suggests that addressing ADHD and depression can have a positive impact on postural stability and balance.
Final thoughts: The significance of postural sway
Postural sway may not seem like a big deal. Some of us are more prone to face-planting — so what? It might not even matter much to people who have perfect balance.
But we all need to take it seriously in the grand scheme of things: "Precision in motion control is critical to survival, and deficits in postural control result in many debilitating and deadly falls."7
Several experts have echoed this sentiment. Moreover, just as certain health issues are associated with postural control, the understanding of postural sway can help medical practitioners diagnose patients more efficiently.
For all of these reasons, continued research into postural sway is essential for a well-balanced future.
Sources
1 NeuroImage. Clinical | Postural sway and regional cerebellar volume in adults with attention-deficit/hyperactivity disorder (2015)
2 Dyslexia (Chichester, England) | Effects of dyslexia on postural control in adults (2010)
3 Gait & Posture | Balance characteristics in patients with major depression after a two-month walking exercise program: A pilot study (2015)
4 BMC musculoskeletal disorders | Effect of local somatosensory stimulus on postural sway during sit-to-stand movement in the elderly (2021)
5 Front. Neurosci. | Postural Instability in Children with ADHD Is Improved by Methylphenidate (2023)
6 SAGE open medical case reports | Effect of transcranial magnetic stimulation on postural control of individuals with major depressive disorder: A case report (2023)
7 Journal of Neurophysiology | The role of vestibular cues in postural sway (2021)