Have you ever experienced that sense of dread when you see an incoming call on your phone? There's a moment of hesitation:
"Should I answer it or let it go to voicemail?"
Or maybe you freeze when faced with the task of making an outgoing call, carefully considering the potential consequences of not doing it:
"Maybe I don't need to schedule a dentist appointment. What's another 3 years without a check-up?"
Phone anxiety is as real as any other phobia, but is it something we all experience? Also, where does it come from? And are there ways to cope with the fear of speaking on the phone? In this article, we'll dive into these questions and provide practical tips to help you navigate the world of phone calls with confidence.
Too long; didn't read
Phone anxiety, also known as telephobia, is the fear and unease associated with making or receiving calls, talking on the phone, and texting.
People might experience phone phobia for a few reasons, including social anxiety, ADHD, uncertainty, or past negative experiences.
Phone anxiety can cause people to chronically avoid things like making appointments.
You can manage phone anxiety on your own with exposure therapy, among other strategies.
What is phone anxiety?
Phone anxiety, also known as telephobia, is when we feel scared or nervous about talking on the phone. It's not just about receiving or making calls; this phobia can also extend to texting.
(This is why some people unintentionally ghost their friends.)
Why do some people hate talking on the phone?
Making or receiving phone calls can trigger anxiety, sometimes making them avoid calls altogether. Telephobia can have different underlying causes.
Reasons for having phone phobia:
Uncertainty due to the lack of facial expressions and body language present in face-to-face interactions
Fear of being judged for your conversation skills
Not having a plan for what you're going to say
Pressure of having to respond quickly and being put on the spot
Past negative experiences with communication over the phone
Not knowing proper phone etiquette (e.g. when to call back or how to wrap up the conversation)
Neurodivergence, such as ADHD or autism
Social anxiety
Many folks who deal with social anxiety or have social anxiety disorder (SAD) tend to avoid situations that involve socializing, being observed, or performing. This can include meeting authority figures, starting conversations, and speaking to strangers due to fear of judgment or embarrassment. This, of course, applies to phone calls as well.
How is ADHD linked to telephobia?
If you have a fear of talking on the phone and you also have ADHD, feelings of awkwardness and embarrassment can hit even harder. When anxiety ramps up, certain ADHD symptoms can get worse, such as distractibility, irritability, restlessness, and executive dysfunction.1
ADHD and social communication
Staying focused during a call can be a real challenge for ADHDers. We may lose our train of thought and struggle to keep up with the conversation. That's when the anxiety kicks in:
Our brains will misinterpret a moment of silence as us being "awkward" or not fully grasping what's being said, leading to a spiral of discomfort and self-doubt.
One of the reasons why this happens is that those with ADHD often have more trouble with social communication skills, like picking up on nonverbal cues. Since we can't rely on visual cues to tell us what the other person might be thinking or when they might speak again, we're left with our inner dialogue of uncertainty, making it hard to form appropriate responses.2
As a result, it can be challenging for ADHDers to make and keep friends.
How to get over your phone call anxiety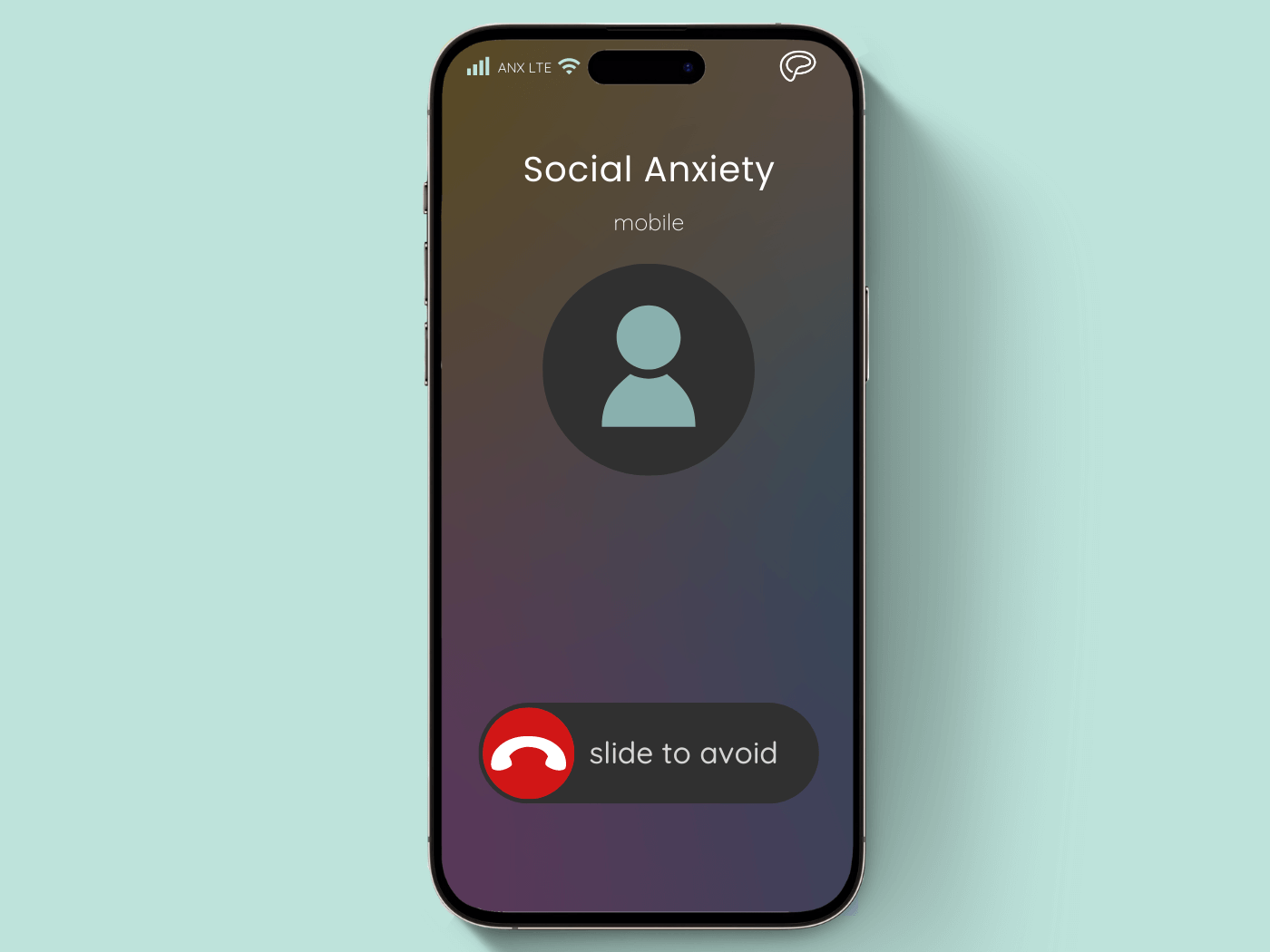 Let's be honest, making phone calls can be draining, especially for adult introverts who would rather focus on their latest hobbies than answer calls from relatives or coworkers.
Thankfully, there are ways we can conquer the fear of talking on the phone. And for those of us with ADHD, there are strategies to handle our distractibility and impulsivity during calls as well.
1. Practice and DIY exposure
Exposure therapy teaches us that, sometimes, our fears aren't as bad as we make them out to be—facing your fears head-on can ultimately reduce avoidance behaviors.
The good news is that you don't have to go to a therapist to practice exposure therapy.
How to do self-exposure therapy for telephobia
Start easy: Begin with the least intimidating phone task, like listening to voicemails.
Repeat: Keep doing the easy tasks until it feels less scary.
Level up: Gradually challenge yourself with slightly more daunting phone tasks, like calling your parents or close friends.
Don't panic: Use breathing exercises or relaxation methods to manage anxiety and stay calm.
Prepare scripts: Plan out what you'll say and write it down. You can have multiple scripts prepared based on the different directions the conversation might go.
Practice often: Regularly confront your phone fears to build up confidence.
Reward yourself: Celebrate progress to stay motivated.
Track changes: Keep a journal to see how you're improving.
Seek help if needed: If it's tough, talk to a professional for guidance.
2. Make a fear hierarchy list.
If you're feeling hesitant to start, try making a fear hierarchy list. Start the list with the easiest calls you can make, and end it with the calls that make you most anxious.
How to use fear hierarchy to overcome phone anxiety
Once you've mastered each level, you can move on to the next one.
🌱 Level 1: When are you open? Search for random store phone numbers online. Call one store each day to ask about their hours.
🔥 Level 2: What's on the menu? Each day, call a bookstore or restaurant and ask more complex questions like, "Do you have [book title] in stock today?" or "What's the lunch special?"
🚀 Level 3: SPEAK TO A REPRESENTATIVE. Have you visited any place recently where you could easily contact customer service to get help with small problems?
Don't worry if you think you sound hesitant or awkward. Over time, as you make progress with phone communication, you'll sound more confident and feel less distracted.
3. Write down what you want to say.
Sometimes we have to make calls to schedule appointments.
☝️ Speaking of which... If you're reading this and you're a business owner who still doesn't have a way for customers or patients to book appointments online, what's the holdup??
In formal settings, it helps to jot down a script so we know what to say. Having it right in front of us helps us stay focused, and can prevent us from impulsively going off on tangents or interrupting the other person.
And writing it out by hand can actually improve your memory (so you may not even need the script after all!) Create a list of key points if you think the call will be long, and have a notepad with you to write notes during the call if you tend to forget small details.
4. Trick your brain into thinking it's not a phone call.
Have you ever thought, "I would communicate so much better if this person were right in front of me?" You're not the only one. Fortunately, there are simple ways to make virtual conversations feel more like an in-person interaction.
Imagine yourself in the same room as the caller. Take a stroll around or make expressive gestures to signal to your brain that you're engaging with a real person, not just a device. By physically embodying the conversation, you can tap into a greater sense of connection and ease.
🙂 And here's a fun fact: Smiling works wonders! When you smile during a phone call, it not only changes the tone of your voice but also helps you feel less self-conscious.
If you want to take it a step further, stand in front of a mirror while you talk. It might feel a bit weird, but it actually simulates a face-to-face interaction which can ease phone anxiety for some people.
Final thoughts
Those of us with telephobia know that one of the hardest parts of being an adult is making phone calls. Just know it doesn't have to feel like this forever!
Remember, overcoming any fear takes practice and dedication, and managing phone call anxiety is all about finding techniques that work for you. So don't be afraid to experiment and discover what helps you feel more comfortable and confident during those conversations. And, If you find that your experience with telephobia and social anxiety is hard to manage on your own, there's no shame in finding a local therapist or counselor to talk to about these concerns.
‍
-
Sources
1 Journal of Attention Disorders | The Differential Effect of Anxiety and ADHD Symptoms on Inhibitory Control and Sustained Attention for Threat Stimuli: A Go/No-Go Eye-Movement Study (2021)
2 Journal of Communication Disorders | Investigating the Role of Inattention and/or Hyperactivity/impulsivity in Language and Social Functioning Using a Dimensional Approach (2021)