If you have ADHD, you might have a hard time resisting caffeine. Maybe your caffeine tolerance led you to energy drinks—an increasingly popular caffeine source. But what's really inside these drinks?
You may recognize ingredients like ginseng and L-theanine, associating them with familiar beverages like tea, but what about the other suspicious additions in your can of Red Bull or Monster? And how do these ingredients affect people with ADHD and their symptoms?
Get ready to sip on our (caffeine-free) insights on ADHD and energy drinks. We promise only to pour the facts.
Too long; didn't read
Caffeine can affect people with ADHD differently than neurotypical people.
Ginseng, L-theanine, taurine, citric acid, sugar, and food dyes are common ingredients in energy drinks, each with varying effects on ADHD symptoms.
Consuming caffeinated beverages may be a form of addiction or self-medication for people with ADHD.
Tips for cutting back on energy drinks include tracking caffeine intake, trying decaf or low-caffeine alternatives, cutting back gradually, and improving your sleep habits.
How does caffeine affect ADHD symptoms?
Caffeine is a stimulant that can make you feel more awake, alert, and productive under the right conditions.
Many assumptions about the effects of caffeine on ADHDers are often inaccurate or exaggerated, as they are more correlated with factors outside of the neurotype. Some people with ADHD experience a paradoxical effect of caffeine and feel sleepier after consuming it.
But even though caffeine has a calming effect on some of us, there's no concrete evidence to suggest that ADHD brains are more likely to experience paradoxical caffeine reactions.
🧠 ADHD research! A study of US Army soldiers found that caffeine positively affected cognition and impulsive behavior and deemed caffeine a "promising treatment tool."1
Energy drink ingredients and ADHD
Caffeine
Most healthy adults can drink up to 400 mg of caffeine a day, but many coffee and tea drinkers never reach this limit. Others may not realize how quickly it adds up.
For example, 8 ounces of filter coffee contain an average of 145 mg caffeine, and one can of Monster contains 160 mg.
⚠️ Heads up! Caffeine can have adverse side effects when consumed excessively, including headaches, insomnia, irritability, fast heartbeat, and muscle tremors.
Caffeine is the primary stimulant ingredient in energy drinks, but they contain several other ingredients to be aware of.
L-theanine
Found in tea, supplements, and high concentrations in energy drinks, L-theanine has proven health benefits, including antioxidant and anti-inflammatory properties.2
For people with ADHD, L-theanine may improve attention and impulsive behaviors.3
Taurine
Taurine is an amino acid naturally produced in your body, protecting neurotransmitters (chemical messengers) that deliver feel-good dopamine. In supplement form, it can treat conditions like congestive heart disease, anxiety, seizures, hypertension, and ADHD.
Taurine can also improve hyperactive behavior and brain function in rats, suggesting that high doses of taurine could help with ADHD symptoms. However, lower dosages seem to have the opposite effect.4
Ginseng
Korean red ginseng, also known as "Panax" ginseng, has been shown to have positive effects on neurotransmitters and the central nervous system, leading to enhanced cognitive function.5
For people with ADHD, Korean red ginseng may help with inattentiveness, short-term memory problems, and executive dysfunction.6
Artificial food coloring
Some may experience worsened ADHD symptoms from consuming artificial food dyes.
And unfortunately, energy drinks only vaguely refer to added colors on their labels, but the odds are they're there.
Sugar and artificial sweeteners
Sugar can affect ADHD symptoms and increase hyperactivity. Though artificial sweeteners continue to be debated, both forms of sweetener arguably contribute to habit-forming behaviors and the overall appeal of energy drinks.
Citric acid and vitamin C
Citric acid (aka vitamin C) is found in most energy drinks. If you take your ADHD meds with energy drinks, listen up!
Vitamin C can prevent proper medication absorption if consumed around the same time. It's best to avoid foods high in vitamin C and citric acid while taking certain ADHD medications, including Adderall, Dexedrine, and Vyvanse.
Can caffeine treat ADHD?
An outdated (but widely cited) study found that caffeine slightly improved brain function.7 Those who cite this study often fail to mention that these results were insignificant, as they weren't much better than the placebo group.
Researchers concluded that prescription stimulant medications were far superior to caffeine when treating ADHD symptoms.7
Self-medicating with caffeine
Unsurprisingly, many ADHDers turn to caffeine as a form of self-medication, whether they're aware of it or not. This is especially true for those who don't have access to a formal diagnosis or prescription medication.
But does it help?
Surprisingly, yes... to an extent.
One study found that regular coffee and tea consumers with ADHD - but not those who consumed energy drinks or cola - have slightly better psychological well-being than non-consumers with ADHD.8 But there's a catch!
The data also suggests a connection between ADHD symptoms and caffeine use disorder (yes, it's real), which is associated with lower psychological well-being.8 This seems to be an instance where balance is key.
Addiction, caffeine, and ADHD
Many ADHDers are prone to addictive behaviors in pursuit of the rush of dopamine and instant gratification we get from engaging with them. The immediate perceived 'results' of energy drinks can be hard to resist.
When mixed with alcohol, another common addiction across ADHDers and neurotypicals alike, caffeine can...
mask the effects of the depressant (alcohol)
make drinkers feel more alert
contribute to a 4x increase in the likelihood of binge drinking
Like the possible interactions with prescription medications, energy drinks can also negatively influence other ADHD-related symptoms and behaviors.
How to cut back on caffeine and energy drinks
Looking to cut back on energy drinks? Here are a few strategies you can try.
Use the low-dopamine morning routine to energize your mornings without relying on a cup of tea, coffee, or energy drinks.
Consider tracking your caffeine intake to be mindful of healthy limits. (A simple journal will do, but there are also plenty of apps for habit tracking!)
Try decaf or low-caffeine versions of your favorite beverages.
Cut back gradually to reduce withdrawal symptoms as your body adjusts.
Take steps to improve your sleep quality so you don't feel the "need" for caffeine.
Work with an ADHD coach to develop better habits around sleep and other behaviors.
Final thoughts: Learn from my experience with caffeine
I spent several years in management at A Big Coffee Company™, which meant unlimited access to iced coffee and an unhealthy relationship with work. Nearly a decade later, my caffeine intake was A Big Problem™.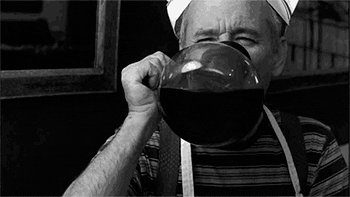 Multiple cups of coffee was a daily habit in high school to keep up with AP courses and a part-time job. A few years later, I chugged several energy drinks daily, easily doubling the recommended 400 mg maximum.
To say I was addicted is an understatement. It was actually easier for me to get sober from an alcohol problem than it was to cut back on caffeine.
I'm 3.5 years free from alcohol, but only recently managed to lower my energy drink consumption.
I had this problem years before my ADHD diagnosis and treatment. Looking back, it seems caffeine was always a means of subconscious self-medication.
Eventually, I convinced myself that this habit did more harm than good. It was also expensive and reduced the effectiveness of my Adderall. Researching the ingredients in energy drinks helped me identify why I kept drinking this delicious carbonated battery acid.
That's just my experience, of course. While I believe many ADHDers will relate, I encourage you to work with a medical professional when changing your diet, medication, or other health factors.
If I can do it, you can. (Trust me on this one.)
‍
-
Sources
1 Journal of Clinical Medicine | Exploring the Role of Caffeine Use in Adult-ADHD Symptom Severity of US Army Soldiers (2020)
2 Frontiers in Nutrition | L-Theanine: A Unique Functional Amino Acid in Tea (Camellia sinensis L.) With Multiple Health Benefits and Food Applications (2022)
3 Scientific Reports | Effects of L-theanine–caffeine combination on sustained attention and inhibitory control among children with ADHD: a proof-of-concept neuroimaging RCT (2020)
4 Redox Biology | Taurine and its analogs in neurological disorders: Focus on therapeutic potential and molecular mechanisms (2019)
5 Journal of Ginseng Research | Clinical Effects of Korean Red Ginseng on Attention Deficit Hyperactivity Disorder in Children: An Observational Study (2011)
6 Clinical Psychopharmacology and Neuroscience | Effect of Omega-3 and Korean Red Ginseng on Children with Attention Deficit Hyperactivity Disorder: An Open-Label Pilot Study (2020)
7 The American Journal of Psychiatry | Caffeine versus methylphenidate and d-amphetamine in minimal brain dysfunction: a double-blind comparison (1975)
8 Frontiers in Psychiatry | Self-Medication of ADHD Symptoms: Does Caffeine Have a Role? (2022)