Many people with ADHD (attention-deficit/hyperactivity disorder) rely on Adderall, a commonly prescribed stimulant medication, to manage their symptoms. But there's an ongoing debate about the side effects — Do these drugs actually improve symptoms… or make them worse?
Surprisingly, Adderall can sometimes make ADHD symptoms worse for some people, even if they've been taking the correct dose.
And, even if Adderall worked well for someone previously, they could still experience worsened ADHD symptoms with their medication.
Let's investigate why this happens, what to consider if you think your ADHD symptoms are worsening, and when to visit your doctor.
Too long; didn't read
Stimulants like Adderall and Ritalin are the most common medications used for ADHD treatment.
Stimulant medication is supposed to increase the amount of available brain chemicals (dopamine and norepinephrine), but that's not always the case for everyone taking them.
Below, we discuss five possible ways medications like Adderall can worsen ADHD symptoms.
If you're affected by side effects or concerned about the effectiveness of your medication, consult a medical professional.
⚕️ Medical disclaimer: The information in this article is for general knowledge only. It is not a substitute for medical advice. Responses to ADHD medications like Adderall vary. Consult medical professionals for personalized guidance on usage, dosage, interactions, and side effects, including withdrawal. Prioritize your well-being and seek expert help when considering or using ADHD medication.
The basics of ADHD medication
ADHD medications can generally be divided into two categories: stimulants and non-stimulants.
Stimulants are more commonly prescribed to ADHD patients than non-stimulants, and overall, methylphenidate (Ritalin, Concerta, etc.) is the most popular prescription for ADHD treatment.
💊 You can learn more about ADHD medication here.
Adderall and other stimulants
Adderall is an amphetamine-based medication used to treat ADHD (and narcolepsy) that directly affects two primary brain chemicals: dopamine and norepinephrine.1
Other stimulant medications, such as Vyvanse (lisdexamfetamine) and Ritalin (methylphenidate), have the same effect on our neurotransmitters.
How stimulants affect the brain
Generally speaking, dopamine and norepinephrine are "neurotransmitters"—chemicals that carry messages around our brains to help us process and respond to our environment.
Norepinephrine is responsible for attention, arousal, and alertness, while dopamine is involved in many brain functions, but it's mainly known for its reward system:
Dopamine makes us feel good whenever we've done something necessary for our survival. Eating a meal, finishing important tasks, and having sex are all examples of activities that are rewarded by dopamine release.2
Researchers believe that ADHD brains have less dopamine and norepinephrine available than neurotypical brains, which explains why stimulants can positively affect ADHDers.3
🧠 Dive deeper into the neuroscience of ADHD here.
How is Adderall supposed to work?
Stimulant medications are meant to slow down the collection of leftover dopamine and norepinephrine—a process called "reuptake inhibition". As a result, the chemicals remain available for our brains to use for an extended period, providing a surge of energy, motivation, alertness, and focus.4
But what if that doesn't happen?
Does your ADHD management need a boost? The Inflow app can help! Inflow has tons of learning modules designed to improve focus, manage emotions, and prevent burnout. Take our ADHD quiz to get started.
5 ways ADHD medication can make symptoms worse
A few factors could explain why ADHD symptoms might worsen with certain stimulant medications. Some are direct effects, like medication rebound; other effects are more subtle and indirect, like whether or not you had orange juice with breakfast.
(🍊 I promise that last bit will make sense if you keep scrolling!)
However, it's important to remember that everyone is different. You should speak with your doctor directly if you have concerns about your medication regimen.
1. Medication rebound and withdrawal effects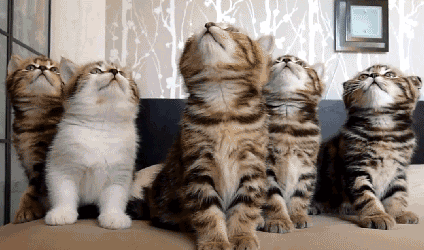 The dreaded medication rebound—sometimes called an 'Adderall crash'—happens when the medication leaves your system abruptly. More broadly, medication rebounds are considered a type of medication withdrawal, and present symptoms similar to ADHD.
The only difference between ADHD and rebound symptoms? Stimulant rebound effects come on very suddenly and only happen after stimulant medication use.5
Psychological symptoms of withdrawal and rebound effects can include:
Sudden irritability or becoming easily frustrated by minor things
Increased anxiety
Suddenly feeling restless and bored, even if you were just engrossed in a task a few minutes ago
Fatigue and mental haziness that seems to come out of nowhere
Insomnia: difficulty falling asleep or staying asleep
Hypersomnia: intense tiredness that makes it hard to wake up
2. Reduced appetite and dehydration
Remember how we talked about how Adderall affects dopamine and how it becomes more available for your brain to use after taking your ADHD medication? Not only does dopamine help with focus, but it's also responsible for picking up hunger cues and signaling to your brain when it's time to eat. So, by boosting dopamine levels with Adderall or other stimulant medication, your brain becomes convinced that you're - more or less - "full", sometimes missing one or more mealtimes in a day.
(This is why you may not feel hungry after taking your daily meds.)
Meanwhile, increased norepinephrine and dopamine can also cause dehydration due to the natural side effects of the central nervous system being stimulated (e.g., increased heart rate, faster breathing, and sweating.)
Unsurprisingly, a loss of appetite and dehydration can worsen ADHD symptoms.
More specifically, you may notice:
Zoning out more frequently when you're trying to focus
Being more tired and "out of it" than usual, or feeling like you're in a fog
Having a slow reaction time to people saying your name or asking you a question
Worsened short-term memory to the point of getting frustrated with yourself
3. Negative side effects
Certain side effects of ADHD medications — some of which are discussed above — sometimes mimic or exacerbate symptoms, making it seem like your ADHD has worsened.
Everyone reacts to medications differently, so if you're concerned that your prescription is making it harder to cope with ADHD, speak with your prescriber about changing medications.
💥 Learn more about common (and uncommon) side effects of ADHD medication here.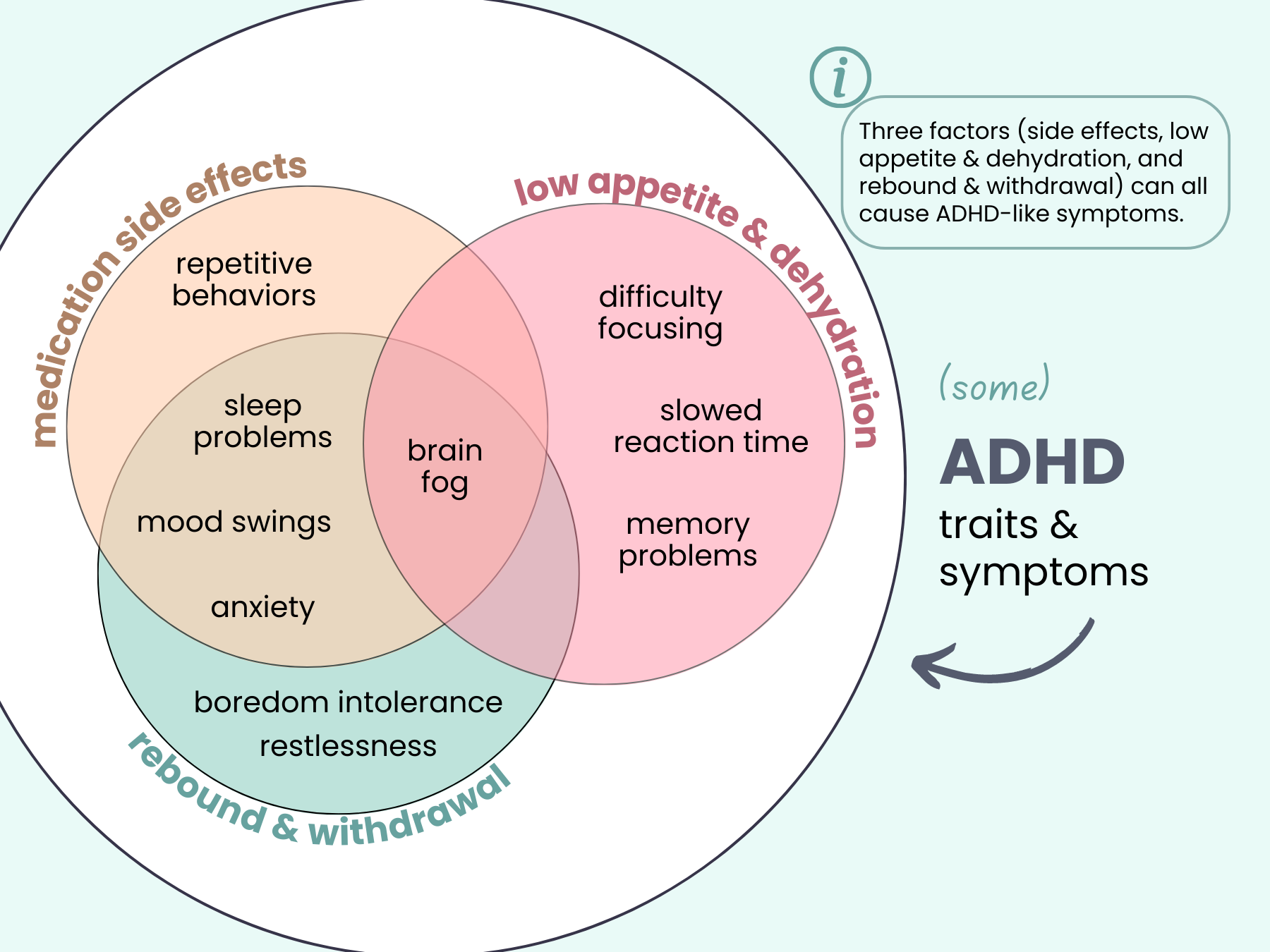 4. Tolerance and dependency
Tolerance happens when the body gets used to a specific dosage of substance or medication (like Adderall), so the prescribed dose becomes less effective.
When someone develops a tolerance, dependence will likely follow.5
Psychological dependency is when someone relies on a substance, like a medication, to function normally. (Note: This does not include essential or critical therapeutic treatments, such as insulin for diabetics or inhalers for asthmatics.)
While it's true that stimulant medications for ADHD have a high potential for addiction and misuse, dependency can occur in any situation, even when someone is taking their prescribed dose.6
At this point, managing ADHD without medication becomes more and more challenging, hence why tolerance and dependency can lead to worsening symptoms over time.5,6
5. Vitamin C interference
Ever heard of the grapefruit rule? Essentially, it describes how vitamin C (aka ascorbic acid) can interfere with the effectiveness of certain medications. This could be an indirect way that your symptoms are "worsening" after taking ADHD medication.
❓ Answer this: Do you typically drink orange juice, grapefruit juice, or lemonade with your medication?
If you said yes and your ADHD meds aren't producing the expected effects - or your symptoms worsen after taking it - it might just be the grapefruit rule at play.
Everyone is different! Talk to your doctor.
The information provided in this article is not exhaustive. Different people will experience a range of side effects from ADHD medication. Some individuals never experience problems taking stimulants. These are the people who describe Adderall as life-changing.
Unfortunately, some people experience sharp rebound effects or worsened symptoms when they take medications like Adderall. But the good news is that the developing field of pharmacogenetics can reveal how different drugs can affect us based on our biological makeup.
Consult medical professionals for help managing the effects of ADHD stimulants, including those resulting from overdose, withdrawal, or prescribed usage.
Sources
1 Frontiers in Neuroscience | Catecholaminergic and cholinergic neuromodulation in autism spectrum disorder: A comparison to attention-deficit hyperactivity disorder (2023)
2 Cellular and Molecular Neurobiology | Dopamine: Functions, Signaling, and Association with Neurological Diseases (2019)
3 Research in Developmental Disabilities | Dopamine transporter genotype modulates brain activity during a working memory task in children with ADHD (2019)
4 The Journal of Clinical Pharmacology | Pharmacology of Drugs Used as Stimulants (2021)
5 Brain Communications | Dependence, withdrawal and rebound of CNS drugs: an update and regulatory considerations for new drugs development (2019)
6 Pediatric Clinics of North America | Prescription Stimulants: From Cognitive Enhancement to Misuse (2019)