Does this sound familiar? You sit down to start working on a project, and at some point, you notice you're thirsty. But you're so focused and productive right now and in the zone that you decide getting a drink can wait. After all, this will only take a minute.
If you have ADHD, you probably know what happens next. Time blindness kicks in, and it's been several hours, but you still haven't had any water.
It turns out that staying hydrated is crucial to your health and well-being. Of course, it harms everyone, but dehydration can also actually make your ADHD symptoms worse.
Too long; didn't read
Dehydration can impact executive functioning, attention, and memory.
Those with ADHD may be especially prone to dehydration due to hyperfocus, forgetfulness, and lower self-awareness.
Stimulant medications can also lead to dehydration.
Adults should drink between 9 and 13 cups of water a day to stay hydrated.
How dehydration affects all brains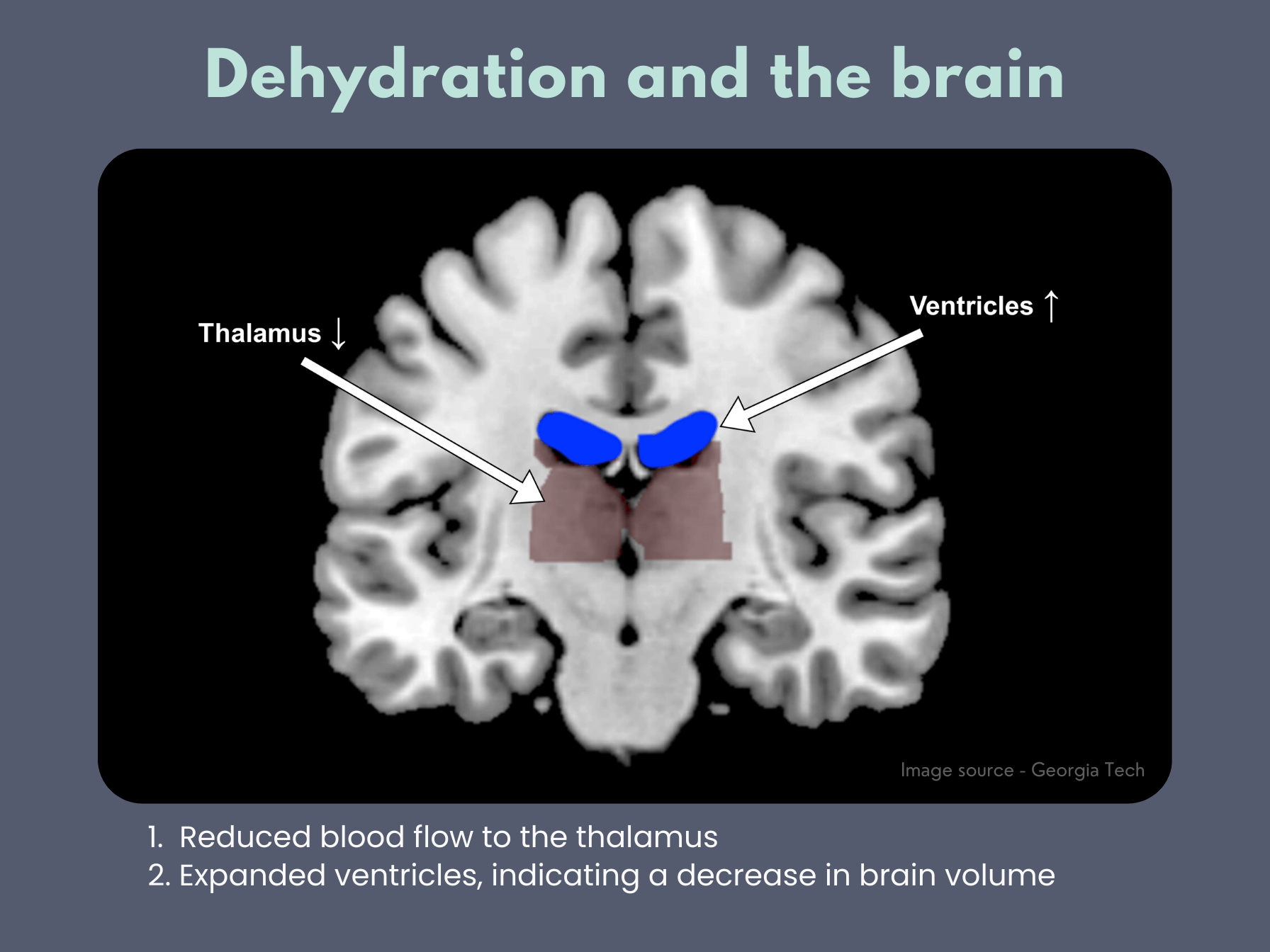 Water is vital for our physical health. We need it to survive, and it's necessary for all bodily functions, from temperature regulation to digestion. That includes the central nervous system (i.e., the brain and spinal cord).
Since the human brain is made up of a lot of water—nearly 75%—without it, our brain function declines.1 Dehydration happens when your body loses more fluid than it takes in, dramatically impacting your mental state. Even low levels of dehydration can lead to fatigue, irritability, and difficulty concentrating.2
So, suppose you're not getting enough water. In that case, your brain fog might be even worse than usual and affect several areas of cognition, like attention, executive function, information processing, and memory.3
Short-term memory and attention are significantly impaired. For example, one study found that dehydrated participants had more test errors and slower reading speeds.1 In addition, researchers looked at fMRI data (functional magnetic resonance imaging) and found the brain worked harder when dehydrated.2,4
Dehydration can also have a negative impact on mood and self-esteem, as well as things like motor coordination and reaction time.1,3 In other words, you're likely to be clumsier when you're dehydrated.
Why are ADHDers prone to dehydration?
ADHD doesn't cause dehydration, but certain things may make those with ADHD more likely to dehydrate.
ADHD stimulants and dehydration
Regarding treatment, stimulant medication is considered the gold standard for ADHD. Stimulants such as Adderall, Vyvanse, and Ritalin increase the brain's dopamine.
These medications also activate the sympathetic nervous system, which can cause side effects like increased heart rate, dry mouth, and excessive sweating.5 In addition, you can quickly become dehydrated if you're not taking in extra water.
Hyperfocus
People with ADHD often struggle to focus, but when engaged in something we're interested in, we can easily veer to the opposite end of the spectrum: hyperfocus.
We tend to get so wrapped up in what we're doing that we forget literally everything else—including our basic needs, like drinking enough water!
Forgetfulness
I don't know a single ADHDer who has a flawless working memory.
"Wait, what did I come in here for?"
                                - you, probably
Even if you stop your workflow to get a drink of water, there's a good chance you might forget that's what you need by the time you reach the kitchen!
Interoceptive awareness
Interoception is one of the lesser-known senses (we have more than just five senses. We have eight!), and refers to the perception of autonomic bodily signals and sensations. For example, we sense it when we're hungry, thirsty, too hot or too cold, tired, and in pain.
Researchers believe that people with ADHD may have lower interoceptive awareness.6 And how can you stay hydrated if you're not aware when you're thirsty?
How much water do you need to stay hydrated?
❌ You've probably heard of the 8x8 rule before, the idea that you should drink eight 8-ounce glasses of water daily.
✅ In reality, experts recommend approximately 2 liters of water (or 9 cups) for women and 3 liters (or 13 cups) for men.
It depends on your lifestyle and circumstances.
How much water you actually need will depend on a variety of factors:
Exercise – Muscle exertion and sweating cause water loss and can lead to dehydration.
Environment – When your surroundings are hot, humid, or at a high altitude, your brain requires more water than usual to function correctly.
Illness – fevers, respiratory symptoms (coughing and sneezing), and gastrointestinal symptoms (vomiting and diarrhea) can cause dehydration.
Pregnancy or breastfeeding - growing and nourishing another human is hard work and requires a lot of water!
Alcohol – since alcohol is a diuretic, it dehydrates you faster than usual.
Check the color of your urine.
If you're comfortable with it, the best way to determine how much water you should drink is by paying attention to your urine and adjusting your intake based on what you see.
Ideally, it should be pale yellow to clear, not dark yellow or brown.
6 ways to stay hydrated with ADHD
1. Add some flavor!
Regular, unflavored water can be so boring.
So, to make sure you drink enough, try adding some fruit slices or flavored drops. Personally, I'm a big fan of Liquid I.V. electrolyte powder or Crystal Light water enhancers.
2. Try habit stacking.
Create better habits using the concept of habit stacking by linking a desired behavior with an existing one to build lasting habits.
For example, you could link hydration to food, and before you eat a meal or a snack, make it a habit to drink a cup of water.
3. Buy a fun water bottle (and keep it nearby.)
Get ahead of your forgetfulness by using a reusable water bottle. Buy one you love and always keep it next to you. That way, you won't have to stop working when you notice you need a drink.
4. Set an alarm.
Using an alarm is another good option, especially for those ADHDers who get sucked into the time blindness spell.
5. Use a straw.
We're still determining the science behind this, but many people find it easier to drink more when using a straw.
Sometimes I sit with my water bottle under my chin and mindlessly sip through my straw. I'm like a hydration genius.
6. "Eat your water."
You don't have to just drink water to stay hydrated!
Instead, try eating more high-water foods like watermelon, cucumbers, and soup.
‍
-
Sources
1 International Journal of Environmental Research and Public Health | Effects of Dehydration and Rehydration on Cognitive Performance and Mood among Male College Students in Cangzhou, China: A Self-Controlled Trial
2 Annals of Nutrition and Metabolism | Effects of Dehydration on Brain Functioning: A Life-Span Perspective
3 Medicine and Science in Sports and Exercise | Dehydration Impairs Cognitive Performance: A Meta-analysis
4 Physiological Reports | Exercise-heat stress with and without water replacement alters brain structures and impairs visuomotor performance
5 Psychopharmacology | Methylphenidate for attention-deficit/hyperactivity disorder in adults: a narrative review
6 PLoS One | Interoceptive awareness in attention deficit hyperactivity disorder