Writing is a vital skill that we learn from a young age. We begin by learning the basics of the alphabet, practicing how to write each letter, and then using those letters to create meaningful words. Eventually, we become proficient at crafting complete sentences with our writing abilities.
While this "normal" process for learning to write may seem simple to most, that isn't the case for everyone. Some people struggle with writing no matter how hard they try. But what causes this?
One potential cause is dysgraphia, a neurological disorder that sometimes occurs alongside ADHD and affects one's motor and cognitive ability to write by hand. Let's explore the struggles and symptoms of dysgraphia and how it can be managed.
Too long; didn't read
Dysgraphia is a neurological condition resulting in challenges and deficits at various stages of the writing process.
People with ADHD are more likely to struggle with dysgraphia than neurotypical people. 
There is no cure for dysgraphia, but there are ways to cope and live a full life, despite dysgraphic challenges.
Dysgraphia management options include therapy, using assistive technology, working with a tutor, and asking for reasonable accommodations.
What is dysgraphia?
Dysgraphia is considered both a learning disability and a neurological disorder that manifests itself in distorted writing. Often, people with dysgraphia write more slowly and struggle with spelling.
‼️ Important note: The presence of dysgraphia does not indicate a lack of intelligence1 but results from difficulties with motor skills involved in writing. Therefore, with the appropriate tools and support, people with dysgraphia can improve their writing skills.
What is it like to have dysgraphia?
Unclear and inconsistent handwriting
Slow writing speed
Trouble staying within or on the lines on the paper
Difficulty organizing thoughts on paper
Missing words or letters
Struggling with punctuation and grammar
Awkward grip on pen or pencil
Difficulty writing and thinking at the same time
🧠 Comorbidity note: While the traits above could indicate dysgraphia, readers should note that some of the above traits could also be caused by a co-occurring condition: dyspraxia.
Are ADHD and dysgraphia linked?
Dysgraphia and ADHD have a relatively high co-occurrence rate, with research indicating that more than 50% of ADHD children also deal with dysgraphia.2 But, while the two conditions often appear together, they don't necessarily cause one another.
It's also important to understand that not everyone with ADHD will experience dysgraphia and vice versa.
Who can diagnose dysgraphia?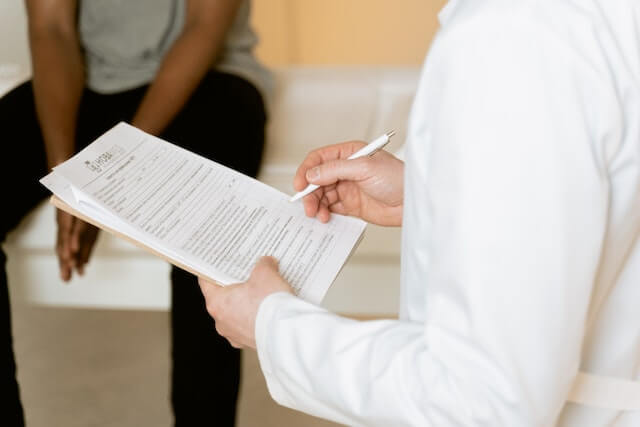 Dysgraphia is typically first noticed by teachers when students struggle with writing. While these are valuable insights for parents to consider, official diagnoses can only come from licensed professionals, including:
Psychologists and neuropsychologists
Speech-language pathologists
Occupational therapists
Neurologists
Pediatricians
To diagnose dysgraphia, providers typically evaluate writing abilities through tests that assess motor skills and writing proficiency.
What do professionals consider when assessing patients for dysgraphia?
Accuracy and legibility of writing samples
How writing utensils are held
Age of symptom onset
Symptom severity
Impact on quality of life
Medical and family history
Vision and hearing examinations
How to manage dysgraphia (and ADHD)
ADHD and dysgraphia are different conditions that stem from unique underlying factors and require individualized interventions. That said, people with one or both conditions may benefit from similar accommodations, such as extra time for written assignments and access to assistive technology.
Therapy options
Occupational therapy (OT)
Occupational therapy (OT) is an approach to dysgraphia management that helps improve daily task movements and coordination, such as writing by hand, self-care tasks (e.g., brushing your teeth), or playing a musical instrument.
OT improves these skills by targeting fine and gross motor skills, coordination, balance, and self-regulation.
Educational therapy  
Educational therapy teaches strategies to overcome writing challenges by focusing on the following:
Positive self-talk
Setting goals
Tracking progress with visual tools
Computer assistance and smart technology
Some dysgraphic adults find that typing on a keyboard is less challenging than writing by hand. Additionally, computers offer several features—spell-check, grammar and punctuation writing suggestions, etc.—which can reduce errors and improve writing quality.
Speech-to-text software and apps
Speech-to-text software allows users to transform their verbalized thoughts and ideas into written text. This eliminates the need for manual writing and improves speed and accuracy.
Specialized tutoring services
Tutors familiar with dysgraphia and/or ADHD can help identify unique challenges and develop effective writing skills.
Additionally, unlike teachers who have to address the needs of many students, tutors can focus all of their attention on the individual needs of their clients.
School and workplace accommodations for ADHD and dysgraphia
Requesting accommodations is one of the best ways to advocate for yourself and manage ADHD and dysgraphia.
Examples of reasonable accommodations for dysgraphia and ADHD
Extended time on tests and written assignments
Recorded lectures and meetings
Live transcription technology
Typed copies of lesson plans or meeting agendas
Pencil grips to help with handwriting and fatigue
Fidget toys
Paper with nontraditional formatting and lining, such as graph paper
Quiet places to work
Laptops for note-taking
‍
-
Sources
1 Journal of Psychiatry and Psychiatric Disorders | Clinical Markers of Dysgraphia According to Intellectual Quotient in Children with Developmental Coordination Disorder
2 Journal of Attention Disorders | High Prevalence of Dysgraphia in Elementary Through High School Students With ADHD and Autism