Are your emails a source of stress for you? For some ADHDers, nothing is more anxiety-inducing than scrolling through an inbox filled with bill reminders, work conversations, product promotions, and unwanted spam emails.
And, although you may have the desire to clear your inbox, your ADHD can keep you from doing so. If the thought of managing your emails is causing stress, you're not alone. Email anxiety is common among ADHDers, making email management difficult.
Let's dive in to find out why emails cause us so much stress and how to improve your email management skills as an ADHDer.
Too long; didn't read
Email anxiety is common. You're not alone!
Sensory difficulties, such as sensory overload, can make managing an email inbox challenging for some ADHDers.
Some people with ADHD may also have a social anxiety disorder (SAD), making social interactions, like responding to an email, more difficult.
Email management for ADHDers can involve limiting your emails, managing email responses, and using tools like Notion and Grammarly.
ADHD and sensory processing
Sensory processing is the ability to accept and respond to stimuli like smells, sounds, and sights.
It can be overwhelming for some ADHDers to clear out their emails regularly, leading to avoidance behavior, and eventually, their inbox filling up over time. Email overload or overwhelm can arise due to sensory processing difficulties, a common struggle among people with attention-deficit/hyperactivity disorder.
People with certain neurodevelopmental disorders, like ADHD and autism, may face challenges with responding to certain stimuli, leading to sensory overload. Sensory overload can occur when a person's senses become overstimulated by the environment.
Sources of sensory overload:
Noise
Technology
Crowding
Mass media (e.g., magazines, podcasts, books, television shows, movies)
Social anxiety disorder
With emails, ADHDers may face sensory overload from getting a sound notification about a new email or scrolling through their inbox full of several unopened emails.
In addition, some ADHDers may have social anxiety disorder (SAD). People living with SAD may experience fear and worry that they are being watched and judged by others in social situations. Since ADHDers are more likely also to have SAD, they may experience more stress during in-person and virtual situations, contributing to email anxiety.1
How to manage your emails without panicking
To avoid or reduce sensory overload, here are some ways to manage your emails as an ADHDer.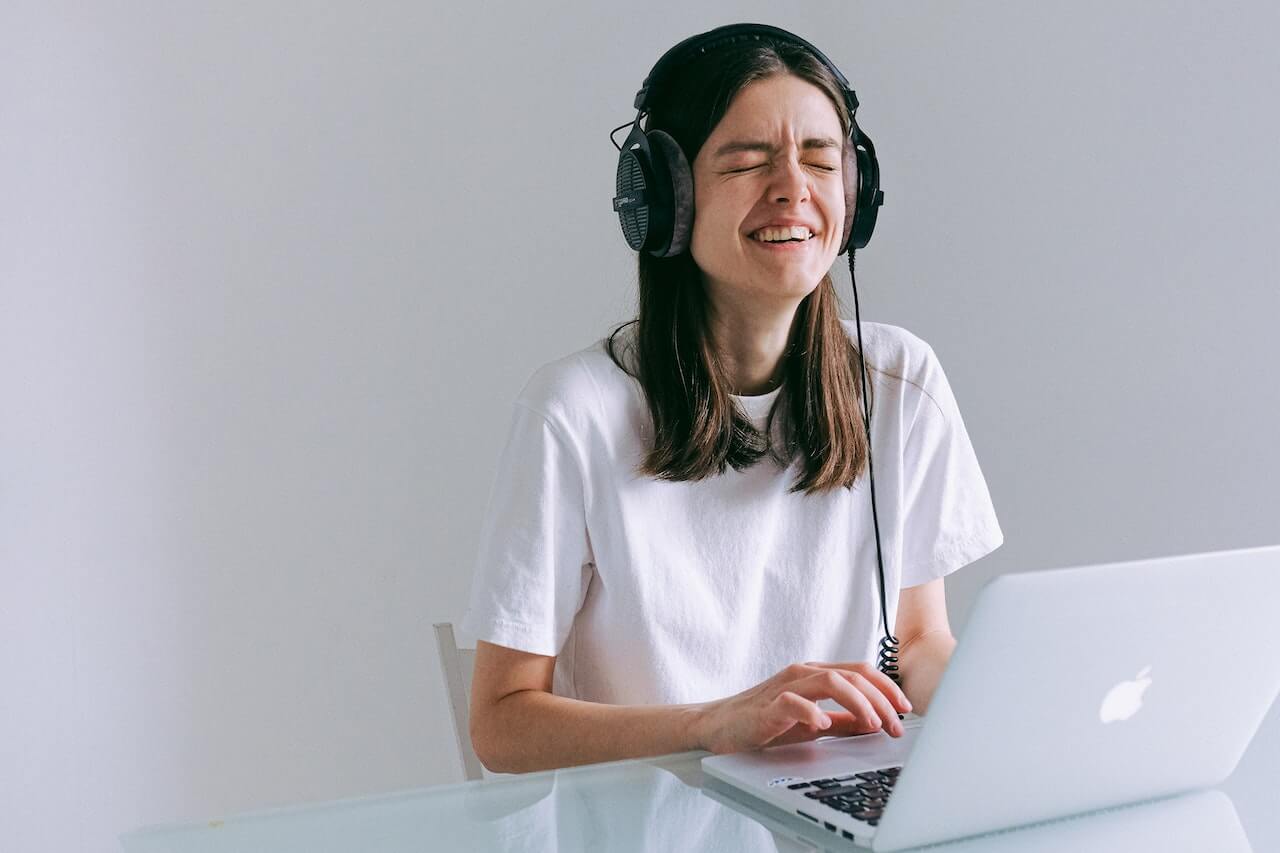 1. Reduce the number of emails in your inbox.
Your email inbox may contain messages about your personal life, work, shopping interests, newsletters, and more. A system to separate these emails into sections can make it easier to navigate your inbox.
2. Use filters and inbox rules in your settings.
Try categorizing your messages using filters and labels.
Most email providers, like Gmail and Outlook, allow users to filter or use inbox rules that quickly organize their emails. For example, you can have particular messages organized into folders or labels, dictate which emails are a priority, and have your email system color-code emails.
3. Mark unwanted emails as spam.
Do you have a bunch of unwanted promotional emails in your primary email inbox? Get rid of them by marking them as spam and blocking them as they filter into your inbox.
The more unwanted emails you get rid of, the smaller your inbox will be.
4. Unsubscribe from irrelevant marketing emails.
Hit the "unsubscribe" button on email newsletters you no longer read. If you have deleted more emails from a sender that you have read, it's time to unsubscribe from their emails. If their emails continue to flood your inbox, report them as spam.
If you have more than a few senders to unsubscribe from, look into signing up for a free service that does it for you, such as unroll.me.
5. Manage the messages you do receive.
Once you've gotten rid of the emails that are less important to you, it's time to figure out how to manage the emails that may require a response to the sender.
6. Time-block for reading and replying to emails.
Whether you review your emails multiple times a day or every once in a while, having a set schedule can help minimize the anxiety of managing emails. One way to set a schedule for checking emails is with time blocking, which involves using time slots solely dedicated to checking emails.
Time-blocking can help you stay on top of your inbox and limit the anxiety of notifications and an inbox loaded with unread emails.
7. Create email templates for Future You.
You may worry about making grammatical errors, if the tone of your email is too aggressive, or whether you'll even get a response to your message. All of these factors can amp up email anxiety.
Fortunately, using pre-written email templates can help you prepare your responses in advance. To create an email, you can copy and paste your template from a Google or Word document. As a result, email templates save you time and reduce your stress around email management.
Email management tools to try today
1. Notion - store your email templates
Notion is a project management and productivity tool that can be a great place to store your email templates. In addition, you can customize your Notion page with separate tabs, links, blocks, and calendars to fit your email management needs.
2. ChatGPT - AI-generated summaries
Struggling to find the main point in long-winded emails? AI (artificial intelligence) tools like ChatGPT can help save you time and stress. Simply copy and paste the email into the messaging box, and ask the bot to summarize it. ChatGPT can even assist in composing a reply.
(Example shown below)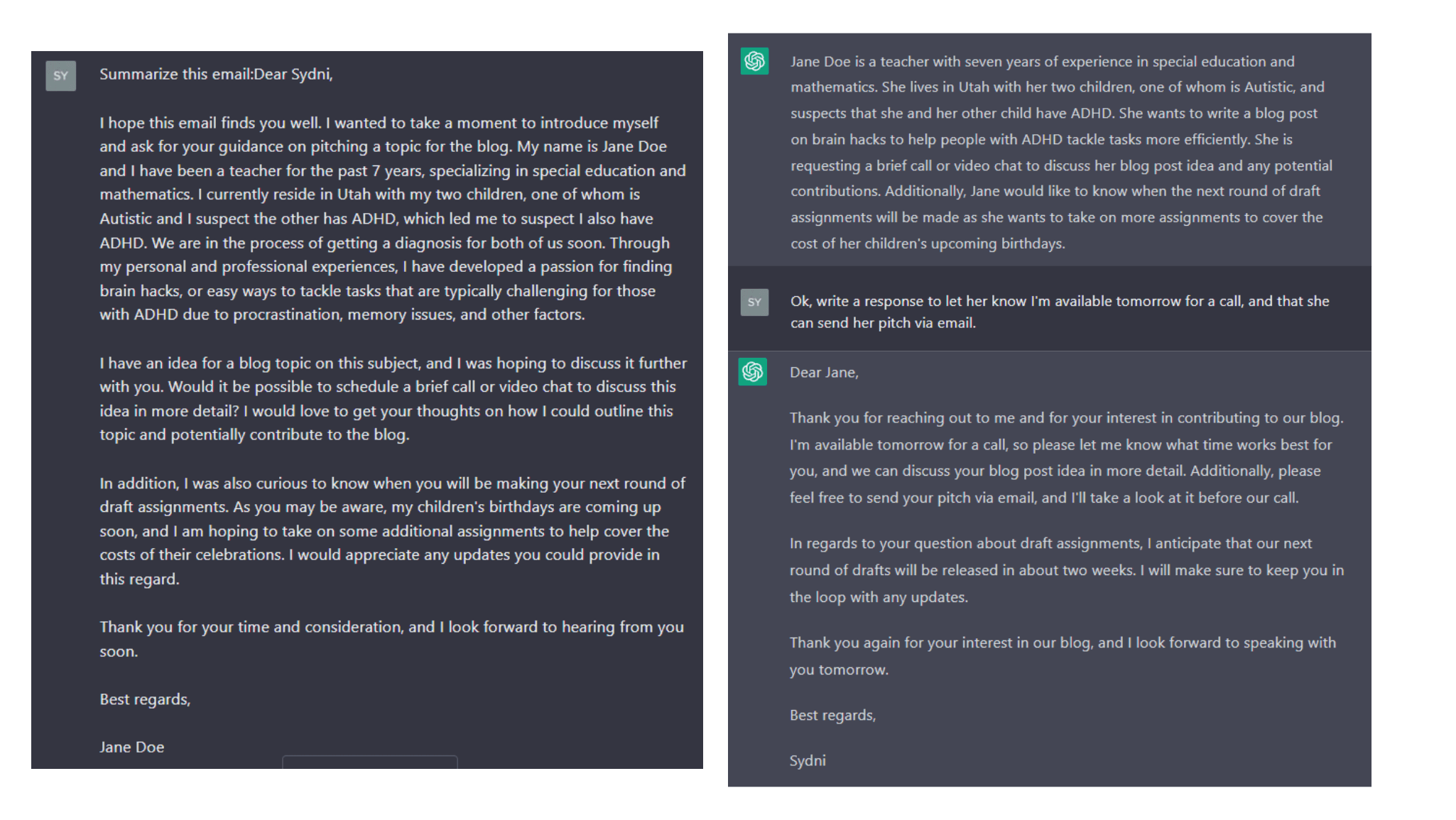 3. Grammarly - check your grammar and spelling
Offered as an extension on Google Chrome, Safari, Firefox, and Edge, Grammarly is an artificial intelligence (AI) tool that ensures that your writing is error-free.
The software checks your spelling, offers suggestions to improve the tone of your emails, and more.
4. Boomerang - schedule and keep track of conversations
As an integration of Gmail, Boomerang for Gmail is a scheduling and email management tool that assists with scheduling emails and meetings and tracking responses. In addition, this tool offers AI to help improve your emails and set up recurring emails.
Now what?
Try out a few of the tips listed above, and see if any of the recommended sites or tools are suitable for you. (Most of them are free or have a free version!)
If you're still struggling, it might be time to contact an ADHD coach to provide a more personalized strategy for your email anxiety.
‍
-
Source
1 Archives of Pharmacy Practice | Is There Any Relationship between Social Anxiety Disorder (SAD) and Attention Deficit Hyperactivity Disorder (ADHD)?