Studies overwhelmingly agree that the healing power of plants is real. Some scientists even suggest that the mere sight and presence of plants can influence our emotions and attention span, quickly improving mental and physical health.
I write this from a desk surrounded by plants, where I've found that these benefits translate in a significant way for my ADHD symptoms.
So, keep reading if you're keen to make new leafy friends but intimidated by soil types and watering schedules. I'll share some tips for simplifying and keeping up with plant care routines so you can stop playing 'Guess Who's Wilting Today?' and enjoy some beneficial greenery in your home.
Too long; didn't read
Plants can create a more positive, comfortable atmosphere, resulting in various mental and physical health benefits.
Indoor plants can benefit people with ADHD by reducing stress and improving mood and concentration.
Some houseplant tips for ADHDers include starting with low-maintenance plants and using systems to simplify care routines.
What are the health benefits of indoor plants?
Houseplants increase positive emotions
A review of 50 studies found that, when in rooms with indoor plants, people felt a range of positive emotions, from peacefulness and relaxation to warmth and kindness. They concluded that having just 1-5 potted plants around could improve quality of life. These effects were noticeable when people spent as little as 20 minutes in the presence of indoor plants within a distance of up to 3 meters.1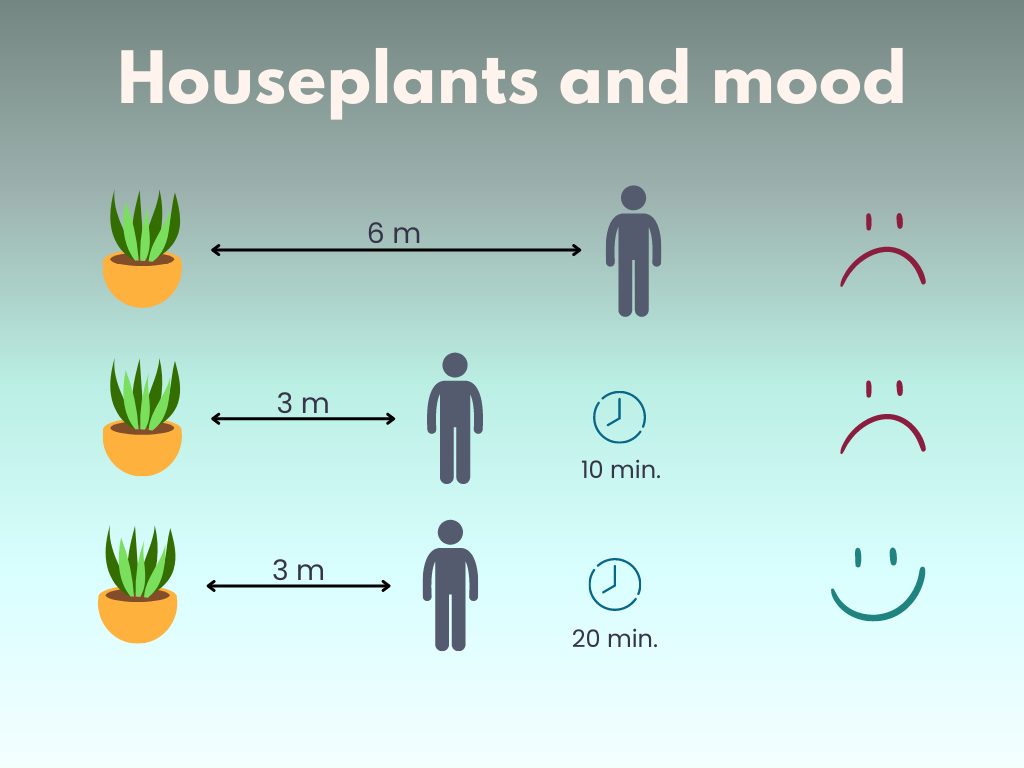 During the COVID-19 pandemic, homebound adults had better mental health if they had indoor plants, small gardens, or greenery visible from their balconies and windows.2
Plants reduce stress
One study compared two groups of people who were given a 15-minute activity. The first group completed a task on the computer, while the other transplanted a common houseplant. Then, the two groups switched places. By observing their heart rate and blood pressure along the way, they confirmed that when working with plants, people felt reduced psychological and physiological stress.3
The study found that working with plants…
…suppressed the sympathetic nervous system.
…reduced feelings of stress.
…lowered diastolic blood pressure.
…promoted comfortable, soothing, natural feelings.
Some consider plants therapeutic, highlighting the healing quality plants can have in what's known as 'horticultural therapy.' It's important to note that this is not a replacement for occupational therapy but a supplemental approach.4
Can plants clean the air?
You'll often hear that plants have indoor air purification abilities. This is a common misconception. Researchers found that you would need 10–1,000 plants per square meter of floor space to replicate anything close to what NASA's experiment found.5
It's not untrue, just unrealistic.
How houseplants can help with ADHD symptoms
What indoor plants do help with is still meaningful! Although there are no recent studies on ADHD and houseplants specifically, we can point to plenty of evidence that they have a positive effect on many common ADHD symptoms.
Houseplants improve motivation and productivity.
Workers who passively or actively care for plants at their desks feel less stress and fatigue, which supports the concept of biophilic design — that the presence of natural elements, including light, water, and greenery, has a measurable impact on people.6
Employees reported significant increases in overall well-being, productivity, and creativity compared to those working in environments without these features. As a result, researchers suggest designing greener spaces where we're meant to spend a lot of time indoors, like work and school.
🌱 Growth hack: If possible, have at least one plant on or near your desk to create a positive, comfortable atmosphere.
Plants enhance focus and attention.
In a study involving twenty-three elementary students, live plants improved their mood, attention, concentration, and feelings of relaxation. Observing brain activity with an EEG, researchers noticed a significant decrease in theta waves in response to real, live plants. The same effects could not be observed with artificial plants or pictures of plants.7
⚛️ Science translation: Theta waves indicate drowsiness and low attention.
🌱 Growth hack: I reset throughout the day by slowing down to appreciate emerging leaves and other signs of my plants thriving. It's a satisfying way to clear my head before returning to work.
🧠 Want to learn about different brain waves and their relation to ADHD? Check out our article on neurofeedback therapy for ADHD.
Exposure to plants can help with impulsivity.
Even the appearance of green plants in pictures has been associated with restorative mental benefits and healthier food choices. Researchers suggest that the calming effect of plants could have an indirect influence on impulsive eating behaviors by improving impulse inhibition.8
⚛️ Science translation: Being exposed to nature improves stress levels, so people may have an easier time making food choices based on conscious decisions rather than food cravings or emotional cues.
🌱 Growth hack: Include plants in your self-care routine. Consider meditating in a sunny room with plants, whether as part of your wake-up routine or as a screen-free way to wind down before bedtime.
Caring for plants boosts dopamine levels.
Activities related to plant care are natural ways to increase dopamine levels.
Plus, many ADHDers respond well to new things. Noticing new leaves when I check on my plants gives me a good mood boost, and paying attention to their growth over time helps with mindfulness.
As is the case with many forms of novelty, the passive benefits of plants may fade — a familiar concept to many ADHDers known as "collecting hobbies." What once provided a new source of stimulation and good vibes may become familiar — and boring — over time.
🌱 Growth hack: It's easy to get caught up in wanting a variety of plants (guilty as charged), but each new species adds another soil type, humidity preference, and other factors to consider. Try to focus on their growth and your increased confidence rather than constantly shopping for new plants (what we'd call a potentially harmful dopamine-seeking behavior).
Routines and schedules
Just like having a routine can help manage ADHD, your plants benefit from many of the same things we do, like light, water, and consistent care. Plants also follow sleep and waking behaviors.
This can be helpful for others with ADHD who could use an external source of motivation to get going in the morning or to combat time blindness.
🌱 Growth hack: Similar to my dog's schedule, I've found that my plants have a natural rhythm that helps me keep a consistent routine.
It's worth noting when plants aren't doing well. If your plants are dying, they can have the opposite effect to all the great benefits we just discussed.
For those with ADHD, the necessary attention to detail, organization, and follow-through can interfere with enjoying plant care and limit our success as plant parents.
Before resorting to artificial greenery, consider these tips for becoming an excellent plant parent.
Plant parenthood goes better with Inflow! Build the right framework to take care of you and your plants with Inflow's in-depth learning modules about creating routines, improving productivity, and so much more. Get started with Inflow today!
💡 How do you keep plants alive with ADHD?
Each plant has unique needs, and caring for them can be challenging for neurodivergent and neurotypical individuals alike. So, here are my tried-and-tested ADHD-friendly strategies.
Opt for low-maintenance plants that don't require too much attention.
When you start out, pick plants that have similar needs to avoid overwhelm and confusion.
Make notes of each plant's needs in your Notes app or a notebook for quick reference purposes. This also makes it easier to share instructions with plant-sitters if you go on vacation.
Use visual cues, such as placing the plants and their supplies in a high-traffic area, to remind you to check on them.
Set a consistent schedule and use reminder systems such as phone alarms, productivity apps, or sticky notes.
Use a designated space to organize supplies in one place to prevent distractions.
Simplify plant care with efficiency tools like self-watering planters, watering globes, moisture meters, and slow-release fertilizer spikes.
Consider grow lights with timers. They're particularly useful during winter when light availability is limited.
If you're interested in AI, check out how I used ChatGPT for my plant care routine.
Look at you grow
Loving houseplants can be challenging, especially when your collection is at 40 plants and counting, like mine. According to this ADHDer, though, the effort is well worth it.
If you were intimidated by plant care before, consider starting with just one and seeing how developing your green thumb affects other areas of your life! 💚
Sources
1 Sustainability | Effects of Indoor Plants on Self-Reported Perceptions: A Systemic Review (2019)
2 Environmental Research | Does greenery experienced indoors and outdoors provide an escape and support mental health during the COVID-19 quarantine? (2021)
3 J Physiol Anthropol | Interaction with indoor plants may reduce psychological and physiological stress by suppressing autonomic nervous system activity in young adults: a randomized crossover study (2015)
4 HortTechnology | Horticultural Therapy Program for the Improvement of Attention and Sociality in Children with Intellectual Disabilities (2012)
‍5 Journal of Exposure Science & Environmental Epidemiology | Potted plants do not improve indoor air quality: A review and analysis of reported VOC removal efficiencies (2020)
6 HortTechnology | Potential of a Small Indoor Plant on the Desk for Reducing Office Workers' Stress (2019)
7 Journal of Environmental Research and Public Health | Real Foliage Plants as Visual Stimuli to Improve Concentration and Attention in Elementary Students. International (2019)
8 Environmental Research | Indoor nature integration for stress recovery and healthy eating: A picture experiment with plants versus green color (2022)