I have ADHD. And because of that, I'm constantly reminded of my own limitations. Do you know how many times I've walked into a room and immediately forgotten why I got up in the first place? Or how often I space out during conversations? Or how mad I get at myself when I get distracted while reading a book, and read the same sentence over and over? And read the same sentence over and over? And read the same sentence over…
It's a constant reminder that my brain works differently.
And, sure, being different isn't necessarily a bad thing, but let's be honest, ADHD makes life so much harder. So, when the script is flipped and a positive aspect of ADHD is presented to us, we tend to cling to it for dear life.
Often called "ADHD superpowers," there are strengths specific to ADHD, which typically include things like hyperfocus, high energy, and having a quick-witted sense of humor. But, without a doubt, the most common trait cited as a "perk" to having ADHD? Creativity.
But is there actually any truth to this? Are people with ADHD more likely to be creative?
Here's what the science says.
Too long; didn't read
Creativity involves both cognitive flexibility (divergent thinking) and cognitive persistence (convergent thinking.)
ADHDers tend to display more creative skills while working on tasks that require divergent thinking.
Some ADHD traits - including distractibility, hyperfocus, curiosity, and mind-wandering - are associated with heightened creativity.
The three different presentations of ADHD may show varying levels and distinct types of creativity.
What's the definition of creativity?
Creativity is an easy concept to recognize, but it's harder to define.
In general, creativity can be described as the ability to use your imagination to come up with new ideas, solutions, or products that are original, unique, and meaningful.
The result of creativity might take the form of a tangible object, like an invention or a work of art. It can also be something intangible, such as a theory or an explanation for something.
Mental processes involved in creative thinking
There are two main types of thinking:
Convergent thinking is when you try to find the best solution to a problem.
Divergent thinking is used when you come up with lots of different ideas.
These types of thinking involve two important cognitive elements: persistence and flexibility. 1
Convergent thinking: Problem-solving and mental stamina
Convergent thinking is characterized by "cognitive persistence," which allows you to stay focused on a single task or goal. When given a problem to solve, convergent thinkers narrow down the possibilities and apply logical and systematic reasoning to identify the best solution.
Divergent thinking: Idea generation and mental flexibility
Divergent thinking involves plasticity or "cognitive flexibility," which is the ability to think "outside the box" and explore many different ideas — sometimes all at once! People who are divergent thinkers (aka innovative thinkers) often break away from conventional or linear thinking patterns. 2
While both convergent and divergent thinking are used in the creative process, divergent thinking is more closely linked to creativity, especially during the initial phase of idea generation.
How do people with ADHD think?
Although there's no definitive causal relation between ADHD and creativity, it's the most readily cited "ADHD superpower" for a reason.
Studies have found that ADHDers tend to generate more original ideas than neurotypicals, suggesting that ADHD brains are less restricted by existing knowledge during creative tasks. 3 In other words, they're more likely to be capable of something called "conceptual expansion."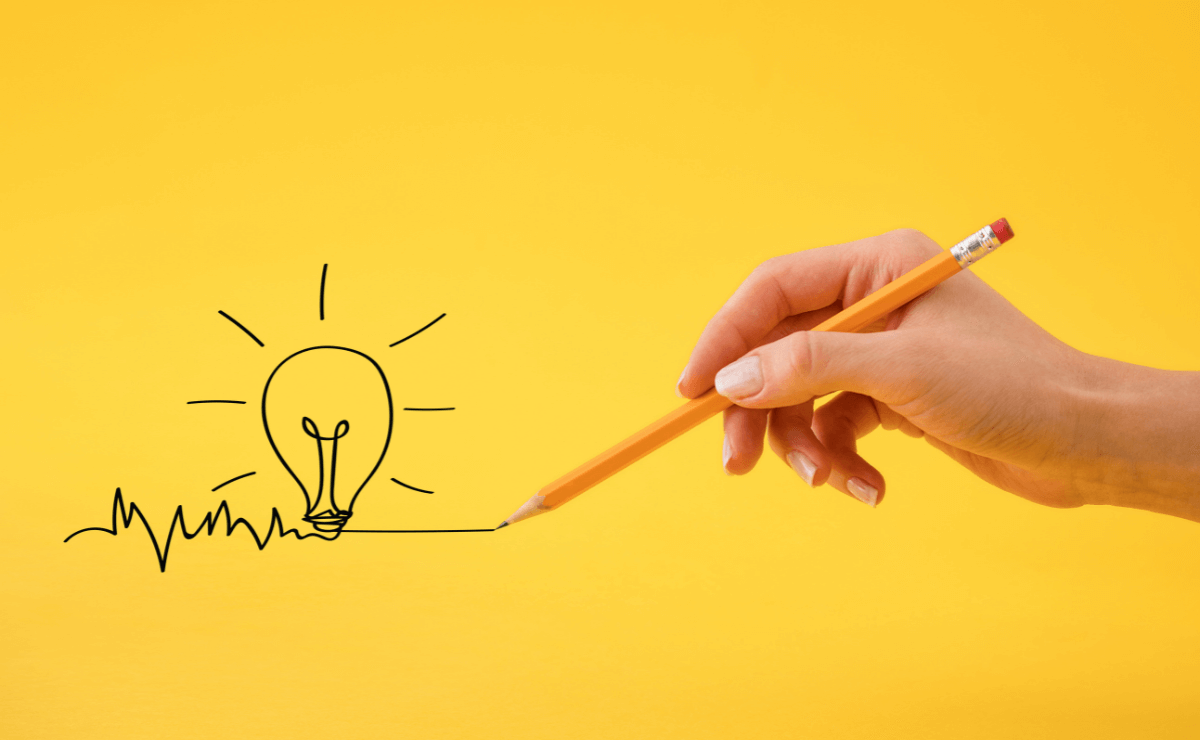 ADHD and divergent thinking
Research suggests that children and adults with ADHD are more likely to have divergent thinking patterns, which means they can quickly connect seemingly unrelated concepts and generate a wide variety of creative ideas and solutions. 3,4
🤔 Just a thought... This might explain why so many people with ADHD bounce from one topic to another during conversations or why it's hard for us to focus on a task from start to finish without getting distracted.
However, it's important to remember that not all people with ADHD are divergent thinkers. Some ADHDers don't consider themselves creative at all!
ADHD and convergent thinking
Convergent thinking requires a more focused and structured approach to finding a single solution, which can be a bit more challenging for ADHDers.
Here's how ADHD may interfere with the ability to think "inside the box":
Inattention: Most adults and kids with ADHD struggle with attention regulation. Because of this, they may be unable to filter out irrelevant information and distractions, making it difficult to focus on the task from beginning to end.
Unorganized thoughts: Many people with ADHD experience unorganized thoughts. When someone has disorganized thinking, their thought process lacks structure, which can lead to confusion, random associations, and trouble sequencing ideas to reach a solution.
Hyperactivity: ADHD hyperactivity often presents as restlessness and difficulty sitting still. This relentless urge to move can make it harder to engage in focused tasks. However, mental hyperactivity can also negatively affect the ability to follow a linear thought process.
Motivation deficit: ADHDers tend to struggle with executive dysfunction, which can affect motivation levels and make it difficult to focus on tasks that aren't stimulating or exciting. A lack of motivation can make it even more challenging to adopt the structured approach needed for convergent thinking.✨ In dire need of motivation? Check out our favorite motivation hacks for ADHD.
Are people with ADHD more creative?
It's no secret that ADHD brains are wired differently, which could explain the creative connection.
In fact, certain symptoms and behaviors related to ADHD might enhance creative thinking.
ADHD symptoms and traits that boost creativity
Mind-wandering
Research shows that those with ADHD tend to spontaneously engage in more wandering thoughts, which can help draw connections and generate new ideas. This "mind-wandering" may also allow for a different perspective on problems and potential solutions.
Mind-wandering and divergent thinking are associated with a brain network called the "default mode network" (DMN). 5 The DMN is most active when the brain is awake and at rest, i.e. not sleeping.
When neurotypical brains are focusing on a task, the DMN is deactivated, and task-positive networks (TPNs) are activated.
However, ADHD brains have shown different activation patterns: While TPNs are activated during cognitive tasks, the DMN is not entirely inactive, which may explain common inattentive symptoms. 6 This incomplete deactivation of the default mode network has been linked to higher individual creativity. 7
Some scientists even suggest that this link between ADHD and creativity is reason to reconsider "ADHD as a particular 'mode of thought' rather than simply a 'disorder.'" 8
Hyperactivity
One 2021 study found that hyperactivity, especially in those with combined type ADHD (ADHD-C), was linked to higher originality scores on divergent thinking tasks. In a questionnaire assessing creative abilities in different domains, participants with ADHD-C also rated their creativity higher than other groups, particularly in the Performance domain (e.g., music, theater, dance.)
Researchers hypothesized that hyperactivity may be a trait that helps people with ADHD-C feel more comfortable when they're performing. 9
Risk-taking behavior
ADHDers often have a higher tendency to take risks. This trait might be problematic in some contexts, but when it comes to creativity, it can be a helpful quality. Their willingness to take risks means that they aren't afraid to go off the beaten track and explore uncharted territory, increasing the potential for innovative ideas.
Curiosity
People with ADHD tend to be highly curious and love going down rabbit holes to learn about their newest interests or hobbies. Small wonder, since curiosity and dopamine are linked: When we find something new that piques our interest, dopamine is released. This natural curiosity is what drives people to explore the unknown.
Several research papers have linked certain types of curiosity with creativity and the ability to think up unique solutions. 10,11
ADHD hyperfocus
Contrary to the popular belief that people with ADHD are always distractible, they can also experience hyperfocus - an intense concentration on a specific task or activity. This ability to deeply immerse themselves in what they find interesting can lead to profound insights and creative outcomes.
ADHD presentation and creativity
ADHD isn't a one-size-fits-all diagnosis. In fact, there are three presentations of ADHD, and that may have an impact on creativity.
In one study, researchers found that adults with combined-type ADHD were more creative than adults with predominantly inattentive ADHD. 9 However, it's important to remember that time-restricted studies may not reflect reality, particularly for people with inattentive-type ADHD:
The authors stressed that mind-wandering, a trait associated with ADHD-I, may enhance divergent thinking. But, since this trait requires time spent away from the task, the study design (which didn't allow for breaks) could have disadvantaged inattentive ADHDers.
Can ADHD medication make you less creative?
Several research studies have explored how ADHD medications — particularly stimulants like Adderall, Ritalin, Vyvanse, and Concerta — affect creativity.
‼️ Heads up! It's important to note that the following studies only investigated the effects of methylphenidate, which is more commonly known under brand names like Ritalin or Concerta.
How does stimulant medication affect creativity in ADHD children? (2016 research)
In 2016, Gracia González-Carpio Hernández and Juan Pedro Serrano Selva published a study that raised concerns about using stimulant medications to treat ADHD (methylphenidate, aka Ritalin and Concerta) and the potential impact on creativity. 12
Study results showed that ADHDers had similar - or even better - creativity test scores when they were not taking stimulant medication compared to when they were medicated. When medicated, they had fewer creative responses with less originality. This could be because stimulants can put someone in a "zombie-like" state of focus, which may limit their use of creative inspiration from their surroundings.
In their conclusion, the authors noted that, when evaluating creativity in kids with ADHD, it's important to consider whether they're medicated since ADHD meds could hide their true creative potential.
How do stimulants affect creative abilities in ADHD adults? (2020 research)
Four years later, Matthijs Baas et al. conducted a similar study on ADHD adults. 13 Researchers gave participants a 20 mg dose of methylphenidate and observed its effect on creativity.
Surprisingly, they found that methylphenidate might not directly affect creativity in ADHD adults. However, participants also didn't note an increase in alertness, which is what the drug is supposed to do. This could indicate that the dose wasn't high enough.
Still, the researchers concluded that while there might have been methodological factors that made it hard to see Ritalin's true effects on creativity, it's quite possible that methylphenidate doesn't affect creative performance in ADHD adults at all.
Lastly, the study suggests that more research with larger groups and more sensitive tasks is needed to understand better how these drugs affect creativity.
Final thoughts
The relationship between ADHD and creativity is fascinating and complex. Research suggests that ADHDers often excel at divergent thinking, coming up with original ideas due to their wandering thoughts, risk-taking tendencies, and moments of hyperfocus. However, creativity levels can also vary among the three ADHD presentations.
Regarding ADHD medication, studies indicate that stimulants like Ritalin may influence creativity, potentially hiding it, particularly in children with ADHD. However, other research suggests that adults may not experience the same effects and can maintain their full creative ability while on medication.
Although more research is needed to fully grasp the connection between ADHD and creativity, one thing is clear: Having ADHD offers a unique perspective that can nurture creativity. Embracing our differences can unlock the potential for innovation and imagination, highlighting the remarkable possibilities that lie within our very own neurodivergent brains.
‍
-
Sources
1 NeuroImage | Metacontrol of human creativity: The neurocognitive mechanisms of convergent and divergent thinking (2020)
2 Current Opinion in Behavioral Sciences | Creativity and the Big Two model of personality: plasticity and stability (2019)
3 Journal of Creative Behavior | Thinking "Outside the Box": Unconstrained Creative Generation in Adults with Attention Deficit Hyperactivity Disorder (2018)
4 Creativity Research Journal | Scope of Semantic Activation and Innovative Thinking in College Students with ADHD (2016)
5 Neuropsychologia | Creativity and the default network: A functional connectivity analysis of the creative brain at rest (2014)
6 Brain and Behavior | Brain functional connectivity abnormalities in attention-deficit hyperactivity disorder (2016)
7 NeuroImage | Failing to deactivate: The association between brain activity during a working memory task and creativity (2011)
8 Brain Behav. | Gender differences in parieto-frontal brain functional connectivity correlates of creativity (2019)
9 Journal of Attention Disorders | Creativity in the Predominantly Inattentive and Combined Presentations of ADHD in Adults (2022)
10 Journal of Creative Behavior | A Meta-Analysis of the Relationship between Curiosity and Creativity (2019)
11 Personality and Individual Differences | Outside the box: Epistemic curiosity as a predictor of creative problem solving and creative performance (2017)
12 Psicothema | Medication and creativity in Attention Deficit Hyperactivity Disorder (2016)
13 NeuroImage | Methylphenidate does not affect convergent and divergent creative processes in healthy adults (2020)