Get ready to open your mind because it's time for a psychedelic vibe check… for science. Let's take a trip to the world of magic mushrooms, where psilocybin may be a promising treatment for ADHD — no cap.
Too long; didn't read
Psilocybin (found in "magic mushrooms" or "shrooms") is quickly gaining prominence as a potential treatment for mental health conditions like depression and PTSD.
Microdosing psilocybin may be a powerful approach to treating various conditions, including ADHD.
Studies have shown that many ADHDers self-report having replaced stimulant medications with psilocybin with excellent results.
Although these developments are exciting and promising, there are legal and health risks to consider.
⚕️ Medical disclaimer: This article is for informational purposes only and does not constitute professional medical advice, diagnosis, or treatment. The information provided, including medication alternatives, does not replace the guidance of a healthcare professional. Always seek the advice of a qualified healthcare provider regarding questions you have about a medical condition or medications. Use this information at your discretion. The editors and writers associated with this article cannot be held liable for any errors or consequences resulting from its use.
What are "magic mushrooms"?
Psilocybin mushrooms, commonly called "magic mushrooms" or "shrooms," are fungi containing naturally occurring psychoactive compounds, notably psilocybin.1
Like other psychoactive substances, psilocybin has been used for centuries in various cultures for spiritual and medicinal purposes. Due to its hallucinogenic, psychedelic properties, it is often associated with the "hippie" counterculture and recreational use.
How do mushrooms work on a chemical level?
When ingested, the body converts psilocybin into psilocin. Psilocin can bind to the brain's serotonin receptors, influencing our thought patterns, perception, and mood.
We have much to learn about how psilocybin affects our states of consciousness, and many studies rely on self-reported data. It can be challenging for study participants and researchers to meaningfully convey the influence of psychedelics, especially when their effects are not immediately noticeable.
One strategy uses machine learning to 'translate' self-reported psychedelic experiences by linking them to the neurotransmitter receptors and brain regions likely associated with these mental states. Researchers then created a 3D brain map to visualize how people experience these altered states.
With a deeper understanding of psilocybin's influence on the brain, we may be able to develop treatments with new hallucinogenic drug compounds to target specific receptors to create the desired experience.
Can mushrooms be used to treat mental health conditions?
Yes, mushrooms can be used to treat several mental health conditions. In fact, there is growing interest in the therapeutic potential of psilocybin.1
Magic mushrooms have been used to treat conditions like:
ADHD
Anxiety
Depression
PTSD
Treating depression is perhaps the most common example of using mushrooms for mental health conditions. Studies have observed "significant and immediate" results lasting up to a year. Considering that depressive symptoms can return as quickly as two to three weeks after stopping the use of conventional antidepressants,2 these findings are promising. Psilocybin may be a new treatment approach for depression that doesn't rely on long-term medication.
These transformative effects are often described as "rewiring the brain." Many researchers and mental health professionals expect that psilocybin could be used to treat addiction and other mental health conditions similarly.
Microdosing psilocybin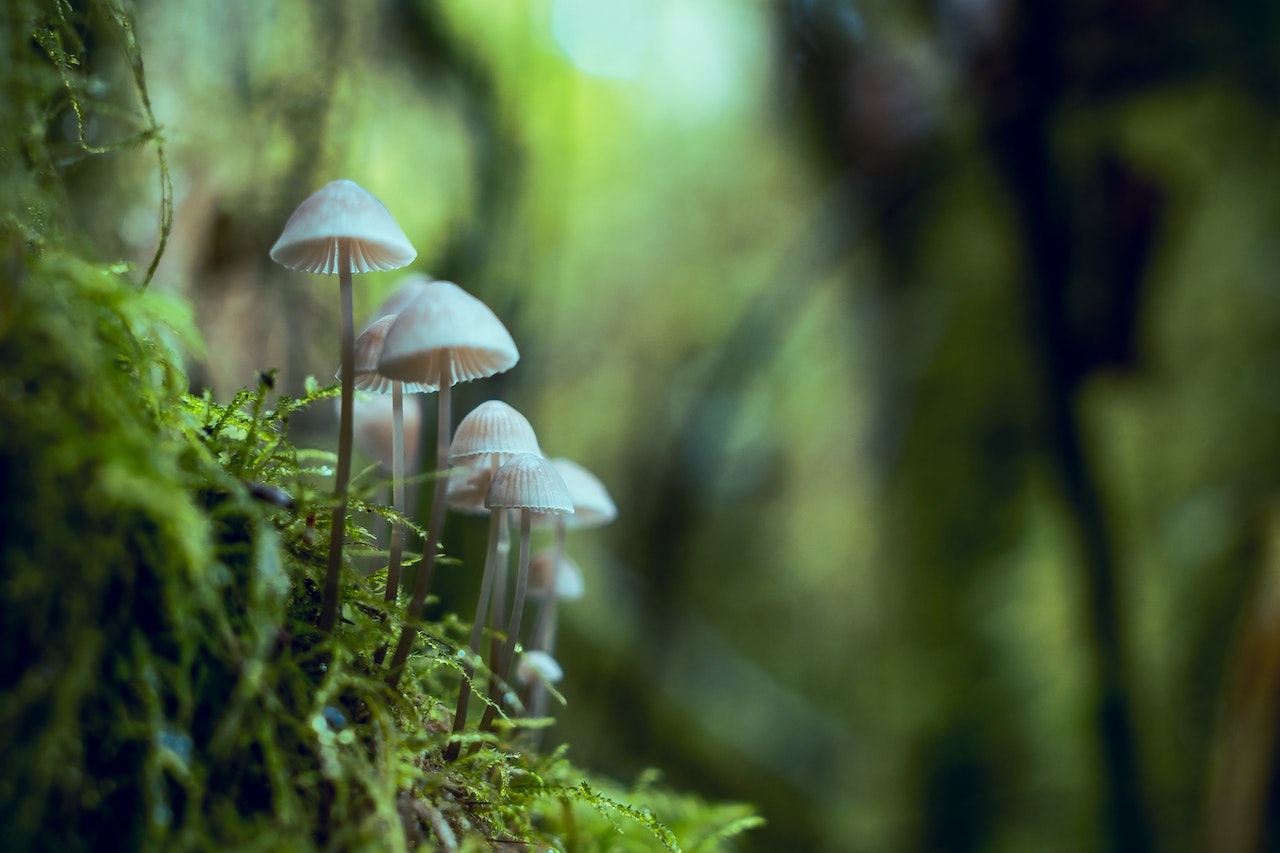 While macrodosing is a common use of psilocybin (with the intent of recreational "tripping"), microdosing involves taking small, repeated doses of psilocybin to enhance creativity, focus, and mood.3
Many studies have focused on high-dose treatments for various conditions, but microdosing may provide a lower-risk approach. However, scientists have yet to reach a consensus on this. Some researchers believe more substantial doses may be more suitable for certain conditions; others have highlighted the limited empirical evidence of psilocybin's efficacy.4
Are psychedelics a good alternative for ADHD treatment?
Possibly! Studies have found that people reported decreases in ADHD symptoms after two weeks of microdosing, with continued improvements after another two weeks.3 Much of the research into psychedelics has focused on its use for depression and PTSD, though there are ongoing clinical trials specific to ADHD.5
Until there's empirical evidence, we can look to surveys and the subjective experiences of ADHDers to see the potential for treating ADHD with psilocybin.
What ADHD symptoms can be improved with psilocybin?
While there is limited research on psilocybin and ADHD specifically, anecdotal information suggests that it may help with symptoms like:
Distractibility
Impulsivity
Hyperactivity
Irritability, impatience
Restlessness
Emotional dysregulation
Mood swings
Some findings suggest that microdosing for ADHD returns better results than macrodosing, a more common approach for anxiety and depression.4
How do mushrooms compare to ADHD medication?
Stimulants are still the first-line treatment for ADHD, having been extensively studied and proven effective. Psilocybin is not currently an approved form of treatment for ADHD.
One study found that 70% of participants favored psychedelics (including psilocybin) over conventional ADHD treatments. According to some of their claims, microdosing psychedelics reduced or entirely removed symptoms.
A notable difference in treatment with stimulants versus psychedelics is the side effects. Some ADHDers may have worsened ADHD symptoms on Adderall. Others experience negative side effects with stimulants, whereas psychedelics tend to have fewer side effects — especially when microdosing.
What are the risks of self-medicating with mushrooms?
Even medical professionals and scientists who study psychedelics have limited answers on mushrooms' efficacy and long-term effects. We also know that the range of experiences is vast, varying from person to person.
Unpredictable experiences
How you take mushrooms can change their effects and the time it takes to activate and dissipate in the body.
There are over 100 strains of magic mushrooms with different properties and concentrations of psilocybin and psilocin. There are also many ways to consume mushrooms, from directly eating or mixing them into other food to brewing tea or filling them into capsules.
Different strains of psilocybin do not necessarily result in a different experience. Still, they could be relevant in developing treatment plans and pharmaceuticals.
Higher dose, higher risk
Especially for those with past experiences of psychotic disorders, high doses of psilocybin may result in the following adverse effects:
Hallucinations
Paranoia
Anxiety
Prolonged psychosis
Poor reintegration
Proper treatment after high-dose experiences includes integration work, where a professional helps guide the patient with aftercare. They monitor the person's behavior and well-being throughout the trip and help translate their experience into meaningful reintegration with their daily life. Trip guidance also helps avoid counterproductive results from the session or "bad trips."
Neuroplasticity
It's possible to have too much neuroplasticity, the capacity for the brain to rewire itself, often associated with learning and creativity. While limited neuroplasticity would negatively affect someone's ability to learn, too much plasticity could destabilize existing memories and make it harder for a person to make coherent decisions.
Legal concerns and controversy
Decades of controversy have blocked research into psychedelics despite mushrooms having the lowest emergency room incidence rate of all drugs, including cannabis.
Although some argue that mushrooms are the safest recreational drug, psilocybin is a Schedule I controlled substance in the United States. Possessing and using psilocybin is also illegal in the U.K., though the tides seem to be turning.
Denver and Oakland decriminalized some psychedelics in 2019; Seattle and Washington D.C. have since followed suit. Notably, these cities have not legalized these substances. They are considered a lesser priority for arrest and prosecution and are often limited to non-commercial use. In 2020, Oregon became the first U.S. state to decriminalize psilocybin and legalize it in a therapeutic context.1
Some regions like the U.S. and Mexico extend legal exceptions to Indigenous cultural practices. Brazil, the Netherlands, and Jamaica are among the countries with legalized psilocybin.
Many hope to see federal funding and legalization continue. Approvals for clinical studies can further advance our understanding of the potential for psilocybin, as we're currently seeing with medicinal cannabis use.
My experience
As someone who has "tripped" on shrooms recreationally, I knew first-hand just how powerful they are. After some extensive research, I began microdosing. Several months later, microdosing has been a life-changing experience from creativity and focus to better managing my emotions and responses to stress.
For me, microdosing psilocybin has absolutely helped with my ADHD symptoms.
Final thoughts
There is promising research on the therapeutic potential of psilocybin, but it is important to proceed with caution. More research is necessary to understand the risks and effects of psilocybin. If you are interested in microdosing, consider your local regulations carefully and work under the guidance of a trained medical professional.
‍
-
Sources
1 Molecules | The Therapeutic Potential of Psilocybin (2021)
2 CMAJ : Canadian Medical Association Journal | Antidepressant discontinuation syndrome (2017)
3 Neuroscience Applied | Microdosing with psychedelics to self-medicate for ADHD symptoms in adults: A prospective naturalistic study (2022)
4 Frontiers in Psychiatry | Self-Rated Effectiveness of Microdosing With Psychedelics for Mental and Physical Health Problems Among Microdosers (2019)
5 Mind Medicine | Safety and Efficacy of Low Dose MM-120 for ADHD Proof of Concept Trial (ongoing trial - last updated: August 2, 2023)