Anxiety is on the rise. More than 40 million adults in the United States struggle with anxiety due to the pandemic, adulthood responsibilities, higher education, and parenting, to name a few stressors. Despite the endless list of anxiety triggers, we're still expected to function as a responsible adult in our society. But how!?
There are plenty of treatment routes, but for those interested in non-medication options, we've outlined a popular coping strategy that can help relieve anxiety symptoms. Here, we'll explore the 5-4-3-2-1 grounding technique, why it works, and how to master it.
Too long; didn't read
Anxiety is the second most common comorbid condition to ADHD, after depression.1
Anxiety is a normal response from your brain to alert you of potential threats. 
You may have an anxiety disorder if you frequently experience overwhelming symptoms.
Grounding exercises can help reduce anxiety symptoms by helping you bring your attention back to the present. 

What is anxiety?
Simply speaking, anxiety is the brain's way of reacting to stress and alerting you to the possibility of danger.
It's a normal emotion that everyone feels.

Occasional anxiety — giving a presentation at work or meeting your partner's parents — should go away quickly. But if you experience frequent (or constant) overwhelming anxiety, you may suffer from an anxiety disorder.2
Anxiety as a mental health condition is an incredibly common comorbid condition to disorders like OCD, PTSD, ADHD, and Bipolar.1

Different types of anxiety disorders
Panic disorder
Social anxiety disorder (social phobia)
Separation anxiety disorder
Other phobias (e.g. agoraphobia)
The good news is that there are coping mechanisms to help you effectively deal with anxiety or panic attacks.

What are the signs of anxiety?
The main symptom of anxiety disorder is excessive worry or fear. Additional symptoms vary based on the specific type of disorder.

Psychological symptoms
Feelings of panic
Feelings of danger or doom
Insomnia and other sleep problems
Difficulty concentrating
Obsessive rumination (thinking about a problem over and over)

Physical symptoms
Heart palpitations
Hyperventilation
Shortness of breath
Difficulty staying still
Sweaty or cold hands or feet
Tingling or numb hands or feet
Nausea
Dry mouth
Muscle tension
Dizziness

How to use the 5-4-3-2-1 grounding technique for anxiety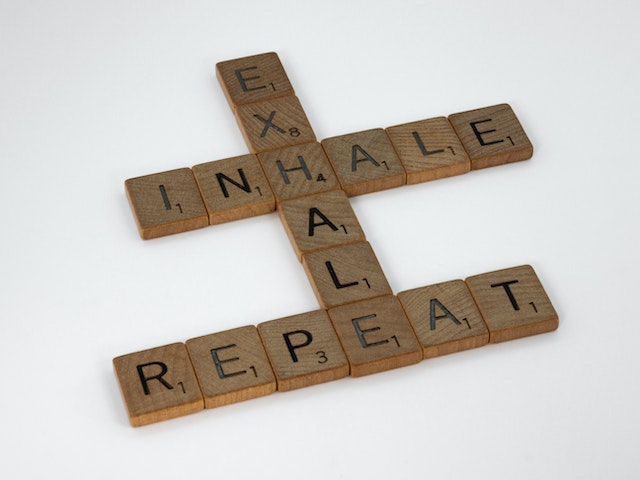 The 5-4-3-2-1 grounding technique engages all five senses to help you return your thoughts to the present. It's a simple but compelling exercise to bring awareness to the here and now when your mind bounces between anxious thoughts.

The exercise begins with settling into a comfortable seated position.
Step 1: warm up with deep breaths
Close your eyes and take a few deep breaths in a 3-3-3 pattern: 
Breathe in through your nose (count to 3)
Hold your breath (count to 3)
Breathe out through your mouth (count to 3)

Step 2: recruit your senses
Now, open your eyes and take a look around. 
Try to locate items that apply to the following descriptions, counting backwards from five.

💡 Pro tip!
If it doesn't feel too weird, name them out loud as you find them! It helps the brain process this exercise even further.

5: sight
Name five things you can see in the room or out the window, e.g., passing traffic, trees, other furnishings, pictures on display, etc.

4: touch
Name four things you can feel. This can be the texture of your skin or hair, the upholstery on a chair, clothing, a nearby table, your phone, etc.

3: sound
Name three things you can hear, e.g., muffled noises from another room, a clock ticking, traffic noises, birds chirping outside, etc.

2: smell
Name two things you can smell – hopefully, pleasant things! If you can't find anything in the room, try nearby sofa pillows, the soap dispenser in the bathroom, etc.

1: taste
Name one thing you can taste. Ideally, it would help if you kept small pieces of candy or gum nearby for this. But, if needed, you can get up to retrieve something.

🤢 Not in the mood for food? 
Nausea is a common anxiety symptom, so you may not be ready for a snack right now, and that's ok! Instead, locate something that would have a taste.

Step 3: Take a few more deep breaths 
Take a deep breath. (Or two or three).
Keep your eyes open this time to help communicate to your brain that you are safe.

Step 4: Repeat as needed
You've completed the exercise!

Now, you can repeat it until you feel calmer and more focused on the present.
Then, celebrate your success! You just prevented an anxiety spiral. Well done!

How to get the most out of grounding techniques
1. Keep your eyes open.
While engaging in this exercise, you want to see and focus on your surroundings.
The more (non-dangerous) sensory input your brain receives, the more likely you are to calm down.

2. Practice!
Grounding techniques are a skill that must be practiced like any other skill, so practice it often.
The more you do this, the faster you will be able to stop the spiral because your mind and body will already know what to do.

💡 Pro tip!
Whenever you try a new grounding technique for the first time, do it when you're not in the middle of a panic attack. Introducing your brain to a new grounding strategy in panic mode may do more harm than good.

3. Build a support system.
Teach a family member or friend about grounding and why you use it. That way, they can remind you to use it (and even do it with you) if they notice your anxiety rears its head.

For example, you could say, "Hey, I'm feeling a little anxious right now. Can we do some grounding?"

At that point, they can count backward from five while you spot things you can see, feel, hear, smell, and taste.