With attention-deficit hyperactivity disorder (ADHD), getting tasks done can be a huge struggle. Some days you feel like a hyperfocus machine and get everything crossed off your to-do list; other days, you're struck with task paralysis, overwhelmed by just the thought of starting on anything. And before you know it, you're out of time.
If you have ADHD, this struggle may be a daily occurrence, as some of the most common ADHD symptoms are challenges related to time perception and time management.1
Enter: the Pomodoro technique.
Let's dive in to see where the Pomodoro technique comes from and how you can implement it.
Too long; didn't read
The Pomodoro technique, or Pomodoro method, is a useful productivity tool that anyone can use.
The Pomodoro technique is especially helpful for ADHDers who struggle with time blindness or hyperfocus.
It works by breaking down tasks into smaller chunks.
You can adapt the technique to your needs by adjusting the length of your work and break periods.
What is the Pomodoro technique?
The Pomodoro technique is a helpful time management strategy for anyone to use for free. However, ADHDers can significantly benefit from this method due to their typical struggles with productivity, time management, task management, and hyperfocus.
This technique was created in the 1980s by Francesco Cirillo, who aimed to boost his focus and productivity. The timer he used when creating this technique was red and shaped like a tomato ("pomodoro" in Italian).
He discovered that 25 minutes of work, followed by a break of up to five minutes, was the sweet spot for focus and productivity.
Steps of the Pomodoro technique
Note: These steps can be modified! More on this in the sections below.
Before beginning a task, determine how many rounds of Pomodoros you might need (For reference, one Pomodoro cycle is a full work session followed by a full break session)
Put any distractions away
Set a timer for 25 minutes
Give the task all of your focus during that time
Once the time is up, take a short break for a few minutes
After four Pomodoro rounds, take a longer break (20 minutes)
Restart at step one until your task is complete
ADHD and time management challenges
Time is tricky for those with ADHD, which makes the lack of awareness of the passage of time (aka time blindness) an issue.
Time struggles can lead to issues like:
Research shows that ADHD brains perceive time differently from neurotypical brains.2 ADHDers are more likely to be immersed in the present, which can be a good thing, but it presents a challenge when it comes to getting things done.
It's important to note that while time blindness is a common ADHD symptom, not all ADHDers experience it.1
How Pomodoro can help with ADHD time struggles
The Pomodoro technique works well for ADHDers because it breaks down tasks into smaller, more digestible pieces, making a big intimidating chore seem more reasonable and achievable. This is especially helpful for anyone who tends to get overwhelmed by large projects and those who tend to put things off until the last minute.
‍It creates a time limit for work, helping to reduce the intensity of hyperfocus sessions and prevent the burnout that often follows.3
Studies show that students who implement strategies like the Pomodoro technique could better manage their time-related ADHD symptoms.4
How to use the Pomodoro technique with an ADHD brain
While the original Pomodoro technique is an excellent place for ADHDers to start building time management skills, there's no need to feel boxed in by it! Experiment with it and adjust it to fit your needs.
How long should a Pomodoro break be?
The problem: Breaks are a key part of the success of this technique, but finding the right length for your break can be tricky, especially if you have ADHD.
The solution: Test out different break lengths and track how much time you typically need to get back into work mode after the break. (For ADHDers, this can be between five minutes and two hours, depending on the break length, so choose wisely!)
Think of yourself as Goldilocks - not too little, not too much, but just right. And always be sure to use a timer! You can't rely on yourself to be aware of how much time has passed.
How should tasks be prioritized?
The problem: If you've got a few tasks you need to get done, it may be difficult to decide which one to start with.
The solution: Make a list of your tasks and decide on the most time-sensitive ones. For example, let's say you have an email that needs to be written, like… yesterday. (#EmailAvoidance!) That task is more urgent than the project that's not due for another two weeks.
‍For more on how to prioritize tasks with ADHD, check out our guide on how to use the Eisenhower Matrix!
How to avoid distractions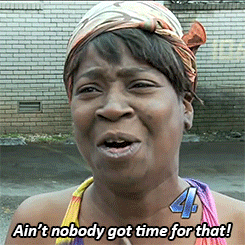 The problem: Our phones are fun! Not to mention, the ADHD brain is naturally distractible. With modern technology and ADHD, setting a timer and getting straight to work without distractions is easier said than done.
The solution: Put your phone in another room and use a kitchen timer (or any timer that isn't your phone!) You can set your phone to Do Not Disturb and only allow specific notifications, like phone calls and messages from important contacts. Then, turn your volume up and set it in a different room. (This way, you won't have to worry about missing something important!)
Another solution to distractions is using a body doubling or coworking system, when someone simply sits with you while you complete your tasks. A body double is great for productivity and accountability and helps reduce distractions.
Recap on the Pomodoro method
Short bursts of work followed by a break are key to the Pomodoro technique's success. It's beneficial for people with ADHD as it reduces overwhelm and limits the time spent on a task.
🍅👉 Need some company while working through your to-do list?
Try the Pomodoro technique during coworking sessions on the Inflow app. This ADHD management app gives you access to virtual coworking sessions (1-2 hours) and drop-in focus rooms (up to 7 hours) in which you can join other ADHDers and put the Pomodoro to work. These sessions are ideal for getting some accountability while helping you build lasting habits to improve productivity.
‍
Sources
1 Medical science monitor: international medical journal of experimental and clinical research | Clinical Implications of the Perception of Time in Attention Deficit Hyperactivity Disorder (ADHD): A Review.
‍2 Medical science monitor : international medical journal of experimental and clinical research | Time Perception is a Focal Symptom of Attention-Deficit/Hyperactivity Disorder in Adults.
‍3 Psychological Research | Hyperfocus: the forgotten frontier of attention.4 Children | Strategies for Coping with Time-Related and Productivity Challenges of Young People with Learning Disabilities and Attention-Deficit/Hyperactivity Disorder.