At least 70% of Americans use smart home devices, over 14 million homes leave their vacuuming to robots, and approximately eleventy billion smart bulbs have been sold. (Ok, that last one was just a guess.)
In this article, we'll follow a day in the life of an ADHDer using smart devices (spoiler: it's me), share a few ideas for your own smart home, and geek out over what we could see from these gadgets and gizmos in the future.
Too long; didn't read
Smart home tech is pretty cool now but has plenty of untapped potential.
Researchers have explored the possibility of using these devices to assist people with disabilities, which may also benefit ADHDers.
There are many ways to utilize smart devices and automation in your daily life.
Dylan (ADHDer) shares a day in their life using smart home tech and automation.
Why use smart home automation?
Smart home devices are nothing new, but the tech remains in its infancy.
When a voice assistant hears, "Remind me to…" and responds with the difference between baking soda and baking powder, it's like, sure. Good to know, but quick follow-up question — why are you like this?
That said, if you're willing to fine-tune a smart home ecosystem to your liking, these devices can be a pretty awesome tool for ADHDers, even in their current state.
I use mine to automate repetitive tasks and acknowledge the passage of time on my behalf. Some of you may benefit from some of these capabilities.
The future of ADHD is already here! The Inflow app has learning modules on topics like home organization, routines, and time management to help you build healthy habits that actually stick. Start with Inflow today for a better tomorrow!
A day in the (automated) ADHD life
The following is a chronological "day in the life" exploration of how smart home automation can be used throughout the day to help people with ADHD.
I'm deep in Google's ecosystem, but most systems have comparable solutions.
6:00 AM - Waking up -
My phone's alarm goes off.
Google Assistant turns on the sun-imitating light on my nightstand, making it less likely that I hit snooze.
I reluctantly dismiss my alarm, for I do not wake up flawlessly like Beyoncé Giselle Knowles-Carter.
Google tells me the weather.
It also tells me about my schedule for the day ahead.
6:30 AM - Morning routine -
Thankfully, my dog waits for me to consume coffee before requiring my attention.
Around this time, my plant lights turn on. They're synced with the actual sunrise!
Before our morning walk, I dress myself and brush my teeth (manually).
On the way out, I glance at my Nest Hub to see if it's raining and cold. Do we both need to wear a jacket?
You'll recall that I heard about the weather earlier, but I likely forgot already.
7:00 AM - Out and about -
On our long morning walk, we leave the geo-location range I've set to trigger another automation.
If my phone is far enough from my apartment, Away routines turn off any lights I left on.
When Google senses I've returned, lights by the entrance turn back on.
Barring any distractions, we're back inside, preparing for the work day ahead.
8:00 AM - Work mode -
When I'm ready to sit at my desk, I place my phone on the Pixel Stand for wireless charging. This also triggers a few behaviors:
Do Not Disturb mode
Focus audio on my speakers (lately, brown noise)
12:00 PM - Afternoon activities -
Throughout the day, any of these things may happen:
Tile Trackers work with Google Home, which helps to find a missing wallet or keys.
Recurring reminders, weather checks.
Setting timers synced across devices.
4:00 PM - Wrapping up -
When I'm really into my work, I'm basically in a trance. I wanted to create a gradual signal for when I'm lost in hyperfocus that isn't too abrupt and won't disturb my progress.
Here's my solution:
Around the time I usually end my work day, the light near my desk will turn on (if it isn't already) and slowly shift to a red color.
This tells me it's time to wrap up what I'm working on and take the pup out for our evening walk.
5:00 PM - Making dinner -
Now it's time for dinner.
If I'm motivated to cook, I like to use my Nest Hub to follow along with recipes. If I don't need a recipe, I catch up on YouTube videos instead.
7:00 PM - Chill time -
At night, I use devices to create a relaxing environment.
Ambient, colored lighting sets the vibe.
In fall and winter, sunset triggers some of my lights.
Later, my Fitbit encourages me to "wind down," basically telling me when to start my evening routine.
Google follows up with a bedtime reminder.
I need both of these reminders because I have what? If you said limited self-control, you are correct.
10:00 PM - Bedtime -
Assuming I'm sufficiently motivated, I'll do my skincare routine and other typical stuff before bed. If I manage to avoid mindlessly scrolling in a bout of revenge bedtime procrastination, I'll set my phone on the charger, which:
Sets a one-hour sleep timer on my TV if it's on
Turns lights off
Enters Do Not Disturb mode
Plays ambient sleep sounds (usually white noise)
How to use home devices to help with ADHD
Here are a few ideas to consider: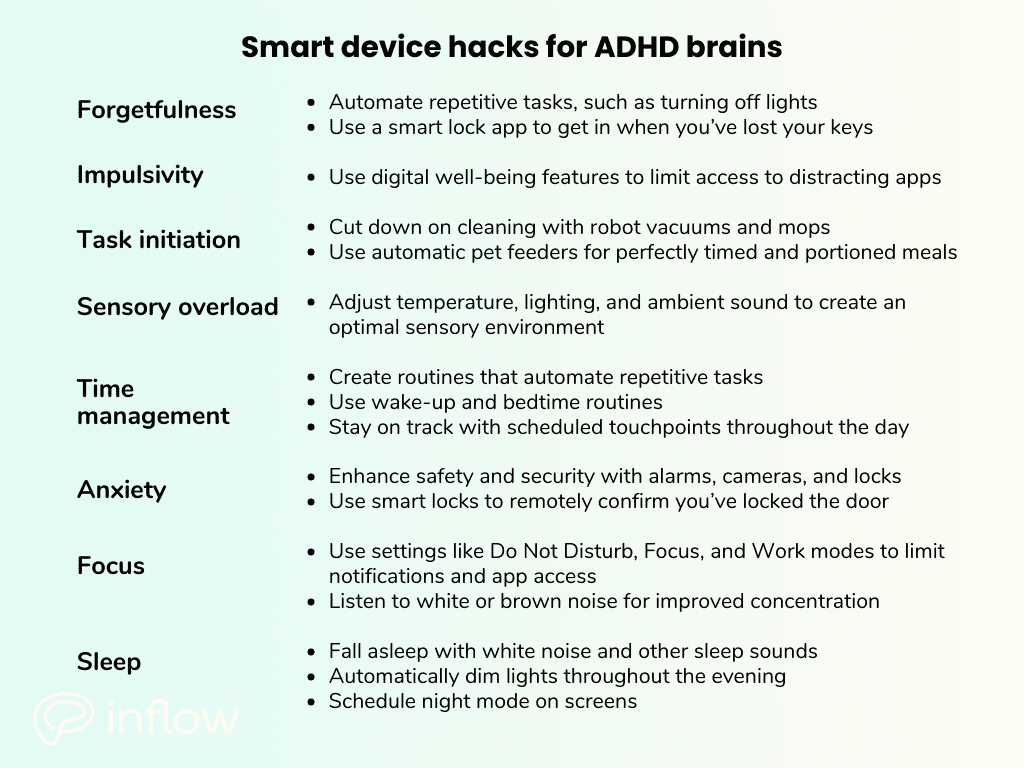 If you're really committed, extending capabilities with platforms like IFTTT can make even more complex strings of interactions, and I've had success with some of them. But it's not for the technologically faint of heart.
Imagining the possibilities
I often wish I could ask my devices what to make for dinner. The assistant would respond with the perfect meal for my vegan diet, current grocery inventory, upcoming expiration dates, and my favorite types of food.
I would never again stand in front of an open fridge, stuck in analysis paralysis, only to get overwhelmed and microwave a burrito… again.
Let's say I'm missing one key ingredient. Well, in this dreamland, they checked the inventory of my local grocery store, told me how much it costs, and then told me to hurry up and get there before it starts raining in 20 minutes.
When I return, my smart display guides me with a video recipe for the solution it just "cooked up". Oh, and it yells at me if I walk away and forget the oven's still on.
I said "dream", didn't I?
For neurodivergent and disabled people, smart homes can be a tool to increase independence, support executive functioning, manage sensory overload, and improve quality of life. So why haven't we seen this already?
Smart home automation is untapped and under-researched
Few studies have connected ADHD, smart homes, and automation. Even the studies that do discuss assistive tech and ADHD rarely focus on adults, and virtually all of them directly acknowledge a lack of research on the topic.
After the pandemic, one paper discussed the potential for smart home technology in creating work environments better suited to productivity and well-being at home and in traditional office settings.1
Another study analyzed research on technology used for children with ADHD.2 Their conclusion was similar to that of other research — assistive tech has many design shortcomings.3
Designing for the future
Smartwatches commonly appear in these studies, but devices like smart displays and voice assistants aren't commented on in any meaningful way, at least not for people with ADHD.
There's an overwhelmingly untapped potential in using practical, consumer-oriented smart home devices and automation for ADHDers. All the pieces are there, but they haven't made the right connections.
As assistive technology continues to improve and evolve, the potential for smart homes to assist disabled and neurodivergent people will only grow if these industries can better focus their efforts.
Until then, I recommend trying out some possible solutions with widely available tech like these helpful ADHD management apps and tools.
‍
-
Sources
1 Internet Research | Working in a Smart Home Environment: Examining the Impact on Productivity, Wellbeing and Future Use Intention (2023)
2 Interaction Design and Children | Designing for Care Ecosystems: a Literature Review of Technologies for Children with ADHD (2022)
3 Technium: Social Sciences Journal | Assistive Technology and Internet of Things for people with ADHD (2022)