Texting can be difficult for ADHDers. However, friendships are important! So it's essential to communicate your ADHD texting habits (like ghosting) to people close to you. Find a middle ground by having a "text talk."
Heads up! This is part two of two of the "involuntary ghosting" articles. Be sure to check out the first one if you haven't yet!
Read it here: Texting with ADHD: 6 ways to stop ghosting your friends
Too long; didn't read
Texting is still a fairly new concept, so it's understandable that neurodiverse brains struggle with it.
An "ADHD ghosting séance" is basically an intervention to put your texting concerns out in the open so you can discuss them with your friends.
There are 5 steps to having a text talk, which includes acceptance, investigation, communication, reassurance, and creating your own rules.
The history of texting
21st century communications comes with challenges, no matter how convenient it may be. I can see how this topic may seem silly on the surface, but it's really not talked about enough.
Not only is texting still a new concept in the history of communication—"texting" was added to the dictionary in 2010—but we're also expected to oblige by unspoken rules of 'texting etiquette', like responding in a timely manner, and not "leaving someone on read" (i.e. opening a text message without responding). Even 'read receipts' are a fairly new concept, making their debut in 2011.
By the way - I use the "new" as a reference to the bigger picture of the history of texting—the electric telegraph being invented in 1837, the concept of SMS messaging introduced in 1984, etc.
What does this have to do with ADHD and ghosting?
With the above information in mind, let's add the ADHD brain to the equation.
People with ADHD tend to be forgetful, impulsive, and/or inattentive, which can complicate how well we adhere to the etiquette of texting. In other words, we're more likely to ghost our friends, but completely by accident.
But, because we live in a largely-neurotypical society, it's important that we (people with ADHD) learn how to function in said society—at least until things are more accessible for neurodiverse brains.
What's an ADHD ghosting séance?
An ADHD séance is just a play on words since we've used the term "ghosting". It can be compared to an 'intervention' of sorts, where the person with ADHD (the ghoster) confronts their challenges with texting communication with their friends (the ghosted).
How to have your own Text Talk
Below are some suggestions for how to structure your talk with your friends.
Step 1: Accept your struggles with communication
First thing's first. You have to acknowledge that this is something you struggle with before you can have an effective conversation.
💙 Reminder: You're not the only ADHDer that struggles with communication anxiety, and it's okay that you do. Don't let your inner critic tell you otherwise.
Step 2: Investigate your challenges
Now it's time to look at what the actual problem is.
And no, it's not as simple as "ADHD" or "executive dysfunction". Try digging a little deeper.
Is it anxiety that's causing your ghosting? Or perhaps it's the physical act of texting that seems meticulous to you?
Figure out what your unique challenges are before moving to step 3.
Examples of common ADHD texting challenges: 
Misunderstandings from non-verbal cues
Lack of facial expressions causes misinterpretations
Forgetting to check or reply to messages
Perfectionism; overthinking your texts, sometimes erasing them completely
Misinterpreting tone of voice (sarcasm, joking, etc.)
General social anxiety1
Step 3: Communicate your struggles
Communicate your specific challenges with people you care about. State the reasons for your specific texting habits, or explore those reasons together if you can't come up with anything before your talk.
💡 Pro tip! Use 'I language' instead of 'You language' during this part. Example below!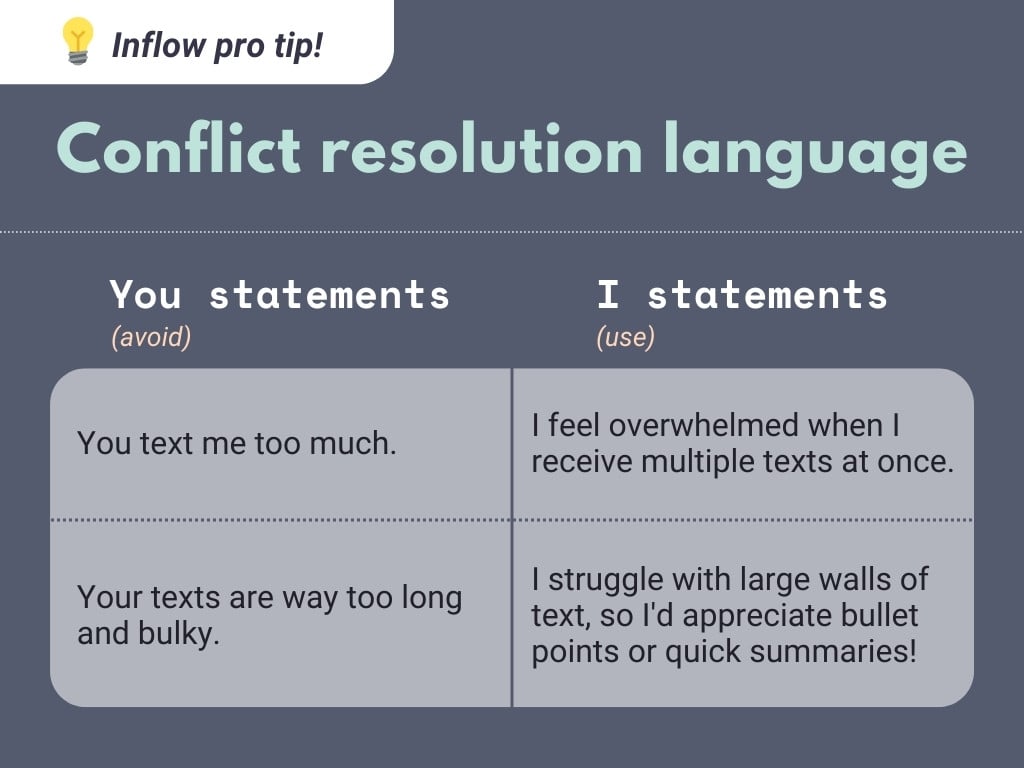 Step 4: Reassure your friends
It's important to remind them that it's not their fault, and that you don't ghost them on purpose. During this step, it may also be helpful to reiterate your thought process when you receive texts, and what typically holds you back from replying. (See #3)
💙 Reminder: You don't necessarily need to apologize because you technically didn't do anything wrong! Simply expressing reassurance and a desire to improve your habits will be good enough.
Step 5: Create your own texting rules—together
Once you've cleared the air, it's time to make your own rules. Below are a few ideas you could incorporate. But remember that these are your rules, and that they should be made with the friends you've previously ghosted.
Things to consider for your ADHD texting rules:
Consider the possible communication methods (text, phone call, voice message, etc.) and rank them from 'most preferred' to 'please do not do this'.
Can your friend double-text you? Can you double-text them? Add that to your rules.
How long is 'too long' to wait for a response?
If it's a long text, should there be bullet points or a TL;DR (too long; didn't read) summary?
If large blocks of text cause your ADHD brain to zone out, set a rule for how long paragraphs can be in a single text—maximum of three sentences, five lines of text or less, etc.
What's the most likely time of day that you'll respond? What about your friend(s)?
Final thoughts: it's all about balance
Until our society is more accommodating, it's our responsibility to try to adapt to others as best as we can. For example, you can pin chats to the top of your messages if they're more important to answer. Understand the needs of the person on the other side while not forcing yourself into uncomfortable situations.
It's all about balance. Give yourself space to express emotions and explain your struggle. You don't need to be perfect at texting—or anything else for that matter.