Married life is full of hurdles. It requires a great deal of hard work, dedication, and consistent effort from both partners.  And when ADHD is added to the mix, the challenges become even more pronounced.
This can seem disheartening, but it doesn't need to be! ADHD and happy relationships aren't mutually exclusive—you can absolutely have both! However, this article will specifically focus on the warning signs that a marriage involving someone with ADHD might be in danger of ending. But please remember that this isn't always the case for ADHD relationships!
Let's explore how ADHD can impact marriage and check out some effective strategies (for both partners!) to make it work.
Too long; didn't read
ADHD doesn't go away. Kids with ADHD grow up to be adults with ADHD.
Without proper awareness and proactive management, symptoms of inattention, impulsivity, and emotional dysregulation can lead to ineffective communication and unnecessary conflict.
Both overstimulation and understimulation can significantly impact sexual intimacy in marriages with an ADHD partner.
Open and honest communication is the most important thing when it comes to saving a marriage that's been affected by ADHD.
How ADHD affects adults
Let's start by covering the basics: How does ADHD present in adults?
ADHD is often associated only with childhood, but here's the thing: kids who have ADHD grow up to become adults who still have ADHD.
While some ADHD symptoms may change as we age, ADHD persists in adulthood. As adults, ADHDers are mostly affected by two key symptoms: inattention and impulsivity. But the way those symptoms manifest can be different for everyone.
Inattention in adults
In adulthood, inattentive ADHD symptoms may look like:
Disorganization: Their desk at work, car, email inbox, bedroom—if they have it, it's probably unorganized
Consistently forgetting things like appointments or even what they were just talking about
Poor time management skills: Have you ever noticed how they're not the greatest at getting things done when they say they will?
Absent-mindedness and "careless mistakes"—How many times have you found their phone in the fridge?
Frequently misplacing their keys, phone, wallet, passport, glasses, etc.
Struggling to motivate themselves to start on important tasks
Zoning out during conversations
Difficulty finishing all of the projects they were once excited about
Impulsive behaviors in adults
We're all familiar with the stereotypical portrayal of ADHD: hyperactive boys bouncing off the walls. However, as adults, hyperactivity tends to be less outwardly visible, and impulsive behaviors typically decrease, although they may not entirely disappear.
Instead, impulsivity in adults can look like:
Interrupting others in conversation or completely changing the subject
Difficulty focusing on one thing at a time (especially if it's important. It seems like the more important it is, the more likely they are to get derailed.)
Irresponsible spending habits
Impatience, which might be particularly noticeable in long lines or while they're driving. They might have a hard time keeping secrets.
Emotional outbursts that often subside as swiftly as they arise.
Alcohol or substance misuse
Reckless driving habits (cutting people off, not using turn signals, switching lanes frequently, and speeding)
Frequent job-hopping (jumping from one job to the next)
5 ways ADHD can affect marriage
Research consistently suggests that both autism ADHD can impact romantic relationships. It's not all negative though! Studies suggest that the neurodiverse population tends to love more passionately than the neurotypical population. 1
However, studies also show that adults with ADHD often encounter more relationship problems and experience lower levels of satisfaction in their marriage, which can lead to divorce. 1,2 Even their partners are affected, as demonstrated by a study revealing reduced intimacy and marital satisfaction among spouses of ADHD adults.
These challenges stemming from ADHD can significantly hinder relationships.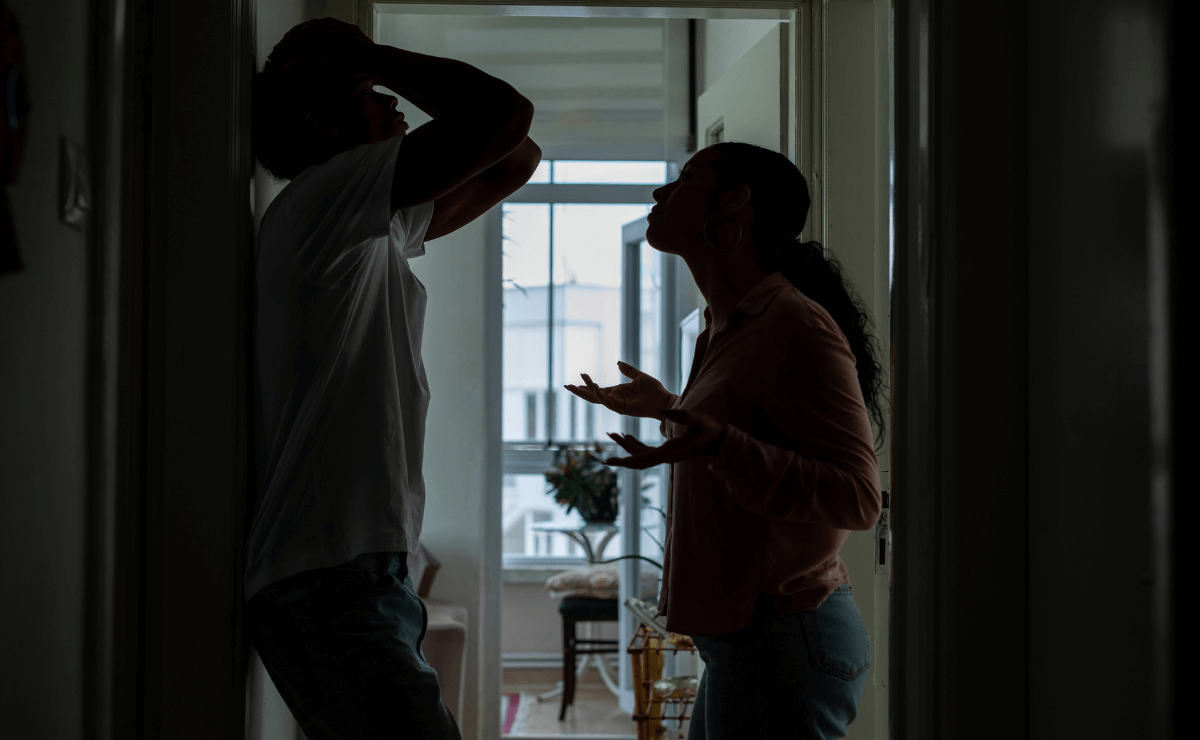 Looking for a more direct approach to improving your marriage? The Inflow app has learning modules on relationships, social skills, and intimacy to help you work on ADHD related issues and better your relationships. Get started with Inflow today!
1. Unequal responsibilities
ADHD symptoms such as forgetfulness, disorganization, and distractibility can create unequal workloads when it comes to household responsibilities. 3
Believe me when I say that we fully intended to finish the laundry or clean out the attic when we said we would. But then, something came up (I forget what,) and we got sidetracked.
Although it may seem like a minor mishap to us, our partners can perceive it as a lack of love or value, which can build up into full-blown resentment.
2. Communication problems
Communication is one of the most important aspects of any healthy relationship. So, it's definitely a problem when ADHD symptoms start to interfere with that.
Once again, forgetfulness, impulsivity, and distractibility come into play here.
ADHD-related relationship communication issues:
Forgetting what your partner told you
Seeming disinterested when your partner talks about their day
Interrupting your partner when they're talking
Dominating the conversation
Blurting out something hurtful without thinking about it first
💬 Read our tips on how to address and fix communication problems in ADHD relationships.
3. Emotional dysregulation
Many individuals with ADHD struggle with emotional dysregulation. We may get overwhelmed, frustrated, or angry more easily than others. Unsurprisingly, this can take a significant toll on relationships.
Non-ADHD partners may feel like they have to walk on eggshells to avoid triggering potential mood swings.
Additionally, people with ADHD often experience something called rejection sensitivity dysphoria (RSD) - an intense emotional reaction to criticism or rejection, whether real or perceived. This means that even when the partner without ADHD is offering what they believe is helpful advice, the ADHD partner may take it as a personal attack or that "nothing they do will ever be good enough."
As a result, both parties end up feeling upset and anxious, and their ability to effectively communicate their feelings becomes compromised.
4. Meaningless arguments
Those with ADHD often encounter the challenge of both overstimulation, which can lead to burnout, and understimulation, which can lead to boredom. Both of these can cause more unnecessary arguments.
When someone with ADHD feels overwhelmed or burnt out, it increases the likelihood of emotional outbursts. And when they're understimulated, ADHDers may initiate conflict by starting pointless arguments to fulfill their need for physical or emotional excitement.
5. Sex and intimacy issues
ADHD has been linked to both high and low libido, as well as hypersexuality. In other words, ADHD symptoms can definitely impact your sex life.
Intimacy can be affected by ADHD with:
Mood swings – can lead to more desire for intimacy or less desire
Overstimulation – touch may feel more intense or unpleasant during sex
Understimulation – can make sex feel less exciting or lead to increased desire for more intense or frequent intercourse
Low motivation – initiating or responding to sex may feel like "too much work"
Recent research indicates that adults with ADHD frequently experience lower levels of sexual satisfaction and more instances of sexual dysfunction. 4
And that doesn't even include the way ADHD symptoms can affect the non-ADHD partner's sex drive! Emotional intimacy is often a precursor to physical intimacy, and feeling emotionally disconnected can diminish your desire for each other.
How to make an ADHD marriage work
4 tips for the partner without ADHD
1. Educate yourself on neurodiversity.
If your partner has ADHD, it would be helpful to educate yourself. By learning more about the condition, you can better understand the symptoms. (You're on the right track by making it this far in the article! Digital high five! ✋)
2. Show empathy.
ADHDers often experience feelings of shame, guilt, or anxiety, so provide encouragement and empathy whenever you get the chance.
Start by letting them know that you know they aren't intentionally creating difficulties in your relationship.
Validate their emotions, even if you don't fully understand or agree with them.
Show understanding by saying things like, "I can understand why you might feel that way" or "Your feelings are important to me."
Avoid judging or criticizing your partner's behavior or the challenges they face due to ADHD.
3. Communicate your concerns!
Expressing frustration or concerns to your ADHD partner in a constructive and empathetic way can be incredibly helpful.
Here are a few pointers for talking to your ADHD partner about your concerns:
Choose the right time. Find a calm and private moment to talk to them. Avoid bringing up sensitive topics during an argument or when your spouse is already overwhelmed.
Use "I" statements: Express your emotions and needs using "I" statements rather than accusatory language. For example, say, "I feel frustrated when important tasks are forgotten," instead of "You always forget things."
Be specific. Provide concrete examples of situations that have caused your frustration. This helps your partner understand the issues better.
4. Don't make ADHD the enemy.
Keep in mind that not every issue in your relationship should be solely attributed to your partner's ADHD. While the condition can contribute to some issues, it's important to recognize that it's not the root cause of all relationship problems.
Instead of immediately pointing fingers at ADHD whenever a problem arises in your marriage, take a moment to thoroughly assess what occurred, understand each other's emotions, and identify proactive ways to address the issue.
3 tips for the ADHD spouse
1. Work on self-improvement.
If you have ADHD, it's important to understand how your symptoms affect others and focus on personal growth.
Here are some ADHD resources for self-improvement:
2. Consider solo ADHD therapy
With the guidance of a qualified mental health professional, you can learn how to better manage your ADHD symptoms and collaborate to find solutions. Be sure to research therapists in your area and try to make an appointment with one that has experience with ADHD.
💡 Pro tip! Prior to your initial appointment, jot down a list of anything related to your ADHD that you think might be impacting your marriage.
🛋️ Read our guide on the types of therapy that can benefit adults with ADHD.
3. Consider ADHD medication
There are various stimulant and non-stimulant medications that can effectively treat ADHD. When taken under the guidance of a doctor, they can have a positive impact on inattention, impulsivity, and emotional regulation.
‼️ Important note! Some individuals  experience an adjustment period with new medications. Maintaining open communication with your prescribing physician is crucial during this time.
Things to work on together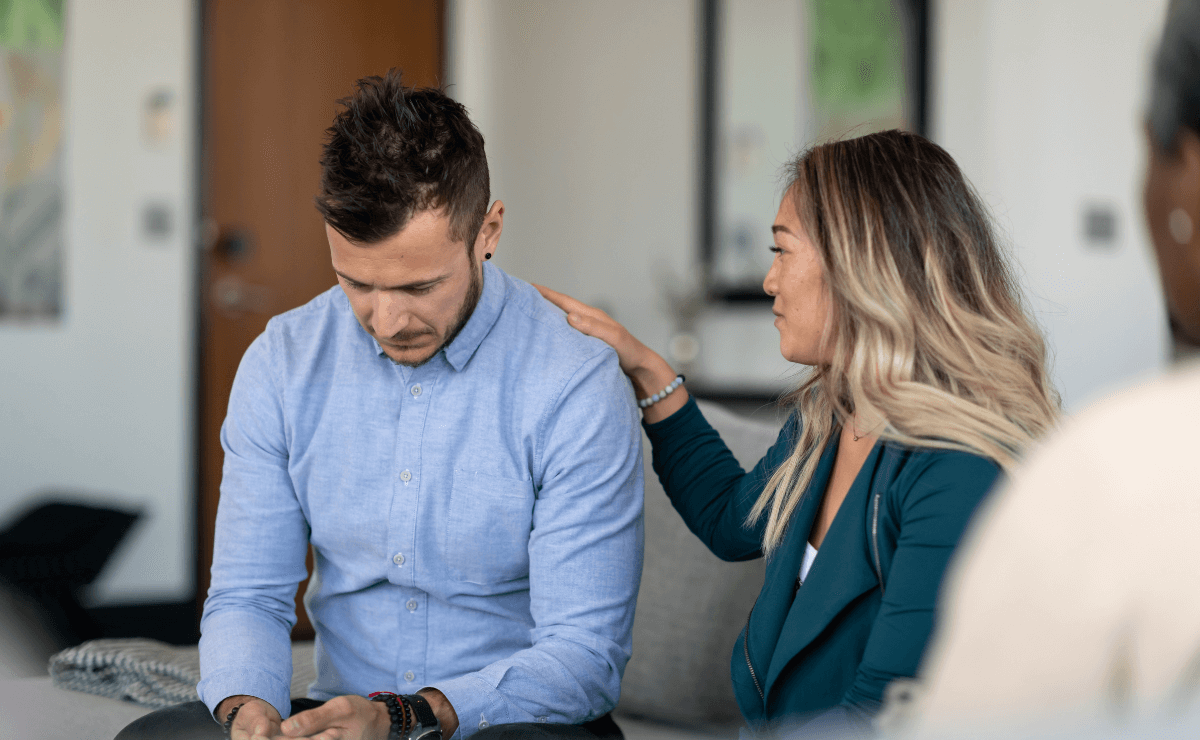 1. Make time for yourself and for each other
Living with ADHD can be challenging and exhausting, both physically and mentally. To reduce feelings of overwhelm, it's important to make time for yourself. Prioritize activities that bring you joy and relaxation.
At the same time, carve out quality time for you and your partner to enjoy together. This can be as simple as spending a few minutes each day talking about your day without distractions.
2. Try couple's therapy
Finally, there's absolutely no shame in seeking therapy or "couple's counseling." In fact, a lot of couples see a marriage counselor before things get bad. Waiting until things are falling apart is often too late.
When looking for a therapist, make sure to look for one with ADHD expertise.
Final thoughts
Effectively managing ADHD within a marriage requires a delicate balance of self-care, open communication, and, at times, professional assistance. It's a journey that presents challenges, but with the right approaches, you can create a harmonious and fulfilling relationship. You can start by gaining a deeper understanding of how ADHD affects you or your partner and your relationship.
Remember, there's nothing wrong with reaching out for help. Every step you take is a confident stride towards a healthier and happier life with your partner.
‍
-
Sources
1 Frontiers in Psychiatry | Common Venues in Romantic Relationships of Adults With Symptoms of Autism and Attention Deficit/Hyperactivity Disorder (2021)
2 Journal of Social and Personal Relationships | Romantic relationships in adults with ADHD: The effect of partner attachment style on relationship quality (2020)
3 Journal of Attention Disorders | Gender-Role Attitudes Mediate the Effects of Adult ADHD on Marriage and Relationships (2015)
4 The Journal of Sexual Medicine | Sexual Function, Sexual Dysfunctions, and ADHD: A Systematic Literature Review (2020)