October is ADHD awareness month!
Many people are aware that ADHD exists, but how many of them are uninformed about what ADHD truly is? (And this applies to ADHDers and neurotypicals alike.)
If you find yourself among the uninformed, that's okay! There's so much misinformation out there, that it's hard not to get tangled up in its web of lies. Just remember that this article isn't meant to shame anyone; it's meant to educate and spread awareness.
10 ADHD myths (that you should know the truth about)
Myth: ADHD only affects boys.
Fact: ADHD affects boys and girls at the same rate.
However, this misconception has some logic behind it!
Because most of the original research studies excluded girls from their cohorts, most of the information we had about ADHD in the past was based on the experiences of boys, and boys alone.
This was problematic for two reasons:
The conclusions made about ADHD were phrased with regard to adolescent boys, so it was a long-held assumption that they were the only ones with ADHD.
Because girls were largely excluded from studies, researchers were unable to observe how ADHD manifested in them. As a result, many medical professionals wouldn't consider ADHD as a possibility in female pediatric patients simply because they didn't "fit the mold" of ADHD in boys. (Well, duh!)
Myth: People without hyperactivity have "ADD"... not "ADHD".
Fact: Everyone with ADHD has ADHD; no one has ADD anymore.
ADD is no longer the correct diagnostic terminology, and it's been this way since 1987. Those who were diagnosed with "ADD" at that time, technically now have the predominantly inattentive subtype of ADHD, or ADHD-PI.
Here's a timeline showing all of the major updates and changes for ADHD in the Diagnostic and Statistical Manual of Mental Health Disorders (DSM):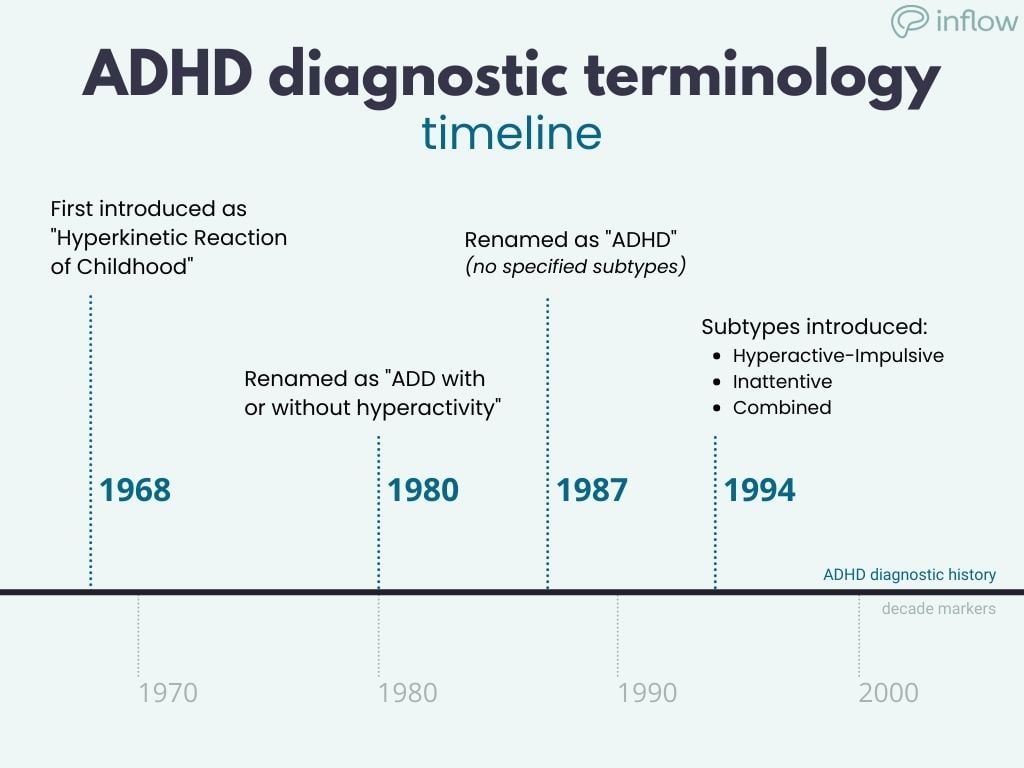 Myth: People grow out of ADHD.
Fact: ADHD is a lifelong condition.
‍This myth that ADHD can be outgrown has made it incredibly difficult for adults to get an ADHD diagnosis—especially women.
And - just because someone doesn't necessarily show the same symptoms as they did when they were a child, doesn't mean their ADHD just went away. It's possible that they've mastered ADHD masking or have learned coping strategies that helped them manage their symptoms better. Both of these would make it harder for people on the outside to detect their neurodiversity.
Myth: If you didn't get an ADHD diagnosis in childhood, you can't get one as an adult.
Fact: You can get an ADHD diagnosis at any age.
It's just more common for children to get diagnosed. However, as stated in the busted myths above, this is largely because of the long history of exclusive data collected by researchers.
Among the excluded population? ADHD adults without a childhood diagnosis. While research standards have improved in the last decade, we still have a long way to go in terms of inclusivity.
And no, people can't just suddenly develop ADHD as an adult (besides a few exceptions). Just as ADHD symptoms can be hidden over time, they can also be uncovered over time. If someone receives their diagnosis as an adult, it's probably because their symptoms hadn't caused too many issues before, or perhaps it was unmasked by the pandemic. And with the demands of adulthood, our motivation deficit, working memory, and impulsivity might be a bit more difficult to manage. 
Myth: ADHD medication is basically legalized meth.
Fact: ADHD medication is not the same thing as methamphetamine.*
But it's understandable why this may be confusing to anyone who's not a chemist (i.e. most people). Afterall, "amphetamine" is in the name of the most popular generic stimulant:
Amphetamine/dextroamphetamine salts—also known as Adderall.
But just because they share a similar chemical name, doesn't mean that it's the same drug with the same exact effects.
For example, consider carbon monoxide and carbon dioxide—they sound similar, but one of these chemicals is currently flowing out of your nose, and the other can kill you in a matter of hours. Chemistry is just weird like that.
*except for the rarely-prescribed Desoxyn, a Methamphetamine Hydrochloride tablet. This medication accounts for less than 0.02% of all prescribed stimulants each year in the USA.1,2,3
Myth: ADHD affects men more than it does women.
Fact: ADHD affects women at the same rate as men.
This is becoming increasingly obvious in recent years. Some people may not have access to a diagnosis, and others may simply be women who were dismissed by their provider. Because of the exclusive nature of diagnoses, we can't continue making the assumption that more men have ADHD than women.
💡 Pro tip! When reading about ADHD statistics, it's important to remember that the diagnosed population does not account for the entire ADHD population.
Myth: Women with ADHD always have the inattentive type, and men always have the hyperactive type.
Fact: Every human is unique.
But, typically, boys and men are more likely to receive an ADHD-HI (hyperactive-impulsive) diagnosis than women. However, there are many women with the hyperactive subtype, just as there are many men with the inattentive subtype.
And the reality is that most people with ADHD have the combined subtype. Ultimately, there needs to be more research in this area (for all genders) if claims are going to be made about subtype distribution among genders.
Myth: People with ADHD are actually just lazy.
Fact: People with ADHD often struggle with something called "executive dysfunction".
Executive dysfunction makes it difficult to...
Make plans
Organize our thoughts
Make decisions
Estimate how long a task will take us
Focus on a mundane task for a long period of time
Remember current details (also known as working memory)
All of these challenges (and more) combined can make us appear lazy to others, when in reality, we're stuck in ADHD paralysis because we're overwhelmed by the lack of control we have over our executive functions.
Myth: People with ADHD can't perform well in school.
Fact: There is no confirmed correlation between ADHD and intellect.
However, there is some truth to the above myth in that school can be a bit more challenging for ADHD brains.
But, also - this has more to do with the non-inclusive structure of our education system than it does ADHDers themselves.
Myth: Everyone's a little ADHD.
For the love of ADHD awareness month, please stop saying this!
Does everyone struggle with executive dysfunction at times? Absolutely!
Are we all a little forgetful at times - especially when we're stressed? You bet.
Can it be hard for anyone to focus during long meetings or lectures? Yes!
But, does that mean that everyone is a little ADHD? NO!
You wouldn't tell a diabetic that "everyone's a little diabetic", and you wouldn't tell someone using a rescue inhaler that "everyone's a little asthmatic."
The difference between someone with ADHD and someone who is occasionally forgetful, distractible, and unmotivated?
The person with ADHD struggles with it constantly, and it's negatively affected multiple aspects of their life on more than just a few occasions. And to compare occasional forgetfulness to a condition that's still stigmatized isn't exactly what I'd call "aware", even if you are fully aware that ADHD exists.
--
Be sure to share this to spread the word about ADHD myths and misconceptions! Tag us on Twitter if you think any common myths were left out.