Treatment plans for mental health patients vary based on their needs. While some people choose a medication-only route, others opt for a therapeutic approach. And, of course, these treatments can be combined.
That said, therapy is almost always helpful for people with ADHD. The problem is that it can be overwhelming when deciding which form of therapy (and associated therapy techniques) would be the best fit for our ADHD brains.
Here's a list of ADHD therapy options, and advice on how to choose what's best for you.
Too long; didn't read
Therapy comes in many different forms, and is one of the most common treatment options for people with ADHD.
Some forms of therapies are designed to explore and improve interpersonal relationship challenges, while others use neuroscience to help the brain gain more control of symptoms
Therapy can also help with things like inattention, impulsivity, and anxiety.
What is ADHD?
Attention-deficit/hyperactivity disorder, or ADHD, is a neurodevelopmental condition that affects one's ability to regulate attention and impulsivity, among other traits.
There are three subtypes of ADHD:
Predominantly hyperactive-impulsive (ADHD-HI): characterized by impulsive and hyperactive behaviors
Predominantly inattentive (ADHD-PI): primarily inattention and distractibility
Combined type (ADHD-C): a combination of the two other subtypes
What are my options for ADHD therapy?
Therapeutic approaches for ADHD treatment vary in effectiveness between children and adults. For children, behavioral strategies are typically preferred to address common ADHD behaviors, like hyperactivity, daydreaming, and impulsiveness.
Adults with ADHD are usually more suited for cognitive therapies because the brain has had more time for neurological development.
Behavioral therapies
Cognitive therapies are known to help ADHD adults with challenges they face in things like relationships, procrastination, and time management. 
1. Cognitive behavioral therapy for ADHD (CBT)
One of the most common psychological interventions, cognitive behavioral therapy (CBT), addresses ADHD challenges that are encountered on a daily basis and provides personalized coping strategies.
This therapy doesn't treat the core symptoms of ADHD. Instead, it guides you through "brain-training" techniques.
Topics covered in CBT include:1
Managing distractibility 
Overthinking
Imposter syndrome
Time management
Organization and planning
Cognitive behavioral therapy is more suitable for ADHD adults. Research has shown little effectiveness when using CBT for children.2
2. Dialectical behavioral therapy (DBT)
Dialectical behavioral therapy (DBT)—originally created to treat borderline personality disorder (BPD)—is a mix of cognitive, behavioral, and supportive interventions. DBT can focus on your distress tolerance, emotional regulation, and mindfulness3 to improve social skills.
DBT can also regulate certain ADHD behaviors, encourage social confidence, and improve interpersonal relationships.3
Other types of therapy for ADHD
3. Interpersonal therapy (IT)
Interpersonal therapy aims to help ADHDers address conflict that may have been caused by ADHD behaviors, such as job loss, a breakup, or feelings of insecurity.
The therapy begins with you describing your relationships. Throughout the sessions, the therapist helps by teaching you to acknowledge your emotions, and how to communicate and express them to others.4
4. Group therapy
Group therapy is for you if you're comfortable discussing your ADHD challenges with others like you. It offers a cognitive-behavioral approach to help manage ADHD symptoms, such as anger management and self-confidence.5
For adults with ADHD, group therapy could involve strategies on how to become more organized or how to develop efficient time management skills. 
5. Narrative therapy
Narrative therapy involves a story mapping intervention (SMI) to help people with ADHD take control of their stories. This experiential form of therapy empowers you to see yourself as the "leader of your own mental health care."6
Throughout these client-driven therapy sessions, you can gain a better understanding of yourself. 
Narrative therapy techniques:
Recognizing your story
Separating your story from your identity
Re-writing your story
6. Supportive therapy
Also known as supportive psychotherapy, this approach helps you improve social skills, boosts self-esteem, and teaches adaptive skills. Supportive therapy hones in on current challenges, like inaccessibility or learning disabilities.
The therapist acts as your source of stability while providing you with goal-setting skills, motivation, positive reinforcement, and modeling.7
7. Neurofeedback (NFB) therapy, or neurotherapy
Note: this form of therapy has conflicting views among the scientific community.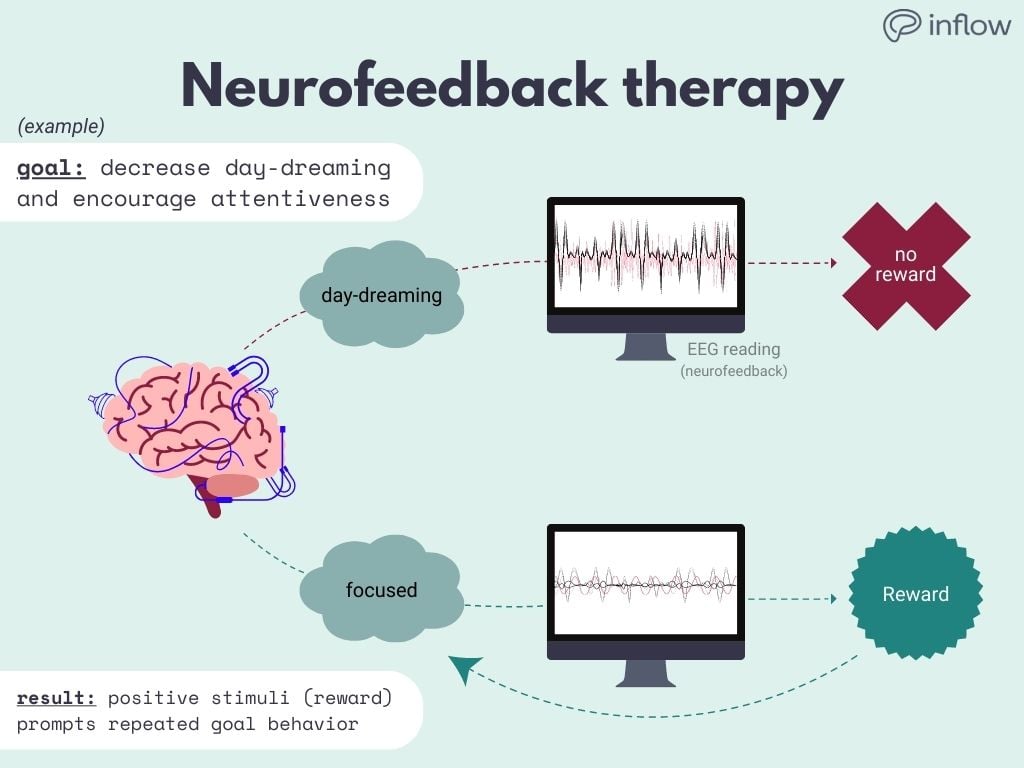 Neurotherapy involves the monitoring of a variety of brain waves, each of which have known associations with different behaviors. For example, if someone's theta waves are at a high frequency, they may experience daydreaming, disorganized thoughts, or impulsivity.
The goal of neurotherapy is to communicate these wave frequencies in the form of rewards (or no rewards) in real time. Over time, this "brain-training" helps you gain better control of your cognitive functions and behaviors.
Why should I try ADHD therapy?
For children, therapy can improve behaviors, self-confidence, and self-control.
In adults, regular ADHD therapy can increase productivity levels, improve peer relationships, and help with emotional regulation. 
Can therapy cure ADHD?
No. While therapy can't cure mental health conditions, it does provide cognitive and behavioral techniques to help people with ADHD manage their symptoms.
What if I don't like therapy?
Therapy isn't for everyone, and that's ok! If you'd prefer to work with someone that isn't a therapist, you might like an ADHD coach.
Try out an ADHD coach
ADHD coaching is a recently adopted approach for people with ADHD.
During coaching sessions, clients learn how to set and achieve goals while developing skills related to:
Organization
Time management
Problem-solving
Productivity
How to find an ADHD therapist 
If you have a child with ADHD, speak with their pediatrician to find ADHD therapists in your area. For adults with ADHD, ask for a referral from your primary care provider or do a quick internet search to find one near you.
Before scheduling a consultation, look at a facility reviews and jot down any questions you have beforehand.