For those with attention-deficit/hyperactivity disorder (ADHD), missing a deadline or failing to fulfill your commitments once in a while is pretty much inevitable.
And if you have ADHD yourself, you probably are well aware of this. So why is it that when asked if you can do someone a favor or take on an extra assignment, you almost always say yes? Well, that's because of ADHD, too.
This article in a nutshell:
ADHDers are prone to overcommitting for several reasons, incl. time blindness and people-pleasing behavior.
Chronic overcommitment can lead to serious mental and physical health problems, such as anxiety, an increased risk for diabetes, and burnout.
Knowing your limits and learning to draw boundaries can help overcome this tendency. Read on for our tips on how to stop overcommitting without guilt.
What makes people with ADHD overcommit?
1. Time blindness
Not only are ADHDers forgetful, but we also suffer from full-blown time blindness. Basically, we have a warped sense of time. It's not that we can't tell time; instead, we're neurologically predisposed to misinterpreting how much time we have—or, more precisely, how little—in a practical sense.
Such a lack of time management can have nasty consequences. Think about it: If you create even more work for yourself without the necessary time, you probably won't be able to finish either task. So where's the sense in that?
2. People-pleasing
ADHDers often take on others' burdens voluntarily, even when buried under the weight of their own responsibilities. It's a coping mechanism employed (often subconsciously) by people with rejection-sensitive dysphoria (RSD). People with RSD fear that those who matter to us will decide we don't matter unless we can show them we're indispensable.
The irony is - when we inevitably fail at going above and beyond, we're more likely to be the targets of disappointment and, ultimately, rejection. It's a vicious cycle.
3. Gender roles
Society expects women to maintain responsibility for their children and their spouses as well as themselves, including those whose professions are outside the home. Even if we don't agree with these expectations, we don't want to disappoint our loved ones. So we accept the full responsibilities of modern womanhood — even if it's unlikely, neurologically‌, that we'll be able to honor them.
4. FOMO: the fear of missing out
A significant cause of overcommitment for the typical ADHDer is FOMO — the fear of missing out. In the professional sphere, for example, it's hard not to be a little envious of colleagues who can effortlessly conquer a massive workload; after all, you're far less likely to be praised if all you have to show for your work is getting it done on time.
Even more maddeningly, the extra work you have to pass up on may be exciting new tasks or might qualify you to participate in enjoyable — and exclusive — activities. Nobody likes to feel left behind.
Signs that you're overcommitting yourself
You're having trouble sleeping (and it's not a side effect of your medication.)
You're distracted (even more than usual.)
You're feeling resentful (about pretty much everything.)
You've taken to half-assing. (And it's making you feel like an ass yourself.)
What are the effects of overcommitting?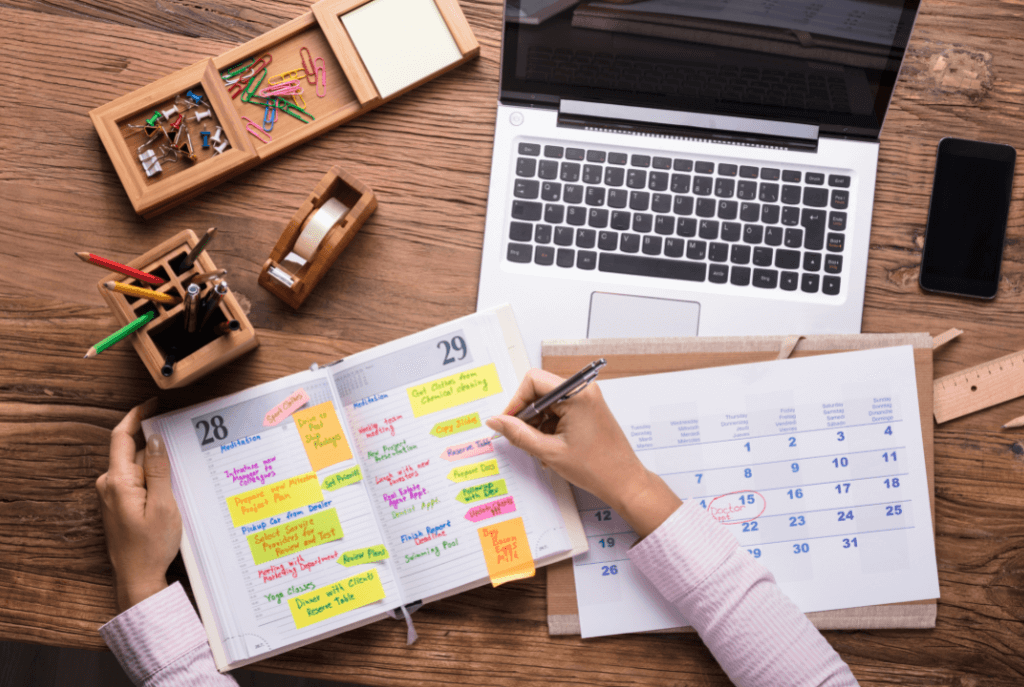 Illness
Overcommitting has direct, harmful effects on the human body.
These include:
Cardiovascular issues
Diabetes
Infertility
Substance abuse
ADHD burnout
Overcommitting will eventually plunge anyone into a state of exhaustion. But for those of us with ADHD, it goes deeper than that. On top of all the potential adverse health outcomes, there's another that ADHDers alone have to be wary of:
Not taking time to rest and recharge regularly makes ADHDers susceptible to overwhelm-shutdown in the short run and, potentially, critical damage to well-being in the long run. Who wants that?
How to overcome your tendency to overcommit
1. Prioritize YOUR priorities.
You already have enough on your plate; don't allow other people to pile on their leftovers! Kick the people-pleasing habit and put yourself first. Day planners only have a finite amount of space for a reason.
2. Know your limits.
If you want to avoid feelings of anxiety and depression and you don't want the quality of your work to suffer, set some boundaries — and operate within them. Contrary to what you might think, no one, ADHD or otherwise, can complete every item on a never-ending to-do list. You're only human!
💡Pro tip! Try making a to-don't list.
3. Have a game plan.
Repeat after me: JUST. SAY. NO.
Have a script in your head to tap into whenever a coworker, friend, or family member asks if you can do them a quote, unquote little favor—something like, "Aww, I would if I could, but I've got my hands full with X right now," or simply, "Sorry, I'm on a time crunch."
Whatever you do, though, don't say, "See if [other person] can do it instead."
You wouldn't want someone to do that to you!
4. Be kind to yourself.
It may sometimes seem that as an ADHDer, it's necessary to jump through hoops to prove to your neurotypical counterparts that you're every bit as good as them.
But don't let yourself fall into this trap. Instead, focus on the fact that you WOULD go the extra mile if you could, and cut yourself some slack! It may sound counterintuitive, but self-care will positively affect your productivity because you won't have guilt standing in your way.
What to do if you've overcommitted (again)
One oh-so-fun aspect of ADHD (yes, I AM being sarcastic) is that even if we know we have a problem and learn how to avoid the problem, we still slip up from time to time.
Fortunately, there is a way to minimize the fallout: being honest. It might surprise you how understanding and accommodating people can be if you're forthright with them.
And I know what I speak: Initially, I volunteered to write this article with a turnaround time that there was no way I'd be able to swing. But my editor was happy to move my deadline.
I just had to explain that I didn't want to overcommit.