Note from the editor: PMDD is a condition that can affect anyone who menstruates, regardless of gender. While some of the studies quoted are women-centric, this article uses gender-inclusive terminology whenever possible.
Too long; didn't read
Premenstrual dysphoric disorder (PMDD) is a mood disorder that leads to extreme mood changes that can negatively impact your daily life and functioning.
PMDD affects ADHDers more severely because estrogen influences the same receptors in the brain that release chemicals affected by ADHD: dopamine, serotonin, and norepinephrine.
Lower estrogen levels can negatively impact stimulant medication's effectiveness, and your ADHD symptoms may worsen during this period.
What is PMDD?
Premenstrual dysphoric disorder (PMDD) is a severe form of premenstrual syndrome (PMS). It's also classified as a mood disorder that causes extreme mood changes.1 
Effects of PMDD
Experiencing PMDD can make it difficult to socialize, have healthy relationships, and even make it tough to work. In some more severe cases, it can lead to suicidal thoughts.
Potential causes
While current research suggests that PMDD is likely heritable, environmental factors, like perceived stress, may also play an essential role in the risk and severity of PMDD.
What are the symptoms of premenstrual dysphoric disorder?
The primary symptoms of PMDD include:2
Food cravings and binges, changes in appetite
Bloating
Feelings of sadness
Lack of interest in usual activities or feelings of hopelessness
Severe mood swings
High irritability
Fatigue
Headaches
Joint and muscle pain
Breast tenderness
Sleep disturbances
Difficulty thinking or concentrating
Brain fog and forgetfulness

PMDD and the brain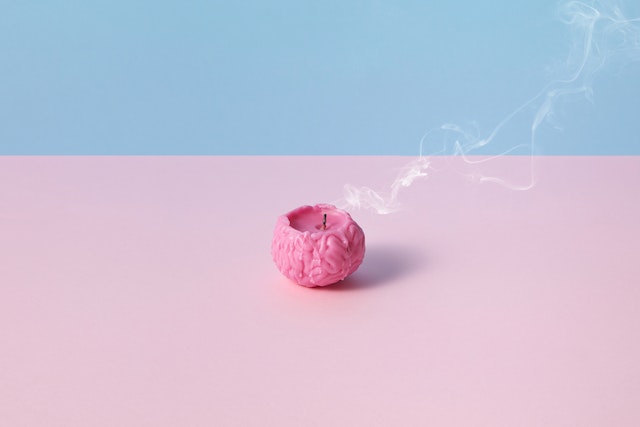 Researchers have theorized that PMDD is associated with increased sensitivity to regular estrogen and progesterone changes during menstruation.3

People with PMDD might also have gene alterations, influencing how the body processes stress and sex hormones. This may be why some are more sensitive to these hormones, affecting their general well-being and mood.
Is there a link between ADHD and PMDD?
Estrogen influences the same receptors in the brain that release dopamine, serotonin, and norepinephrine, causing ADHDers with PMDD to be affected more severely by PMS symptoms.

Lower estrogen levels cause a decrease in brain chemicals already deficient in ADHD brains, making ADHD symptoms worse during these parts of your cycle.
Hormone-related mood disorder symptoms have a higher prevalence in women with ADHD.4 Additionally, symptoms of PMDD — sexual dysfunction, anxiety, depression — tend to be more severe.

Depleted estrogen levels can also negatively impact the effectiveness of stimulant medications, and usual ADHD symptoms may worsen during menstruation.5

How to get a PMDD diagnosis
Unfortunately, there isn't yet one test that can diagnose PMS or PMDD. However, there is a combination of options that you can use to try to pinpoint the exact issue.
The diagnosis process usually begins with your doctor taking a medical history and documenting your symptoms. To do this, they will ask you to keep track of your cycle and make notes of any symptoms. 

During your evaluation, doctors usually review the following:
Do you experience at least five premenstrual dysphoric disorder symptoms across two or more menstrual cycles, including physical, mood, and behavioral symptoms?
Suppose you experience symptoms during the premenstrual phase of your cycle. In that case, they'll expect they are absent most of the other times.
Do your symptoms significantly impact your ability to function at school, work, relationships, and in other essential areas of your life?
Are these impacts down to the symptoms and not other social or environmental factors?

So, how can we mitigate these effects?

Coping with symptoms of ADHD and PMDD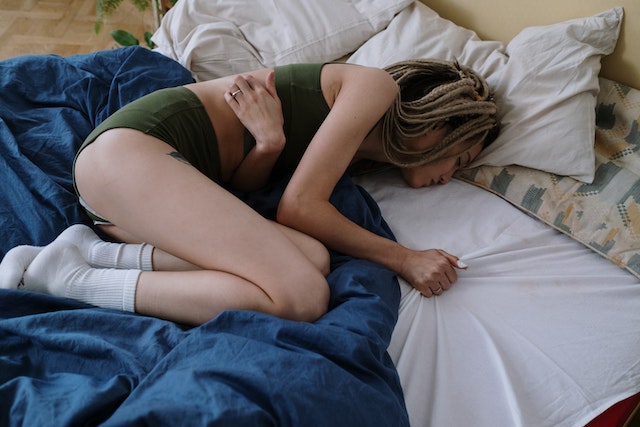 If your ADHD symptoms worsen just before your period, let your doctor know to help rule out other problems or offer different treatment methods.

6 ways to cope with ADHD and PMDD
1. Hormone replacement therapy (HRT)
For those with exceptionally debilitating symptoms, estrogen replacement therapy may help. This increases the hormone levels in your body to help stabilize your mood and memory. It can also help alleviate brain fog.

2. Selective serotonin reuptake inhibitors (SSRIs)
SSRIs are medications often used to treat mental health conditions like depression.6 They are also highly effective in treating symptoms of PMS and PMDD. A 2008 study found that of those given SSRIs, 60%-75% reported improved PMDD symptoms.7

3. Birth control*
Research has shown that some oral contraceptives can help alleviate PMDD.8 Yet, some individuals report aggravated symptoms. 

*This should be discussed with your doctor

4. Lifestyle changes
Exercise, a nutritionally varied diet, and stress reduction activities like yoga may be helpful.

Exercise produces a variety of chemicals that reduce ADHD symptoms.9

Avoiding alcohol and caffeine during this time can help alleviate symptoms.

5. Relaxation therapy
This includes any activity that promotes a conscious effort to relax the body and mind. Things to try out include meditation, mindfulness, and deep breathing.
Biofeedback is a type of therapy that monitors brain activity — it has been found helpful by some for overall stress management.10

6. Vitamin and mineral supplements
Research has found that taking small doses of vitamin B6 (up to 100 mg/day) might be beneficial in treating mild PMS symptoms in some women.11

B6 supplementation combined with calcium can also help.12

Final thoughts
As someone whose ADHD, depression, and anxiety get worse near my period, I know firsthand how difficult it can be to deal with symptoms of PMDD and PMS. 

I hope you've found it reassuring that you're not alone with these struggles and that there are many options to try. I find keeping track of my period and giving myself a week of no expectations particularly helpful. Still, it's essential to experiment with what works for you.
ADHD and PMDD can be tough to deal with. Before changing your treatment regimen, chat with your doctor first, and reach out if your symptoms become too difficult to handle alone. Remember to ask for support and take it easy on yourself when you need it.