For years, researchers and internet dwellers have debated the relationship between sugar and ADHD:
Does sugar consumption cause ADHD? No.
Does sugar worsen ADHD symptoms? Probably. But it can also have an effect on the same cognitive functions in neurotypical brains.
Should people with ADHD be on sugar-free diets? Whoa, whoa, whoa - let's not get ahead of ourselves! We all love a sugary snack every once in a while, and with moderation, children and adults with ADHD can include sugar in their diets.
But this still begs the question: How does sugar really impact ADHD brains and symptoms? Let's dive into the link between sugar and neurodivergence — I promise not to sugar-coat any of it.
Too long; didn't read
Sugar does not cause ADHD, but it can worsen ADHD symptoms due to its effects on the dopamine system.
In the long term, excessive sugar intake can have negative effects on cognitive processes, such as decision-making and memory.
People with ADHD are more susceptible to sugar cravings due to their inclination toward dopamine-seeking behaviors.
Not everyone is affected by sugar in the same way. Monitor your symptoms and consult professional help when necessary.
How does sugar affect the brain?
When we consume sugar, a few things happen in the brain:
Temporary energy boost: Sugar offers a quick source of energy, which can result in a temporary surge in alertness and cognitive skills. However, it's important to note that this boost is short-lived and often followed by a drop in energy levels or a "sugar crash."
Dopamine release: Consuming sugar can trigger dopamine release - a brain chemical linked to pleasure and reward - making us feel satisfied and reinforcing our desire for more sugar.
Impaired cognitive function: Excessive long-term sugar intake can negatively affect cognitive functions. It may impair memory, attention, and decision-making processes.
Inflammation: High sugar intake is linked to chronic inflammation, which can indirectly impact the brain, leading to possible cognitive decline and susceptibility to certain mental health disorders.
Insulin resistance: Long-term consumption of high levels of sugar can lead to insulin resistance and metabolic problems, potentially increasing the risk of cognitive impairment.
Addiction-like behavior: Some research suggests that excessive sugar intake can lead to addictive behaviors. This likely involves changes in brain regions like the prefrontal cortex, which regulates impulses and decision-making. 1
Sugar can worsen the following symptoms, cognitive skills, and conditions
ADHD
Depression
Hyperactivity and restlessness
Impulsivity and self-regulation
Inattentiveness
Memory
Decision-making skills
How does sugar affect ADHD symptoms?
There is a strong connection between ADHD symptoms and dietary habits; they can both affect the other. And, no - sugar does not cause ADHD. But what are the specific effects that sugar might have on someone with ADHD?
Inattention may be worsened by: 2
Seafood
Foods high in fat
Foods high in sugar
High-protein foods
Unhealthy dietary patterns
Inattention may be alleviated by: 2
Fruits
Vegetables
Healthy dietary patterns
Hyperactivity and impulsivity may be increased by similar dietary patterns that decrease attention (but researchers found weaker associations). 2
The ADHD brain on sugar
The prefrontal cortex, located in the frontal lobe of the brain, is known for its connection to ADHD. This brain region plays a vital role in attention regulation and impulse control. 1
The prefrontal cortex is also heavily influenced by dopamine, a neurotransmitter.
Dopamine and reward
Dopamine production is essential for human survival because it generates feelings of reward when we complete actions necessary for our survival. For instance, our brains release dopamine as soon as food is available, motivating us to eat. It also contributes to our feelings of fullness and satisfaction after we eat.
How does sugar affect dopamine in ADHD brains?
Researchers believe that people with ADHD have inadequate dopamine production or transmission between neurons. 3 This directly impacts various brain functions, including reward responses, memory, and mood. 4
Eating sugar releases glucose into your bloodstream, which triggers the release of dopamine, potentially improving energy, focus, and concentration; however, this effect is temporary.
Once the dopamine wears off, you may experience a crash in energy levels and mental clarity that can worsen ADHD symptoms like those mentioned above.
🔬 Sugar research! Studies involving rats show evidence that long-term sucrose consumption can change the brain structures activated by dopamine. In humans, excessive sucrose can affect our behaviors and emotional processing. 5
Over time, eating a lot of sugar can desensitize the brain's dopaminergic receptors. This means that you may find yourself needing to eat more sugar to experience the same level of satisfaction, possibly leading to dopamine-seeking behaviors.
Dopamine-seeking and ADHD
Dopamine-seeking behaviors are common in people with ADHD, which can make them more vulnerable to struggling with things like substance misuse and addiction. Additionally, excessive sugar intake can worsen impulse control challenges, further reinforcing sugar-seeking and dopamine-seeking behaviors.
🔬 Dopamine research! Dopamine molecules regulate a wide range of behaviors and emotions by interacting with various parts of the brain.1 This is why some people may struggle with "emotional overeating."
How to limit your sugar intake
Limiting your sugar intake can be hard to do, especially in this day and age. However, it's important to maintain a healthy diet if you have ADHD due to their close correlation.
Here are some tips to help you reduce how much sugar you eat:
Read labels carefully before purchasing food items, and try to buy more "natural" options.
If you have a sweet tooth, opt for naturally sweet foods (like fruit) instead of processed desserts with added sugars.
Replace sugary drinks with healthier alternatives such as herbal teas or unsweetened beverages.
Plan your meals in advance and stick to a consistent eating schedule.
Avoid buying processed snacks with added sugar as they are often high in calories and low in nutrients.
Finally, if you're struggling to limit your sugar intake, there's no shame in seeking professional advice from a dietician or nutritionist. They may also be able to provide additional support if you're dealing with issues related to impulse control, like binge eating.
Biochemistry crash course: How the body breaks down sugar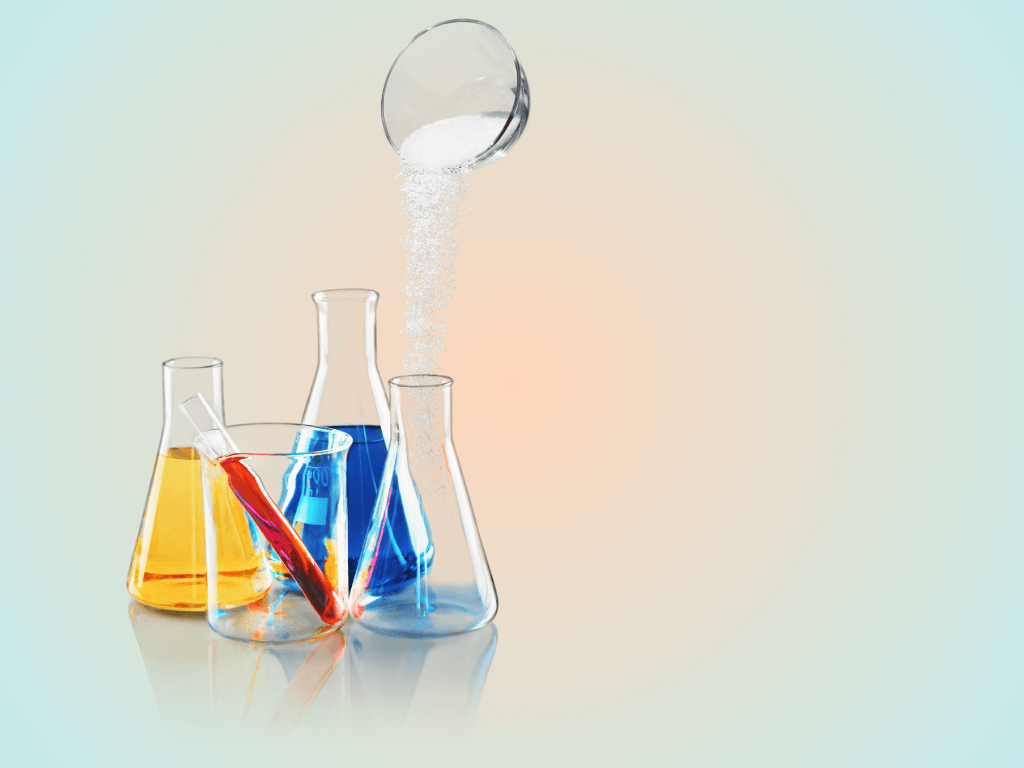 For those who are more interested in the scientific aspect of how sugar affects the brain, here's a quick overview!
Sugar boosts dopamine levels, leading to pleasurable and satisfying sensations. 6 When it comes to how sugar is broken down and functions in our body, here's what you need to know:
When sugar enters your system, receptors on the taste cells in your mouth and gut immediately gratify you with the delightful sensation of sweetness.
Sucrose (sugar) then makes its way to the small intestine, where it's broken down into fructose and glucose.
Glucose increases the absorption of fructose in the gut, while fructose quickens the uptake and storage of glucose in the liver. As a result, fructose is absorbed into the bloodstream much slower and lasts longer than glucose.
Glucose promotes feelings of fullness, releasing insulin from the pancreas, which regulates blood glucose. (Fructose is a lot slower to do this.)
Once glucose and fructose cross the blood-brain barrier, glucose signals are activated in the brain. Glucose is key for brain functions, including neurotransmission.
Catecholamines (like dopamine) are released in the areas of the brain responsible for reward, pleasure, and motivation.
⚛️ Science translation? Sugar consumption increases dopamine release (similar to stimulant medications) in the brain. The spike in blood sugar leads to a spike in insulin levels, possibly leading to hypoglycemia, which can worsen symptoms like irritability, inattention, and fatigue.
Final thoughts
ADHD symptoms could worsen if you have too much sugar, but that doesn't mean you need to throw out your secret sugar stash. Moderation is key!
Plus, there's plenty of room for more research on the specific effect that sugar has on ADHD and autistic brains.
Not everyone is affected by sugar in the same way. Track your symptoms over time to see if and how sugar affects your ADHD symptoms. Then, consult a dietitian, nutritionist, or doctor to determine how much your symptoms are worsening due to food consumption.
‍
-
Sources
1 Neuroscience and Biobehavioral Reviews | The impact of sugar consumption on stress driven, emotional and addictive behaviors (2019)
‍2 American Journal of Medical Genetics | Attention-deficit/hyperactivity disorder symptoms and dietary habits in adulthood: A large population-based twin study in Sweden (2020)
3 Brain Sciences | Precision Medicine Care in ADHD: The Case for Neural Excitation and Inhibition (2021)
‍4 Cellular and Molecular Neurobiology | Dopamine: Functions, Signaling, and Association with Neurological Diseases (2018)
‍5 Journal of Endocrinology | Sucrose consumption alters steroid and dopamine signalling in the female rat brain (2020)
‍6 Biomolecules | Modeling ADHD in Drosophila: Investigating the Effects of Glucose on Dopamine Production Demonstrated by Locomotion (2021)