Vyvanse (or Elvanse in Europe), a widely prescribed medication for ADHD, is facing significant supply issues, causing concern among patients and healthcare providers. ADHD, a condition affecting attention, hyperactivity, and impulsivity, can be managed with stimulant medications such as Vyvanse, which improves attention and impulse control.1
Access to medication is crucial for ADHDers as it influences their day-to-day lives, affecting professional or academic achievements and overall well-being.
However, the supply challenges have disrupted patient treatment, creating uncertainties in accessing their prescribed doses. Healthcare providers are working to manage patient expectations and explore alternative therapies to ensure continuous care.
The impact of Vyvanse supply issues extends beyond patients and providers, straining the healthcare system and increasing costs. Resolving manufacturing delays, anticipating demand changes, and ensuring stable medication access are necessary for comprehensive solutions in the ADHD medication market.
⚕️ Disclaimer: This article is for educational purposes only. It does not constitute professional medical advice, diagnosis, or treatment. The information provided, including medication alternatives, does not replace the guidance of a healthcare professional. Always seek the advice of a qualified provider regarding questions you have about medical conditions or medications. Use this information at your discretion. The editors and writers associated with this article cannot be held liable for any errors or consequences resulting from its use.
Note: The content of this article is based on public knowledge and is accurate as of June 30, 2023.
Too long; didn't read
Vyvanse, a stimulant ADHD medication, is in low supply in the USA due to manufacturing delays and increased demand.
The supply issues are affecting pharmacy chains like Walgreens and CVS.
Increased demand for Vyvanse is partially caused by shortages of other ADHD medications, particularly Adderall.
At this time, Elvanse is not at risk of supply issues in European countries.
Takeda Pharmaceuticals (manufacturer of Vyvanse) advises patients to contact their healthcare provider for alternatives to Vyvanse if needed.
Vyvanse and Takeda Pharmaceuticals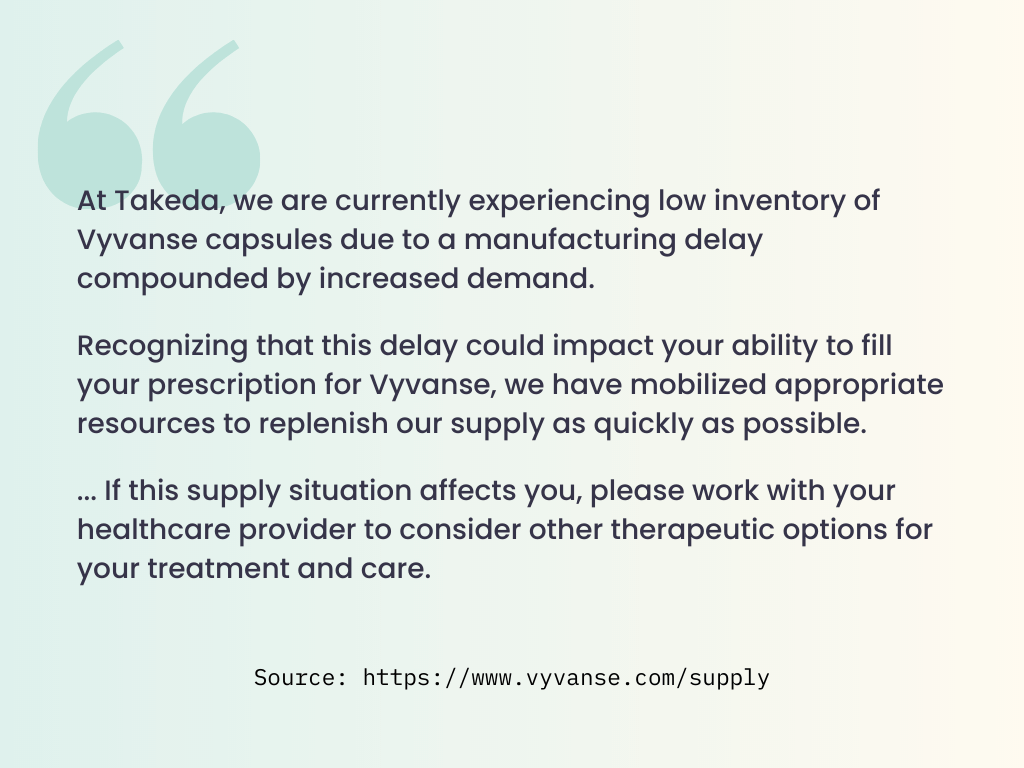 Vyvanse (lisdexamfetamine dimesylate) is a stimulant medication primarily used to treat attention-deficit/hyperactivity disorder (ADHD). It contains the ingredient lisdexamfetamine, an inactive prodrug that's converted into active dextroamphetamine after ingestion.2
Dextroamphetamine is a central nervous system stimulant, prompting the release of certain chemicals in the brain, helping to improve attention, impulse control, and hyperactivity in children and adults with ADHD.
Vyvanse is manufactured by Takeda Pharmaceuticals, a global pharmaceutical company headquartered in Japan.
Vyvanse patent expiration
Takeda Pharmaceuticals' patent for the prodrug lisdexamfetamine dimesylate—known as Vyvanse in the USA and as Elvanse in Europe—officially expired on February 24, 2023. However, due to what's known as "pediatric exclusivity," Takeda will maintain market exclusivity through August 24, 2023.
In other words, no one else can legally distribute generic versions of Vyvanse until after August 24th.
👀 Click here to learn more about the Vyvanse patent expiration and what that means for possible generics.
Details of the 2023 Vyvanse shortage
Takeda Pharmaceuticals recently announced a low supply of Vyvanse tablets, mainly 40 mg. (However, some anecdotal input from our editorial team leads us to believe that 50 mg Vyvanse tablets may also be in short supply.)
It should also be noted that - as of late June 2023 - the supply of Elvanse (the European version of Vyvanse) is not threatened.
Which Vyvanse doses are low in stock?
In the United States, Vyvanse supply issues are affecting several tablet doses:
While the shortage is primarily affecting the supply of 40 mg tabs, the availability of other strengths will likely decline soon. Vyvanse representatives anticipate a drop in the supply of 60 and 70 milligram tablets starting in late June or early July, which could last through September 2023.
There is no news on how the supply of Vyvanse capsules might be affected by the tablet shortage.
*speculative
How long will the shortage last?
The bad news…
Unfortunately, the Vyvanse shortage is projected to persist until September of this year, according to Takeda Pharmaceuticals.
The good news…
Once generic forms of Vyvanse (hopefully) become available in August or September 2023, the supply and demand issue should be alleviated. The introduction of generic Vyvanse will increase the supply of lisdexamfetamine dimesylate in the market, providing more options for ADHD patients and prescribers.
Generic medications are also typically more affordable, which can improve the availability and accessibility of ADHD treatment. With multiple manufacturers producing lisdexamfetamine, the supply chain will become more robust, reducing the possibility or severity of future shortages.
The best news...
There's an entire community of ADHDers who understand how frustrating the medication shortages have been, and you can find them on Inflow, an educational ADHD management app based on cognitive behavioral therapy, or CBT. 
‍With Inflow, you will: 
Connect with like-minded individuals
Explore the complexities of your ADHD brain with bite-sized lessons
Get more done with coworking sessions and focus rooms
Discover practical and easy-to-implement strategies to help you overcome various ADHD-related challenges
Start your free trial today to unlock a world of support, understanding, and personal growth.
‍🧠 Take our ADHD quiz to learn how Inflow can help you.
⚠️ Warning: If you sign up for Inflow, you must be prepared to thrive with ADHD no matter what life throws at you — medication shortages included.
Which pharmacies have a low supply of Vyvanse?
Major pharmacy chains such as Walgreens, CVS, and Rite Aid have been affected by the Vyvanse supply issues.
These pharmacies are facing challenges in meeting the prescription demands of their patients, causing significant disruptions in access to treatment.
What caused the supply issues?
The increased demand for Vyvanse can be attributed to shortages of other ADHD medications, namely Adderall (amphetamine/dextroamphetamine salts).
In fact, a spokesperson from Takeda Pharmaceuticals made a similar statement in an email sent to Bloomberg News, expressing how other drug shortages have compounded the challenge of having a "backup" supply of meds.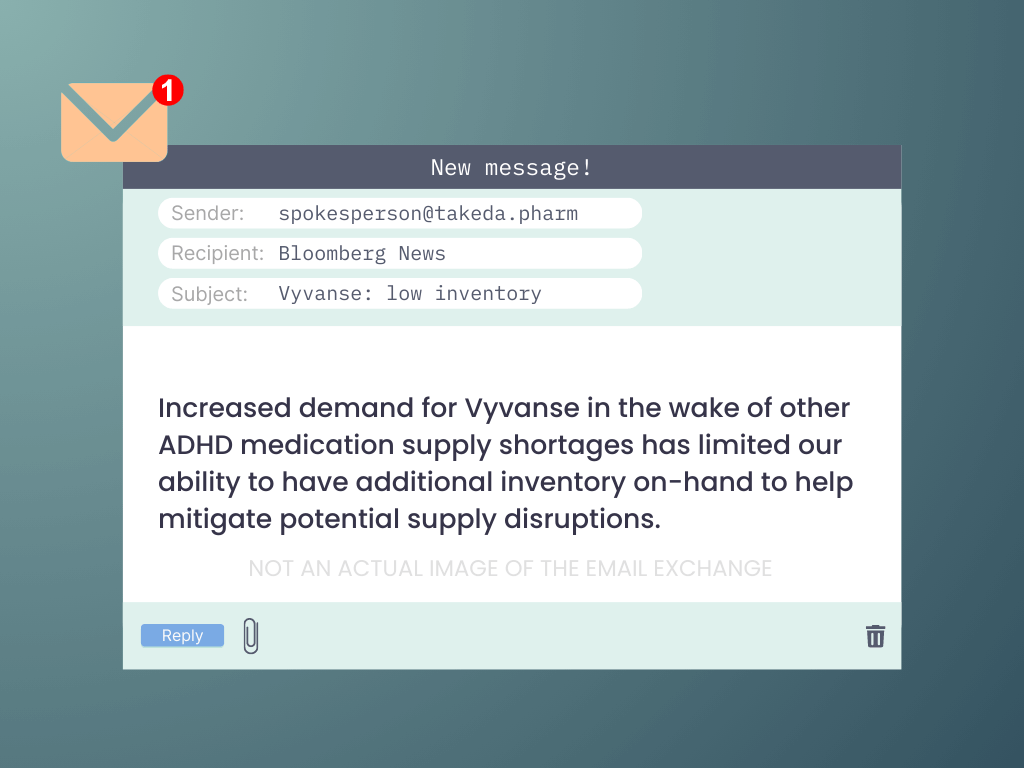 Teva Pharmaceutical Industries, a prominent producer of amphetamine mixed salts (Adderall's active ingredient; generic name for Adderall), has experienced manufacturing delays since 2022. While the FDA didn't announce the official shortage until October 12th, many people with ADHD noted across the internet that they were having difficulties getting their medication as early as April 2022.
As a result, wholesalers and distributors who typically carry extra supplies to address such shortages, have struggled to meet the growing demand of ADHD medication prescriptions.
How to deal with the shortage of Vyvanse (and Adderall)
In response to the Vyvanse shortage, Takeda Pharmaceuticals has advised patients to contact their healthcare providers to explore alternative treatment options. Engaging in open discussions with healthcare professionals is necessary to ensure continuity of care.
Medication alternatives
There are potential alternative drugs available that ADHDers and their providers can consider during this period of limited Vyvanse supply. What you should try depends on what you're looking for.
Please note that the following alternatives are all stimulant medications. Readers should be aware, however, that nonstimulant medicines are available for ADHD management.
These medications are long-acting, like Vyvanse
Talk to your doctor about extended-release formulations if you're looking for a long-lasting effect with a gradual release of active medication. These are often recognizable by abbreviations like XR, ER, LA in their names.
More specific examples of extended-release ADHD medications to consider include:
Dextroamphetamine ER
Ritalin LA
Concerta
These medications have amphetamine-based formulas, like Vyvanse
If you're looking for a medication with active ingredients similar to Vyvanse, ask your doctor about stimulants based on amphetamine or dextroamphetamine.
Examples of amphetamine-based stimulants include:
Adderall (immediate and extended-release)
Dexedrine
ProCentra
Zenzedi
The active ingredients in the above list are more similar to Vyvanse than those based on methylphenidate (such as Ritalin and Concerta) and dexmethylphenidate (such as Focalin.)
💊 To explore more ADHD medication options, click here.
‍
-
Sources
1 Current Medical Research and Opinion | Review of lisdexamfetamine dimesylate in children and adolescents with attention deficit/hyperactivity disorder (2020)
2 Expert Opinion on Drug Delivery | The prodrug approach in the era of drug design (2019)