Have you ever found yourself in waiting mode? Waiting mode is when you can't get anything done because you're distracted by the awareness that you have something planned — such as an appointment — later on.
You feel anxious, impatient, and even overwhelmed. People with ADHD know all about waiting mode. And it's incredibly frustrating.
It doesn't matter if you have plenty of time to do what you should be doing — or want to be doing — now, or if it's more important than what you'll be doing later. It doesn't matter if you enjoy what you're doing now more than what you're doing later because you feel as if you're paralyzed, waiting for the future.
People with ADHD, autism, depression, anxiety, and PTSD tend to find themselves in waiting mode more often than others, and often enter it sooner than others might.
Too long; didn't read
Waiting mode combines executive dysfunction, anxiety, and time blindness.
Waiting mode can be compared to terms like ADHD paralysis, task paralysis, task freeze, and couch lock
People with ADHD, depression, anxiety, autism, and PTSD are more likely to struggle with waiting mode.
Coping strategies are needed to break out of the constraints that waiting mode can place.
Effective coping strategies include: using brain dumps, mindfulness techniques, and breaking yourself out of couch lock with simple tasks.
What is waiting mode?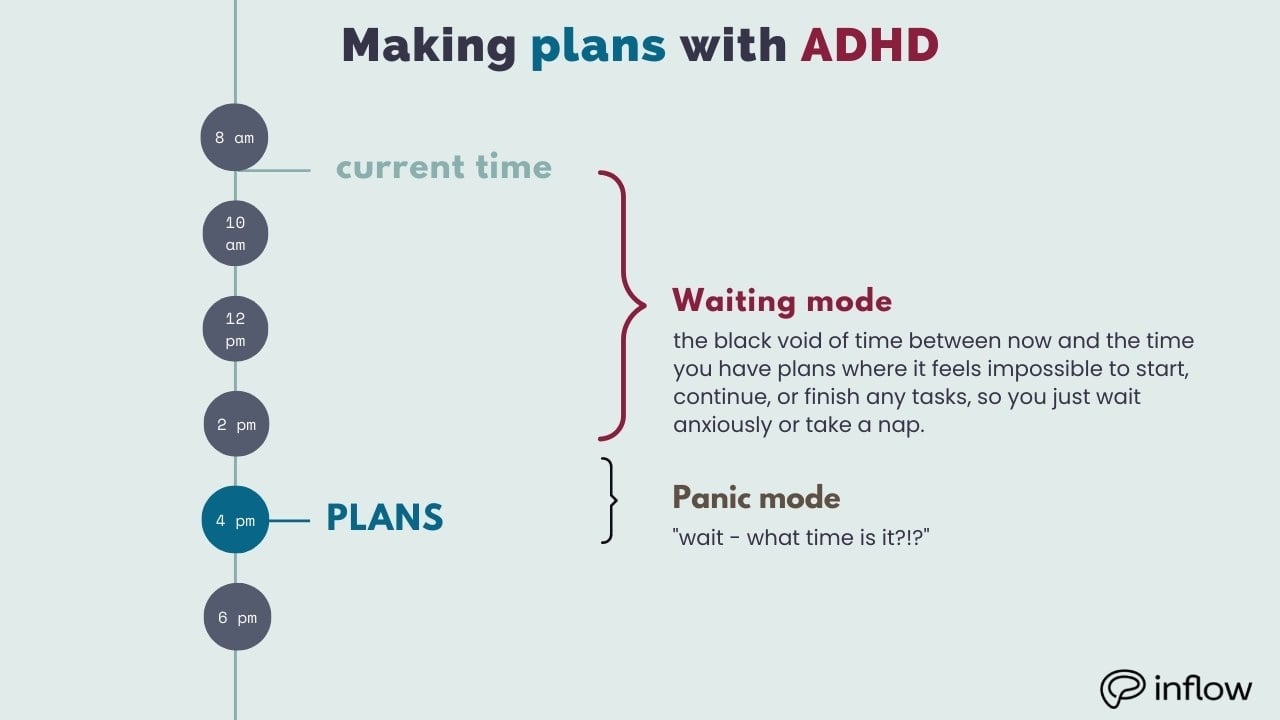 Waiting mode is an attention-regulation problem that generates anxiety. Some have compared it to rumination,1 or repeatedly thinking about negative or unpleasant things, growing more distressed in the process.
When stuck in waiting mode, it's almost like… the harder you try not to think about an upcoming event, the more your mind obsesses over it. 
Tired of being stuck in waiting mode? The Inflow app has learning modules on topics like overwhelm, time management, and procrastination to help ADHDers take back control of their time. Get started with Inflow today!
How to defeat waiting mode with ADHD
Experts recommend four coping strategies for coming out of waiting mode and how to address the associated lack of productivity:
Reduce anxiety through a brain dump
Use mindfulness to let the negative thoughts pass
Start with a "now" activity that requires the least amount of effort
Find a way to combat time blindness
1. Reduce anxiety through a brain dump
Anxiety is typically a stress response, and we tend to cope with it by using "strategies" that helped us calm down in the past.
Unfortunately, that sometimes means that we're stuck in a cycle of rumination, because the brain is convinced that ruminating and overthinking is the only way to deal with anxiety. You can break out of this cycle with a brain dump.
What's a brain dump and how does it help time anxiety?
What it is:
Brain dumps help you capture as many thoughts or uncertainties as you can on a single page.
‍Focus on quantity, not quality
Organization and appearance aren't necessary at this stage. Get it out of your head and onto the paper or screen.
How it helps:
Although primarily a figurative exercise, a brain dump feels like it's happening in real life – as if you literally removed a weight from your brain. And that's the point. Brain dumps are a type of mindfulness strategy that captures the information taking over your thoughts.
🧠 Interested in learning how to make you very own brain dump or "to don't" list? Read about it here!
2. Use mindfulness to let the negative thoughts pass
Mindfulness is a type of self-reflection that helps you to acknowledge your own thoughts and feelings without obsessing over them or judging them. This practice is especially helpful for anyone struggling with emotional dysregulation or rejection sensitive dysphoria (RSD).
By being mindful of what's happening inside your brain - and observing your thoughts without getting consumed by them - you can cope more effectively with general anxiety — waiting mode in particular.
3. Start with an activity that requires little effort
Waiting mode can hinder productivity because starting a task means you also have to figure out how to transition to your appointment later on. This may not seem like a big deal, but transitions (task-switching) can be incredibly challenging for people with ADHD.
With executive dysfunction making it hard to find the energy to start a task, it's easy to understand how waiting mode can cause ADHDers to get stuck. 
Task inertia and couch lock
The only solution is to either remove the barrier or do something that matches the energy available. Since the barrier (the later event) isn't going anywhere unless you cancel it, the answer becomes apparent.
Look for tasks that are urgent, novel, interesting, or challenging. If no such tasks are available, then:
Think of a new way to do a routine task to add a sense of novelty. This adds dopamine to your system, increasing your chances of breaking out of couch lock.
Set a timer to give the task a sense of urgency. These are the kinds of short-term rewards your ADHD brain is always seeking.
4. Fight waiting mode with alarms
People with ADHD have a different relationship with time than everyone else. Minutes can seem like hours and, at times, hours like minutes. This is often referred to as "time blindness" or "time agnosia."
If you're constantly checking the clock to make sure you don't miss the later appointment, you won't be able to focus much on anything else. Set multiple reminders to ensure they enter your consciousness.