Few things feel more frustrating than lying in bed wide awake at 2 a.m., unable to sleep. What makes it even worse is knowing tomorrow will be a struggle with this kind of sleep deprivation.
Everyone has experienced this feeling and the dread for the next day at some point. Still, people with attention-deficit/hyperactivity disorder or ADHD have even more reason to dread the day after a night of poor sleep.
Why?
Research shows that ADHDers who are sleep deprived have a sharp decline in performance all around.1 Let's get into the details of sleep deprivation and its effect on ADHD symptoms.
Too tired; not reading all of that
Sleep is crucial to a properly functioning immune system and metabolism, as well as efficient hormones and cognition.
People with ADHD may struggle with sleep more than others due to medication, racing thoughts, RSD rumination, anxiety, and blue light exposure.
ADHD symptoms only get worse with sleep deprivation.
Why is sleep so important?
Sleep is one of the most important things for your physical and mental health. We all know this! But there are still uncontrollable factors that can affect our sleep, which consequentially affect our health.
Sleep affects our hormones (and vice versa).
The hormones your body produces vary depending on the time of the day. For example, your body releases extra cortisol in the morning to help get you up and out of bed, and cortisol levels drop at night to help you fall asleep.
Hormones vary even more during a menstrual cycle; different hormones are released depending on where you are in your cycle. To keep these hormones balanced, you need to get enough sleep. Studies show that your hormones suffer when you're sleep deprived.2
Sleep disturbance can increase your risk of developing:
Obesity
Diabetes (type 2)
Insulin insensitivity
Sleep is good for your immune system.
Your body's immune system releases proteins called cytokines while you sleep, which work to keep you healthy. The immune system produces more cytokines at the first sign that you may get sick or are stressed.
Lack of sleep hinders the production of cytokines, so you're more prone to catching bacterial and viral illnesses.
Your metabolism is directly linked to your sleep habits.
Your body's metabolism is closely tied to your circadian clock, which is why eating late at night may not be the best idea. It can interfere with your sleep-wake cycle, which can cause:
Lower insulin response
Less physical activity
Increase in hormones that regulate hunger
Increase in appetite
All these can lead to health issues such as obesity and heart disease.
Poor sleep can cause executive dysfunction.
Whether you have ADHD or not, lack of sleep will make it much harder to focus on tasks and get things done. Sleep deprivation can also lead to issues with long-term memory and your ability to make decisions.3
Why people with ADHD are prone to sleep problems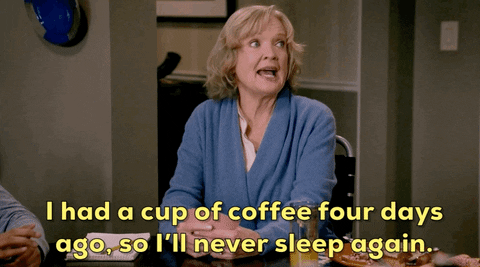 Sleep problems aren't just an ADHD thing; they can wreak some serious havoc on the lives of those with ADHD and make it even more challenging to stay focused and calm.
1. Stimulant medication
Though ADHD stimulant medications may help you stay focused and on-task during the day, studies show the effects of the stimulation may linger into the night, thus making it more difficult to fall asleep.4
The same studies also provide evidence that supports the idea that ADHD is a 24-hour disorder that causes sleep issues by itself. It's more of a personal journey to determine whether the sleep deprivation caused by ADHD medication is better or worse than the sleep deprivation caused explicitly by ADHD.
2. Racing thoughts at night
The most common manifestation of internal hyperactivity in ADHD?
Racing thoughts.
Needless to say, they can be the cause of significant sleep problems. Racing thoughts can happen throughout the day, but often occur more frequently at night when we're no longer distracted with the day's tasks.
As you can imagine (and have possibly even experienced for yourself), racing thoughts make it almost impossible to fall asleep. Some studies even show that ADHD-related mental restlessness is as intense as in people with bipolar disorder.5
3. Rumination and anxiety fueled by RSD
Emotional dysregulation is very common in ADHDers – about 70% of people with ADHD experience this.6 Rejection sensitive dysphoria (RSD) is a specific kind of emotional dysregulation that causes one to have very intense fears of rejection and criticism.
RSD goes hand-in-hand with anxiety, as they both center on fears that feel out of our control. Knowing that RSD rumination and anxiety are such intense mental and emotional experiences, it makes sense that they would significantly affect sleep.
4. Blue light exposure at the wrong time of day
Over the last few years, studies have exposed the negatives of blue light. Exposure to any form of blue light before bed can significantly affect sleep duration and quality.7 Blue light blocks the melatonin your body naturally produces, which typically sends the cue that it's time for sleep.
Laying in bed scrolling on your phone at night will signal your brain to do the opposite of what you're trying to do and disrupt your circadian rhythm.
Of course, phones, computers, and TVs are a part of everyday life in modern-day times, and we aren't suggesting that you cut them out. However, we are recommending that you become more aware of when you use your electronic devices.
Your brain will thank you.
ADHD symptoms worsened by sleep deprivation
When you have the combination of ADHD plus sleep deprivation, you're bound to experience additional problems that show up as worsened ADHD symptoms.
Here are ADHD symptoms you may notice worsening with a lack of sleep:
Hyperactivity
Impulsiveness
Reduced attention span—more than usual
Higher anxiety
Fatigue
Final thoughts: get your beauty rest
Sleep is crucial for both physical and mental health. However, people with ADHD are more prone to sleep problems due to various factors such as stimulant medication, racing thoughts, RSD, rumination, anxiety, and exposure to blue light. Lack of sleep can lead to an increase in symptoms of ADHD, as well as a decline in overall performance.
The impact of sleep on physical and mental health should not be underestimated, and those with ADHD should prioritize good sleep habits to minimize symptoms and maintain overall well-being.
‍
-
Sources
1 Journal of Attention Disorders | The Impact of Sleep Deprivation on Continuous Performance Task Among Young Men With ADHD
2 International Journal of Endocrinology | The Impact of Sleep and Circadian Disturbance on Hormones and Metabolism
3 Neuropsychiatric Disease and Treatment | Sleep deprivation: Impact on cognitive performance
4 Neurotherapeutics | ADHD Treatments, Sleep, and Sleep Problems: Complex Associations
5 Journal of Affective Disorders | An overactive mind: Investigating racing thoughts in ADHD, hypomania and comorbid ADHD and bipolar disorder via verbal fluency tasks
6 BMC Psychiatry | Emotion dysregulation in adults with attention deficit hyperactivity disorder: a meta-analysis
7 Journal of Psychiatric Research | Blocking nocturnal blue light for insomnia: A randomized controlled trial