A strong dislike for being told what to do and ADHD are often connected. As a kid, I instinctively defied every request made by my teachers. As an adult, I struggle to do my PT exercises simply because my physical therapist told me I should do them.
Even within a loving relationship, this can rear its head. Like when you're about to vacuum the living room, but before you can get to it, your partner asks you to do it, immediately making you want to do literally anything but vacuum the living room.
The scientific term for this is reactance, and it's common in ADHDers, but why?
Let's dive in as we explore the links between ADHD and reactance and coping strategies so you can keep it calm when faced with authority.
Too long; didn't read
Most people don't like being told what to do, but ADHDers tend to have a particularly low tolerance for it.
Reasons for this include negative past experiences, differently wired brains, and comorbid oppositional defiant disorder (ODD).
Learning to navigate the need for independence and accepting authority where necessary is vital for success in career, education, and personal relationships.
Coping strategies include understanding your triggers and practicing effective communication.
Why do people with ADHD hate being told what to do?
Of course, most people don't like being told what to do. But many ADHDers have a unique struggle with authority, even imagined authority.
Reasons for aversion to authority among ADHDers:
Previous negative experiences with authority
Strong need for autonomy
Different ways of thinking
Impulsive behaviors
Emotional dysregulation and anger
Executive dysfunction
Sensitivity to criticism
Oppositional defiant disorder (ODD)
1. Previous negative experiences with authority
As children with ADHD, we were often told to do things we couldn't do all the time: "Sit still! Stop talking! Just focus!" And when we didn't fulfill these demands, we may have been punished unfairly. Studies show that children with ADHD are more sensitive to frequent punishment than their neurotypical peers and they're more likely to receive punishment in childhood.1,2
People with ADHD are far more likely to struggle with all kinds of authority - so much so that ADHD is associated with a 2-3 times higher risk of running into trouble with the law.3
2. A need for autonomy
Giving teens with ADHD enough autonomy is critical for their development into responsible adults.4 ADHDers often develop insecure attachment styles5 and, as a result, are more prone to externalizing behaviors (i.e., aggression or hostility).6 Insecure attachment styles are characterized by a lack of trust and a secure base, which could be "positively reframed" into a "need for autonomy."
3. Different ways of thinking
Since ADHD brains work differently from neurotypical brains, we tend to think in a non-linear, associative style (aka divergent thought patterns). This means we often need to find our own way of doing things because otherwise, they won't get done.
Sometimes, we might mix up somebody telling us what to do with telling us how to do it. Rigid instructions and external pressure can quickly feel restrictive and become frustrating.
4. Impulsive behaviors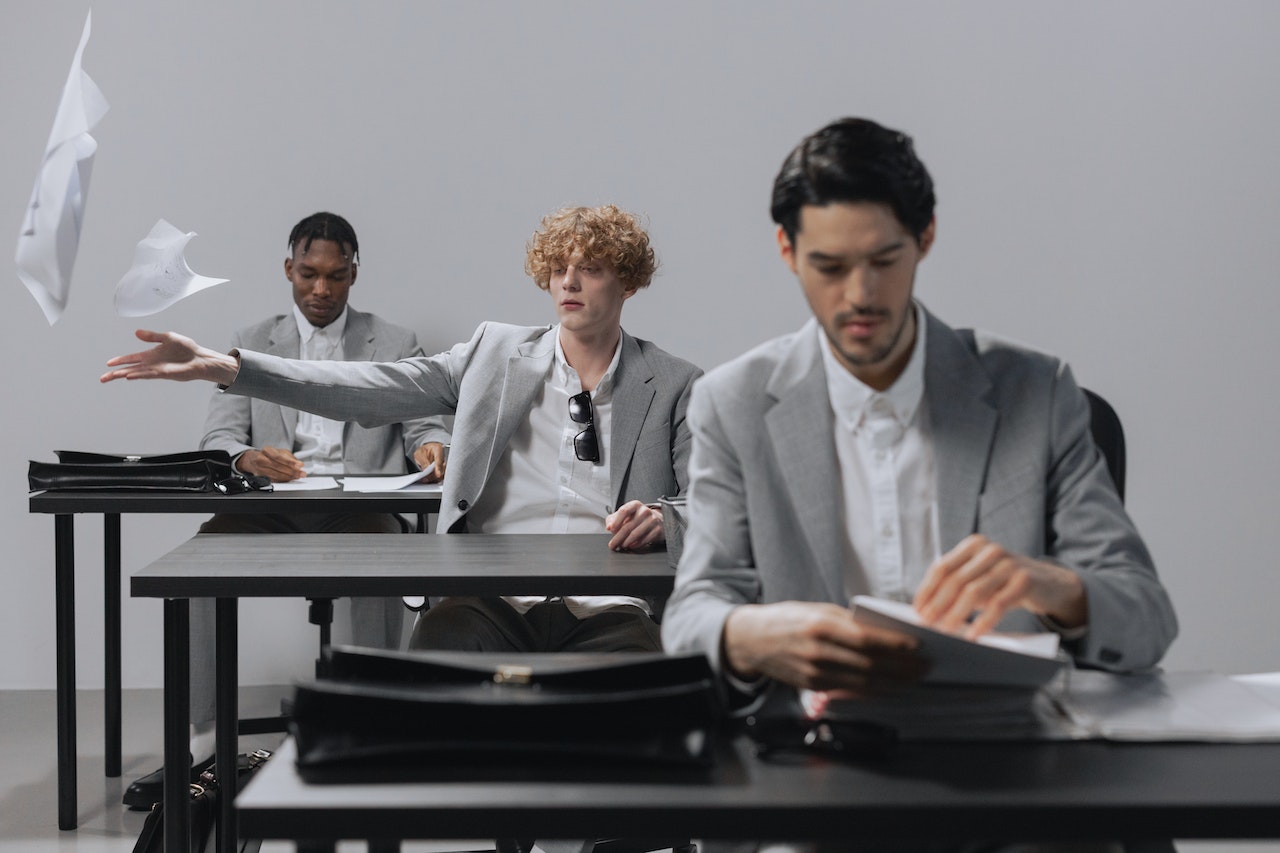 Impulsivity is one of the main ADHD traits and can often lead us to break conventions or rules.
People with ADHD are prone to choose smaller immediate rewards over larger delayed rewards.7 Neuroimaging studies suggest that different connectivity and activation patterns in ADHD brains are linked to this need for instant gratification.8
5. Emotional dysregulation and anger
Emotional dysregulation (ED) describes difficulties with processing and regulating emotional responses, which can lead to reactions disproportionate to the situation. While ED isn't part of the official diagnostic criteria for ADHD, research suggests that emotional dysregulation is a core aspect of adult ADHD.9
Irritation from being micromanaged or overwhelm from complicated or inconsistent instructions can spiral into frustration and transform into anger.
💼 Your coworkers or boss driving you up the wall? Check out our article on intense emotions at work to learn how to recognize and cope.
6. Executive dysfunction
The prefrontal cortex is where the ADHD-magic happens—or… doesn't happen. The list of functions of the prefrontal cortex reads a bit like the diagnostic criteria for ADHD.10
Differences in the development of this brain region are also responsible for the executive dysfunction common in ADHD, which can cause problems with task initiation. ADHDers might hate being told what to do because they feel unable to do a task due to executive dysfunction.
7. Sensitivity to criticism
Many ADHDers have rejection-sensitive dysphoria (RSD). RSD is characterized by an overwhelmingly negative and painful response to actual or perceived criticism. For people with RSD - and in general for ADHDers - someone disagreeing with them or suggesting an alternative to what they are doing or planning can feel like an attack.
8. Oppositional defiant disorder (ODD)
Up to 60% of people with ADHD also have ODD, making it one of the most common comorbidities of ADHD. "ODD is defined by a persistent and frequent pattern of irritable and angry mood and[...] defiant, and disobedient behavior toward authority figures."11 If you have ADHD and hate being told what to do, it might be worth checking for comorbid ODD.
Strategies for dealing with authority when you have ADHD
People will tell you what to do no matter how much you dislike it. So how can you handle it?
Understand your triggers
Like almost all emotional issues, the first step to solving the problem is recognizing it when it arises. Find out which situations, phrases, or approaches give you the urge to resist obeying.
For example: Your trigger might be having your work flow interrupted or being expected to jump to a different task at a moment's notice. Or you might not respond well to the way in which you are being asked.
Practice effective communication
You can't control other people, but you can communicate your needs and ask them for support. To avoid conflict when given directions, use the information you gathered about your triggers to let others know which approach is best for you.
To communicate effectively, it's crucial that you come prepared and learn how to work around your communication challenges.
Here are some examples:
Ask for advance notice on upcoming tasks, extra time to process and consider commitments, or to receive summaries or instructions in writing.
Explain that a clearer understanding helps you be more productive. Request more clarification or details when you're unsure about a task.
Request frequent 1-to-1 meetings to check in with colleagues or get feedback from supervisors.
Discuss your typical workflow with your supervisor, including letting them know when you're focused on deep work versus ready for additional tasks.
💬 Side note: Relationship conflict doesn't only arise because ADHDers hate being told what to do. Learn more in our dedicated blog on communication problems in ADHD relationships.
Set goals together
Our ADHD doesn't only affect us. To manage daily life and being told what to do, we need to work with our friends, partners, colleagues, and bosses.
Setting goals together can give us a feeling of autonomy and agency, making engaging with tasks easier. Understanding the "why" and the bigger goal we're working toward can boost motivation and help us feel less irritated by tedious tasks. It also encourages us to discuss expectations clearly before frustration or overwhelm can arise.
Seek support
Therapy and medication are helpful support tools for ADHD. Not everybody needs or wants them, and that is fine. But when you struggle to manage independently, there's no shame in asking for help.
Final thoughts
I've always hated being told what to do and I instinctively start arguments and fights when I feel something or somebody is telling me what to do. But being aware of the concept of reactance, my triggers, and my ADHD predispositions, I've been able to reduce my arguing to the necessary minimum. Because, yes, I believe there's a necessary minimum of arguing.
---
Sources
1 Journal of Abnormal Child Psychology | Children's Reward and Punishment Sensitivity Moderates the Association of Negative and Positive Parenting Behaviors in Child ADHD Symptoms. (2018)
2 Psychiatry and Clinical Psychopharmacology | A qualitative study on corporal punishment and emotionally abusive disciplinary practices among mothers of children with ADHD (2018)
3 Clinical Psychology Review  | A meta-analysis and systematic review of the risks associated with childhood attention-deficit hyperactivity disorder on long-term outcome of arrests, convictions, and incarcerations (2016)
4 CLINICAL PSYCHIATRY NEWS | Autonomy Is Critical for Teens With ADHD (2007)
5 Nordic Journal of Psychiatry | Remarkable high frequency of insecure attachment in children with ADHD persists in a three-year follow-up  (2022)
6 Int J Law Psychiatry. | Social support, attachment and externalizing behavior in forensic patients with attention-deficit hyperactivity disorder (2019)
7 J Atten Disord. | ADHD and the Choice of Small Immediate Over Larger Delayed Rewards: A Comparative Meta-Analysis of Performance on Simple Choice-Delay and Temporal Discounting Paradigms (2021)
8 Frontiers in Human Neuroscience | Association of Affected Neurocircuitry With Deficit of Response Inhibition and Delayed Gratification in Attention Deficit Hyperactivity Disorder: A Narrative Review (2018)
9  PLOS ONE | Evidence of emotion dysregulation as a core symptom of adult ADHD: A systematic review (2023)
10 Continuum (Minneap Minn) | Executive Dysfunction and the Prefrontal Cortex (2021)
11 European Child & Adolescent Psychiatry | Risk factors for comorbid oppositional defiant disorder in attention-deficit/hyperactivity disorder (2017)