We've all been there – procrastinating and frustrated but still unable to progress on something we want to work on. Especially for ADHDers, finding motivation can feel like an uphill battle, and it's no surprise that neurotypical motivation strategies don't always click with neurodivergent brains.
People with ADHD need something different, and with the right strategies, doing something you don't want to do doesn't have to feel impossible.
We'll cover the link between ADHD and motivation and our top ADHD-friendly tips on motivating yourself.
Too long; didn't read
ADHDers are more likely to feel unmotivated due to executive function challenges and lacking motivation when we need it.
Memorizing acronyms like RAN and INCUP are helpful motivation hacks for ADHD brains.
Other ADHD tips can include task prioritization strategies, finding your "why," and seeking accountability from others.
What's the connection between ADHD and motivation?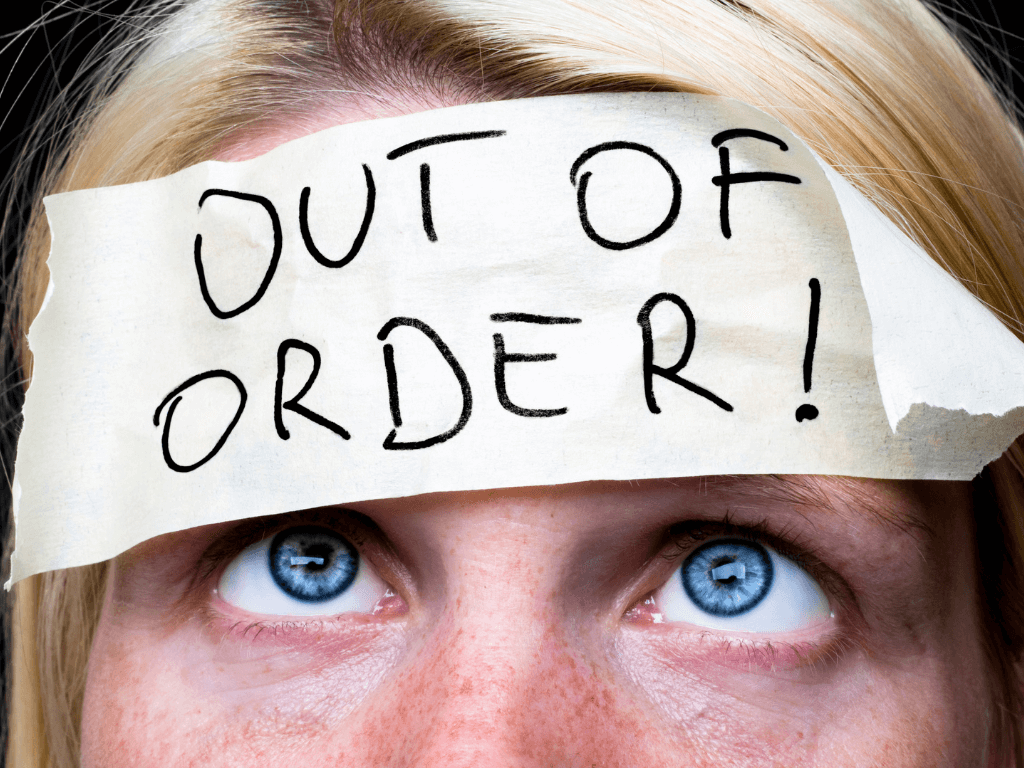 Motivation allows us to engage in goal-directed behavior based on our needs, thoughts, and emotions. These internal motives give our behavior energy, direction, and persistence. When faced with an external trigger to do a certain task, the internal motives serve as a mediator between the trigger and our actual behavior.1
While the specifics of how ADHD affects motivation are not fully understood, scientists agree that different wiring and changes in dopamine function in ADHD brains mean that our motivational pathways aren't the same as in neurotypical brains.1
⚛️ Science translation: It's harder for ADHDers to find motivation for tasks that we find unrewarding.
Reasons why people with ADHD often feel unmotivated
ADHDers aren't the only ones who feel unmotivated. We're all bound to feel this way sometimes.
However, ADHD comes with more obstacles that can impact motivation:
Executive dysfunction
Difficulty with prioritization: Not knowing which task to do first
Time blindness: Tedious tasks feel like they take forr-evvv-errr, so it can be harder for us to begin.
Need for instant gratification
Depression and anxiety
Low levels of dopamine
Becoming easily distracted: When you have to keep starting over on the same exact task, it really drains your energy.
How to motivate yourself to do things you don't want to do
Memorize these motivation acronyms
Acronyms are like cheat codes for our brains; they're easier to remember than full phrases. Try the following ADHD-friendly acronyms to motivate yourself to get your tasks done with less anxiety.
1. INCUP
INCUP stands for the top five motivating factors for people with ADHD:
Interest: When we start on a task that interests us, we're more likely to hyperfocus and get our tasks done faster.
Novelty: Trying something new gives us a dopamine boost and keeps boredom at bay.
Challenge: Tasks with the right level of challenge (not too easy, but also not impossibly hard) provide a sense of accomplishment when we make progress on them - hello, dopamine!
Urgency: While this factor alone isn't always helpful for ADHDers, seeing a deadline on a calendar or pacing ourselves with a timer can motivate us to stop procrastinating and take action.
Passion: Focusing on our passions and identifying how our to-do list relates to our passions and goals gives more meaning to the tasks.
ADHDers tend to be more motivated based on interest and novelty rather than by external requirements, which is why deadlines and other obligations sometimes seem insignificant to us.2
Using the different factors of INCUP, you can infuse your tasks with some of that 'motivational fairy dust.'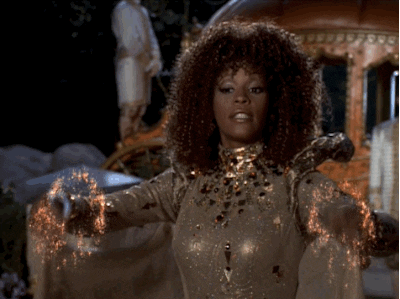 2. The RAN method
The RAN method is a helpful motivational strategy using three external factors of motivation:
Reward
Accountability
Novelty or "newness"
The RAN method creates motivation by satisfying our craving for immediate rewards, keeping us on track with accountability, and adding variety to otherwise dull tasks.
13 more ADHD motivation tips
3. Find your "why."
When faced with responsibilities we'd rather avoid, we're probably not considering the "why" of that task.
Remembering why you want to pursue that goal or complete this task can boost intrinsic motivation.
Ask yourself these questions:
What will this help me accomplish?
How will I feel once I've reached my goal?
How will my future self benefit if I start the task now?
Here's an example:
You may dread a boring quarterly report you must prepare for the next team meeting. Reminding yourself what this will help you achieve can motivate you to finish the tedious tasks.
The report might…
…show how your contributions benefit the team and company.
…get the whole team on board with your ideas.
…put you on your manager's radar for a promotion.
4. Break tasks into smaller steps.
When we break a large goal into smaller steps, we can see exactly what we need to do next... rather than a staring at a huge mountain of tasks. This reduces overwhelm and anxiety.
For example, your work report could be broken down into:
Gather relevant data
Illustrate data with graphs
Identify key takeaways
Write an overview for context: Where did we start this quarter? What changes were made? Where are we now?
Summarize findings
Write conclusion: Where do we go from here?
5. Track your progress.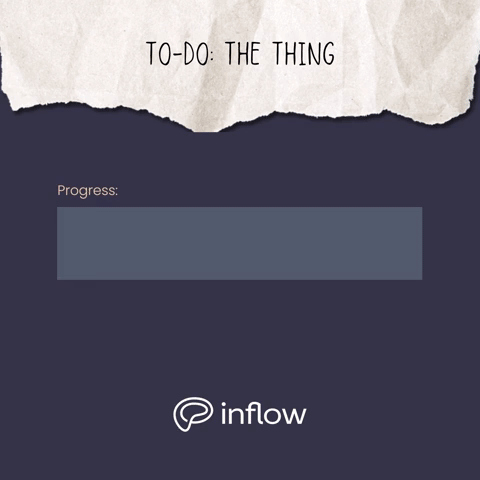 Many ADHDers need help remembering what they've already achieved, and longer tasks can feel like they'll never end. Tracking our progress gives us a a visual reminder of how far we've come, keeping us motivated.
Start with tip #4: If we don't break our goals into smaller steps, we can't mark them off as we go.
Use productivity apps to track your progress, like GoalsOnTrack or ClickUp.
Pen and paper work just as well: Try a handwritten to-do list to cross out your tasks for a dopamine boost or, if you're creative, draw a chart and highlight or color in your progress to add novelty.
6. Make it fun and interesting.
Novelty motivates us to get started or keep going with a boring task.
One way to add novelty is through gamification. When faced with a tiring task, ask yourself: "How can I turn this task into a game?"
Gamification ideas:
Race the clock: Set a timer for 5, 10, or 15 minutes and see how much you can get done. This works great for chores! Using music or a video as a timer can make your task even more stimulating. Can you finish the dishes before the podcast episode is over? How many emails can you send in 15 minutes?
Race yourself: If you know how long something takes you, try to beat your own time. Can you set a new record?
Digital "checkmark" sound: Assign a satisfying "ding" sound to your task completion on your phone.
Create a point system: Assign points to your tasks. You could base it on effort or how much you dislike doing it. Then, reward yourself based on your final score. (See below for reward ideas.)
Keep it fresh: If your tasks are equally important, let chance decide which one you do. Give each task a number and roll the dice or use a randomizer website. Add excitement to your rewards by creating a surprise reward jar to draw from.
Turn your tasks into a role-playing game (RPG): The app Habitica lets you collect rewards and level up by completing tasks or staying on top of habits. You can even compete with your friends.
7. Reward yourself.
ADHD brains thrive on immediate feedback. Rewards to enjoy throughout your workday can act as positive reinforcement for you to stay motivated.
❗ Notice I didn't say to wait until you've completed a task: If a reward is too far away, it won't motivate ADHD brains. Keep your rewards small and frequent so you always have something to look forward to.
Even treating yourself before starting a task can be a good idea. Transitions aren't easy for ADHDers, so just the simple action of starting a challenging task deserves a little something.
Quick puzzle break: Solve a puzzle on your phone - like a round of Wordle or crossword - after accomplishing a task.
GIF break: Reward yourself with a search for funny GIFs that capture your mood after a task well done. Add it to a collection to browse for motivation at a later date.
Movement break: Put on a favorite tune and dance, or take a short walk around the block to clear your head.
Text a friend: Message a friend to check in with them or share your achievement. Just make sure to use a timer to avoid getting stuck messaging in couch lock.
Declutter progress photo: Take a "before" photo of an area in your bedroom. After cleaning, take an "after" photo. Seeing the difference is a reward in itself.
Screenshot celebration: Capture a screenshot or photo of your task completion, whether it's a cleared inbox or tidy space. Compile these photos for a visual progress record.
8. Create accountability with body doubling and coworking.
Our lack of motivation can make starting tasks feel agonizing if we're alone. Creating accountability through body-doubling or coworking with someone can be a huge driver for us to get going.
Finding an accountability buddy might seem difficult, but it's worth the effort since body doubling helps with staying on task.
🧠 Want to try coworking with neurodivergent folks? The Inflow app offers regular focus rooms and coworking sessions for members to drop in whenever they need accountability, help with task initiation, or just virtual company with like-minded people who get it.
9. Seek inspiration.
One secret motivational tactic you probably haven't heard: seeking inspiration.
Let's say you want to design a newsletter on your computer but you're unsure where to start. You could browse design templates on Canva, watch a how-to YouTube video, or browse your email inbox for newsletters you've received and mirror their style.
10. Figure out your peak productivity hours.
Many people with ADHD are more productive at night due to delayed sleep phase syndrome, a circadian rhythm disorder where the natural sleep/wake cycle is dysregulated. Others are simply night owls whose brains switch on later in the day.
Observe when your productive hours are. Take notes for a week or two, and write down how you feel during certain times of the day. If you struggle to identify your 'golden hour,' work backward: When is your worst time of day for focused work? When do you feel like concentrating is a bit easier?
⏳ Protect your golden hours! Don't use them to clear your inbox or finish household chores. If you can help it, avoid scheduling meetings during these hours. They're your prime time to engage with challenging or creative tasks requiring more attention.
11. Create a sense of urgency with timers or deadlines.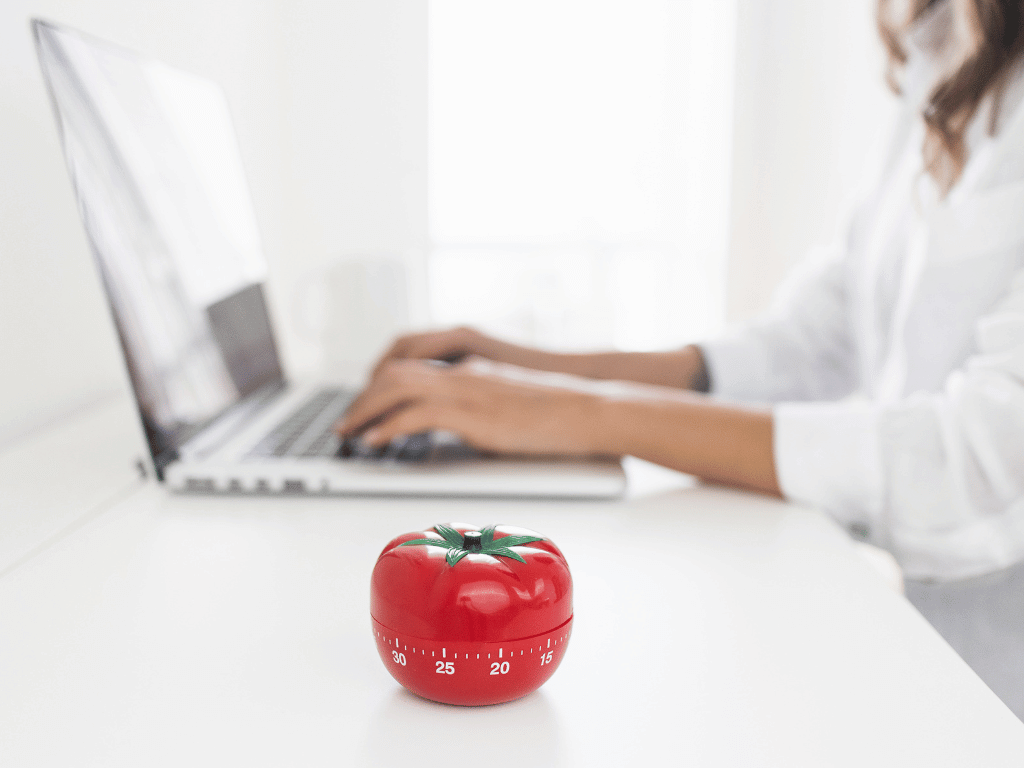 ADHDers often struggle with something called time blindness.
Luckily, we have tools to help us stay on top of deadlines. Visual timers or a simple kitchen timer can help us block time and remain focused.
Creating new deadlines can help, too! For example, if you're can't find motivation to clean your house, create a deadline by inviting someone over in a few hours. The approaching visit will help you get started and not get too locked into cleaning one area.
12. Use task prioritization strategies.
ADHD inhibits executive function, making it hard to figure out which tasks are truly important.
If you struggle with this, check out our article on task prioritization strategies, which explains several tips and tricks, including the Eisenhower matrix (which sorts tasks based on importance and urgency) and the 80/20 rule (which is a principle for identifying tasks that really move the needle.)
13. Identify and minimize your distractions.
We know how frustrating it is to get interrupted in our workflow (like when your cat is 'starving' because his last meal was over an hour ago, or your friend really needs to know about Friday dinner plans right now).
These distractions put extra demands on our brains to get back into work mode.
Figure out your most common distractions and find ways to reduce them. You could work away from home one day, e.g., at the local library, set your phone to 'Do not disturb,' or let your friends know when you're available to chat and when you aren't.
14. Keep your eye on the prize.
When we're demotivated in the middle of a task, remembering our end goal helps us visualize how good we'll feel once we've accomplished what we set out to do. Most of the time, this can get you back on track.
15. Ask for help.
Many adults with ADHD are experts at problem-solving. But sometimes, we're less likely to ask for help because we think we should find all the solutions ourselves.
Although we're resourceful, there's no shame in asking for help. Consider who would give you unbiased advice in a moment of need - a partner, close friends, or family members. If their advice doesn't feel helpful or ADHD-friendly, consider a therapist specialized in neurodivergence or an ADHD coach.
Final thoughts
Motivation can be one of the hardest things for people with ADHD to attain. If you struggle with this, please remember it's not your fault and that it's fixable! Many ADHDers feel guilty about lacking motivation, and it's often a journey of trial and error before we find the strategies that work for us.
Thankfully, learning about how ADHD works and affects us can help us recognize which methods work with our neurodivergent brains rather than against them.
‍
-
Sources
1 Journal of Attention Disorders | Studying Motivation in ADHD: The Role of Internal Motives and the Relevance of Self Determination Theory (2022)
2 School Mental Health | Managing ADHD at the Post-Secondary Transition: A Qualitative Study of Parent and Young Adult Perspectives (2018)