The new year is upon us! Where did the time go?!
Whether you love them or hate them, it can be tough to stick to resolutions (regardless of the time of year), especially for those of us with ADHD. (And if you're reading this in January because you procrastinated on making resolutions last month, you're in good company... because we also procrastinated on publishing this article.)
But fear not; we've got you covered. This article will examine practical resolutions for ADHDers and outline the easiest ways to achieve them.

Too long; didn't read
Don't overload yourself with resolutions. Pick two or three.
Break down larger goals into smaller, more manageable steps.
Using the SMART framework can help you set clear and attainable goals.
Remember: Done is better than perfect.

The problem with 'traditional' New Year's resolutions
What is it with New Year's resolutions that set people up for failure? This is definitely not just an ADHD thing; neurotypicals struggle to achieve their resolutions, too.
Most goals set in January each year are often unrealistic and incredibly vague. But - we need specificity to succeed. ("Exercise more" or "eat healthier," anyone?)
Not to mention, our society seems more drawn to clichéd resolutions that don't hold enough meaning or importance, which can be especially hard for neurodiverse folks. The ADHD brain needs to be invested in the WHY—why are we doing this challenging new thing? If we're not committed to it—or worse, if we don't know our why—it can feel impossible to stay motivated.

Realistic New Year's resolutions for adults with ADHD in 2023
After browsing our ideas and choosing a few for yourself, make sure you scroll down to the next section to learn how to make them more ADHD-friendly! 
Prioritizing self-care
Drink more water.
Find a bedtime routine that works for me.
Brush my teeth every day, and floss when I can remember to.
Eat more than once a day.
Get outside regularly for sunlight and walks.
Move my body more! (Just in a way that feels good—it doesn't have to be "exercise"!)
Make more time for my hobbies. (And don't feel guilty about it.)
Learn to say 'No,' especially when I'm overcommitted, overwhelmed, or burnt out.
Nurturing friendships and relationships
Initiate communication with a friend or family member once per [insert desired and reasonable frequency here].
💡 Pro tip! Remember, there's no inconvenient time to say 'Hi' to someone. So don't overthink it, or you may end up accidentally ghosting people you care about.
Put my phone down when I'm talking with friends and family. 
Be more mindful of how I communicate with others.
Own up to any mistakes I make this year.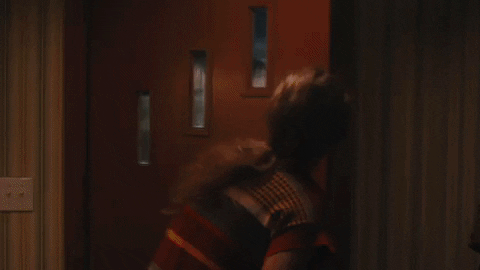 Adulting (without panicking)
Schedule emails or Slack messages instead of sending them right away. (This helps with ADHD impulsivity; plus, you won't have to worry about being judged for sending your stream of consciousness to coworkers at 2 am.)
Check my email at least once per [insert desired and reasonable frequency here].
Do at least one boring (but essential) task or chore every day. (Make sure you reward yourself, too!)
Make lists, kanban boards, and workflows for different areas of my life.
Figure out my goals and break them down into the smallest chunks possible.

How to actually stick to your New Year's resolutions with ADHD
First - don't make too many resolutions this year! It's okay to pick two or three. Once you decide on what promises you'd like to make to yourself this year, use the SMART goal approach.
Use the SMART goals technique
This is a popular technique to help you effectively set clear goals. Here's what it stands for and how to use it: 

S - specific
Make them clear and specific. (And build up to it! Don't play on the hardest setting before trying the tutorial.)
For instance, instead of setting a goal to "drink more water," set you initial goal to "drink two bottles of water a day." Once you've hit that goal consistently, you can increase your specifications.

M - measurable
Measurable goals allow you to track your progress. The example above has a measurable goal because it specifies how much water to drink each day.

A - achievable
Your goals should be realistic and within reach. It's okay if they're challenging, but they should still be attainable.

R - relevant
Are your resolutions relevant to your overall goals and priorities? Align them with your values to stay motivated.

T - time-bound
Set a specific deadline or time frame to add a sense of urgency.

Remember: Done is better than perfect
As ADHDers, we can get in our own way when we let perfectionism and 'all-or-nothing' thinking take over. So how to get out of our way? Here are a few ideas:

Don't have time to vacuum the whole house? Only do one room; yes, even if it's just half-heartedly.
Too tired for that run? Go for a short walk.
Didn't go to the gym the last three days? No need to give up. Just go now… or tomorrow.

Final thoughts
Setting realistic goals and making promises to ourselves also requires flexibility and self-compassion. Sometimes we may struggle to meet expectations due to our ADHD challenges, but it's important to be patient with ourselves. Remember that you don't have to make the same goals everyone else is making! Instead, focus on what's important to you, and find your why.
Celebrate your small wins, and don't be afraid to make adjustments or seek support when you need it.