Finding time or motivation to exercise isn't easy. And if you lack both at the same time—#ADHD, am I right?—it can feel like you'll never get around to using your gym membership.
For me, exercise is on my daily to-do list, but it's still one of the most challenging tasks to complete—even though I always feel physically and mentally better after I check it off my list.
Struggling to exercise is a typical human experience that actually has nothing to do with laziness. Of course, having ADHD can make workout motivation challenging, but it doesn't have to be that way.
If you're struggling to motivate yourself to exercise with ADHD, read on to learn how to shift this struggle to success.
Too long; didn't read
Struggling to exercise is normal, and doesn't make you lazy.
Exercise is essential because it enhances learning, boosts mood, improves memory, and more.
Find what motivates you to exercise. Common motivators include a specific time of day, doing it with friends, and scheduling workouts.
Meet your exercise goals by setting your gym clothes out the night before, tracking your exercise, or finding a new show or podcast to engage with during your workouts.
What are the benefits of exercise?
It's no secret that exercise is full of benefits for both body and mind. To help refresh your memory, let's go over some commonly known benefits and some that may surprise you.
Exercise enhances your learning capacity.
ADHD is not a learning disability, but some of the symptoms associated with ADHD can make it challenging to learn in the way that best serves you.
Studies show that exercise can boost learning and slow down the natural degradation of brain cells.1 By adding exercise into your life, your body and brain gain strength.
Exercise can boost your mood.
One of the unfortunate parts of the ADHD experience is mood swings.2 One minute you're feeling motivated and inspired; the next, you've hit burnout and feel like you can't do anything. Those with ADHD are shown to be more likely to suffer from depression because of the challenges they face.
If depression sounds familiar, then exercise may be a solution. Researchers have found that exercise also reduces the risk for depression.3 Exercising while depressed can feel like an impossible task, so keeping a steady workout schedule during a happier period may prevent you from hitting a low point.
Exercise enhances your memory and cognition.
Many people with ADHD also struggle with their working memory, which may look like forgetfulness and aloofness. Fortunately, exercise can help you improve your working memory.
Research shows that aerobic exercise can improve executive functioning (which includes working memory) and decrease cognitive fatigue.4
In other words, exercise helps you think more clearly and efficiently.
Find what motivates you.
Convincing your ADHD brain to exercise is achieved by finding which motivation works for you. The search for your source of inspiration is very personal and depends on different factors, like life stage or physical fitness goals.
Common motivators to get you moving
Though motivations vary, here are some of the most common ones that may help spark your brain to get going:
Time of day
Some people prefer to make exercise part of their morning routine, while others only enjoy nighttime exercise.
Friends or trainers
The buddy system works great for accountability.
Scheduling a workout
Rather than just trying to fit in a workout when you can, schedule it like it's a meeting you can't miss. Try signing up for a workout class!
Feeling less sleepy
Cardiovascular exercise improves your heart health, making your blood pump through your body more efficiently and keeping you awake and active during the day.
👉 You try it: Check out the improving motivation module on the Inflow app to find out more about the ADHD motivation trifecta or read our blog on the RAN method for motivation.
How to stay motivated to meet your exercise goals with ADHD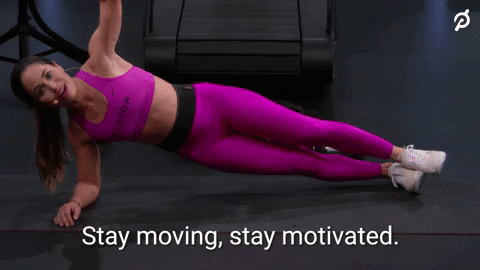 ‍
1. Find a workout buddy.
Exercise is more fun with a friend, and a friend will hold you accountable—it's a win-win!
If you promise a friend that you're going to a spin class with them at 9 a.m. on Friday, not showing up means breaking a promise to you and your friend.
A workout buddy is also great if you're having a couch-lock day. Your friend can swoop in and motivate you to move your body, even a little bit, to help you feel better.
2. Consistency is key.
You don't need to work out for hours to make a significant difference in your body. Consistency is far more critical than logging long hours at the gym.
Even if you can only manage 15 minutes of yoga or stretching while watching your favorite show, that's great!
Try to get some form of exercise every day. Here are some ideas:
Yoga
Pilates
Walking
Swimming
Dancing
Biking or skating
Jogging or running
Jumping rope
Jumping on a trampoline
3. Set your clothes out the night before.
If you're a morning person, a great way to motivate yourself is to lay your clothes out the night before so that you see them first thing in the morning. The guilt of that workout fit staring you in the face and not getting used may be enough to make you put it on and work out.
4. Find a new sport or activity.
If going to the gym or a class isn't your thing, don't worry – you can pick up a new sport to enjoy. This doubles as a hobby too, which ADHDers love!
Your new sport doesn't have to be anything intense – in fact, pickleball has exploded in popularity recently—a sport that's great for those with a limited ability to exercise or who prefer something more low-key.
5. Track your activity levels.
See the progress you're making by tracking your workouts. For example, create a calendar where you write your activities and put a sticker on the days you complete them. Or you may like an app better to keep track of your actions. Find a way to track that is fun for you and makes you feel accomplished.
6. Watch a show or listen to a podcast during your workouts.
You don't have to go to the gym to get a workout in – you can sit in the comfort of your living room with your favorite TV show playing.
If getting up and going to the gym is a blocker for you, don't worry about that, and choose the path of least resistance. Bring the exercise to you in a way that makes you feel comfortable.
Final thoughts
Forming habits is a not easy for anyone, and with ADHD, we can face additional challenges on our way to making healthy changes. So, please remember to give yourself patience and grace, especially on low-energy days when you break your 'perfect' streak.
Life happens, right? There's nothing wrong with making it as easy as possible to follow through on your plans or to get back on the wagon. Try to avoid comparing yourself to others or an idealized image of fitness - the best kind of exercise is one you can actually find joy in.
💡 Pro tip: Even though we're well into 2023, our blog on realistic New Year's resolutions for ADHDers has helpful strategies for how to set goals and stick with them, no matter the time of year.
‍
Sources:
1 The Journal of Neuroscience | Exercise Enhances Learning and Hippocampal Neurogenesis in Aged Mice
2 Medicine and Science in Sports and Exercise | Acute Exercise Improves Mood and Motivation in Young Men with ADHD Symptoms.
3 Current Sports Medicine Reports | The Role of Exercise in Preventing and Treating Depression
4 Medicine and Science in Sports and Exercise | Aftereffects of Cognitively Demanding Acute Aerobic Exercise on Working Memory