About two weeks ago, my partner said I was starting to look like I was battling burnout. I couldn't disagree with him. My insomnia had worsened, I had daily headaches, my ADHD inattention was the worst it's ever been, and—the cherry on top—an infection I picked up last month was lingering.
(Serious question: what's up with the flu this year?)

What was going on with me?
Does this sound like something you've experienced? Maybe it's time to take a break—from all of it—even during the holidays.

How did I get here?

The overwhelm-shutdown cycle: turns out I'm not a machine!
Looking back, it makes sense that I reached the burnout stage. I was overworking myself—writing my thesis and working two jobs. It had been months since I took a day off. So you could say I wasn't managing my time or energy very well.

I took a step back from teaching, a very energy-demanding job at the best of times, but I was so exhausted that the thought of continuing caused an emotional outburst. Being a teacher with ADHD requires me to put on two masks: a "teacher mask" and a "neurotypical mask." 

(It's exhausting for those who were curious!)

Enter: Social obligations. 

Social expectations: too much masking
My in-laws were coming for a visit that same week. Don't get me wrong - my parents-in-law are fantastic people, and I enjoy their company. Plus, we missed these visits for two years due to the COVID-19 pandemic. 

But that's the problem: my ADHD masking skills are garbage now! I can no longer mask my neurodiversity around others for long periods ever since 2020 happened. 

After four consecutive evenings of socializing, my already-low "social battery" was drained. Traveling abroad for Christmas while already feeling this depleted felt too much to handle.

Let's face it: No matter how much we love our families, the holiday season can be incredibly stressful, especially for those of us with ADHD... or any mental health condition for that matter. 

Generally stressful holiday things that are extra stressful for my ADHD brain
Social events drain my social battery.
So many sensory nightmares—crowded shopping malls, bright lights, loud Christmas music, wrapping gifts, etc.
Never-ending to-do lists. (Task initiation is already a struggle for us!)
Preparing for guests (i.e. cleaning my house for the first time in 19 months, planning and cooking big meals, etc.)
Traveling and everything that comes with it (planning, packing, unpacking...)
This is all a recipe for a neurodivergent disaster! These holiday things can overwhelm our executive functioning—something ADHDers already struggle with. 

And, in case you hadn't noticed, the above list doesn't even include work-related stressors, parenting duties, school assignments, or heightened family expectations.

How to have a less stressful (ADHD) holiday
I needed some breathing room—a good chunk of time for real rest.

Call me a Krank, but I decided then and there that I was canceling Christmas.

Stop assuming that you're the villain for having priorities.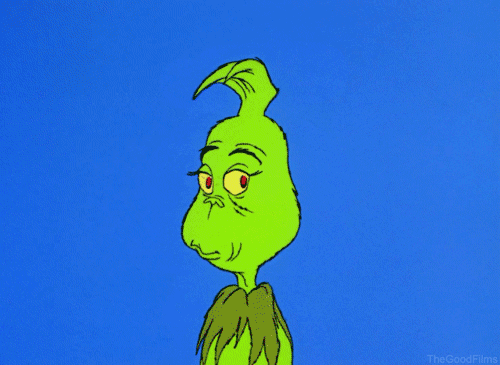 When I announced that I was going full-Grinch this year, my partner immediately gave me his full support. 

What did I expect? 
That somehow I'd be made to feel bad
That my inner critic's voice would be echoed by his, telling me I was being selfish and ought to think of the family
That I'd disappoint everyone
That I'd soon decide to ditch my idea and prioritize other people's opinions over my well-being (i.e. "people-pleasing")

(...if you have ADHD, autism, anxiety, et al., you know the drill.)
But none of that happened! So I was relieved, to say the least.

Set boundaries and enforce them.
ADHDers, in particular, have a hard time drawing boundaries and enforcing them. We tend to be quite good at telling friends to look after themselves, but somehow, many of us still internalize the idea that we deserve less. 

I think this may have to do with rejection sensitive dysphoria (RSD). Not only does rejection feel awful, but we also tend to ruminate over the anticipation of how others might reject us if we disappoint them. (Or is it just me?)

But ultimately, if we run ragged trying to fulfill everyone else's expectations, we'll run out of 'us' to give. Forgive me for veering into cliché, but sometimes you must put on your oxygen mask first. Who knows, you may even inspire someone else to let go of some expectation or tradition that no longer serves them. 

Sorry not sorry
So… I canceled Christmas. I'm not going to travel anywhere. I'll stay home, cuddle with the cats, eat takeout, binge Netflix series, and actually rest and relax.
Lo and behold: Our families did indeed understand. 

🎄 Not ready to pull the plug on the holidays? Read our tips on how to handle holiday overwhelm.