Budgeting is tricky, but for people with attention-deficit/hyperactivity disorder (ADHD), it can be especially tough to budget and save money.
Many ADHDers have tried to budget using methods they've found on the internet. However, most tips on the internet are directed toward neurotypical people and can sometimes prove unhelpful and induce shame.
Here are some low-effort strategies that can actually work for people with ADHD and help them reach financial success.
⚠️ Financial advice disclaimer: The information provided is for general informational purposes only. The ADHD blog editors and writers are not licensed financial advisors. Advice given is based on personal experiences and opinions. Consider your personal financial situation before making any decisions.
Too long; didn't read
Many ADHDers struggle with impulsivity and organizational skills, making budgeting difficult.
Following a plan like the 50/30/20 budget and developing a money mindset can help us budget better.
Automating spending and creating a "don't do" list related to spending are just two ways we can keep our budget habits strong in the long run.
Why is budgeting harder for people with ADHD?
People with ADHD struggle with inattentiveness, hyperactivity, and impulsivity, which makes us less likely to (remember to) take responsibility for managing bills, staying organized, and keeping up with critical deadlines.1
Some ADHDers are also prone to impulse spending, making it easier to overspend and accumulate debt.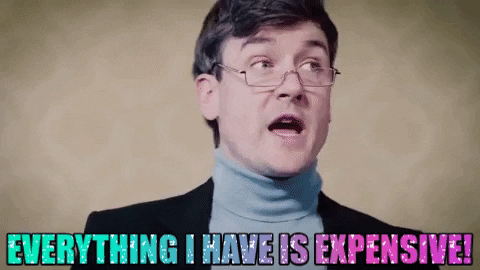 Is your budget the problem… or something else? The Inflow app can help you with underlying ADHD issues, whether it's inattentiveness, hyperactivity, or impulsivity, Inflow has a module to help! Take our ADHD quiz to get started!
How to create an ADHD-friendly budget
There are several ways to manage your budget without getting overwhelmed. Understanding the basics of budgeting and learning some tricks can lessen your anxiety while giving you the confidence to build a money mindset.
1. Reframe how you define budgeting.
Even though the thought of managing your finances with a budget might make you groan, rethinking money management as an act of self-care instead of something to hate might make you more eager to take small steps toward financial stability.
Ask yourself why you want to keep a budget. It may be because you want to move to a city you've always wanted to live in, relieve financial stress, buy a house, or save up for a vacation.
Whatever your goals are, use this as motivation so that when you forget why you've created a budget in the first place, you can remind yourself of your goals and keep going.
2. Separate your expense categories.
Look at your expenses, and decide which are fixed or variable. Fixed expenses are less likely to change each month and include costs like rent, utilities, insurance, and debt repayments. Variable expenses are flexible and include things like groceries, dining out, gas, or personal care items.
Categorizing expenses helps you understand your spending and identify where you can cut costs. This will give you some much-needed stability and organization in your finances.
3. Use the 50/30/20 budget rule.
A good rule of thumb for managing your money is to use the 50/30/20 budget.
Fifty percent: 50% of expenses should account for needs you can't live without, such as groceries, housing, transportation, or insurance.
Thirty percent: 30% of your expenses can be for wants. This may include shopping, a gym membership, dining out, or vacation airfare costs.
Twenty percent: Putting 20% away for savings, debt repayment, 401(k) investments, or an emergency fund is ideal.
Using this method, you can ensure you're not overspending in any given category and steer clear of the ADHD debt cycle.
It's also a great way to invest for the future and look at additional ways of saving, like creating a rainy-day fund (aka emergency fund) for unexpected expenses, such as car repairs or larger medical bills.
If you're looking to save money for an emergency fund, consider using a high-yield savings account to earn interest on your money. Several online banks like Ally make it easier to access your money when you need it without any penalties.
4. Automate your expenses.
It can feel impossible to track all our bills ourselves, but some tools can help us budget and automate payments easier.
Free apps like Mint and Vault can remind you when your bills are due. They also let you separate expenses into categories to track where your money is going.
Putting bills on autopay can be a lifesaver for us ADHDers. Many utility and credit card companies can set up autopay online, taking away the manual effort of paying bills and building credit simultaneously.
However, if autopay isn't an option, try setting recurring calendar reminders so you remember to pay your bills. One approach that's worked for my ADHD is that once I see the reminder on my phone, I pay the bill immediately to get the task out of the way and avoid the risk late fees (aka the "ADHD tax").
5. Make a financial "To-DON'T" list.
Nobody's perfect, so there will be times when we make mistakes and don't follow our budget perfectly. That's okay.
One strategy to help with this tendency is creating a "to-don't" list to keep us accountable in our budgeting.
Your financial to-don't list might include the following:
Reaching into the emergency fund for non-emergency expenses
Defaulting on credit card or student loan repayments
Falling victim to your impulse spending
Having one-click purchase apps on your phone
Everyone's list will be slightly different; make sure yours is tailored to your needs. You can also list the goals you want to accomplish with your budget. Keep this list near your to-don't list as motivation to avoid bad habits and become financially savvy.
🧠 Pro tip: Check out our blog on how to use to-don't lists to boost your productivity.
Sources
1 Review of Finance | ADHD Symptoms and Financial Distress