Friendships are important at every age; they can improve our mental health, sense of self, and overall well-being, but making friends as adults is no easy task. As adults, various responsibilities make building and maintaining friendships more difficult. And for those with ADHD, making friends can be even more challenging.
👭 Friendship research: According to a 2021 study, 49% of Americans have fewer than three close friends, and 12% report having no close friends. 1
Too long; didn't read
People with ADHD tend to have more difficulty making friends.
ADHD traits like impulsivity, lack of attention, forgetfulness, chronic lateness, and poor planning can negatively impact friendships.
Anxiety, depression, and low self-esteem can also affect ADHD relationships.
Self-awareness, good communication, and choosing activities that keep you engaged can help improve friendships.
How ADHD can "ruin" friendships
If you have ADHD, you may struggle in social situations. It can feel like everyone intuitively understands how to interact with others as if you're unaware of some sort of secret code, but many people think this way.
Children with ADHD have fewer friends and less satisfying friendships than neurotypical children 2, which can carry over into adulthood.
Why is that?
Social skills challenges
Social skills are learned behaviors. Children learn how to act, respond, and interact with others through observational learning, that is, by watching their parents and caregivers. For kids with ADHD though, the observational component of this is often impaired due to lack of attention. 3
Kids with ADHD struggle to pick up on social cues and recognize emotion. Demonstrating impulsivity, especially in unstructured environments like recess, can make it harder to learn important friendship skills. 4
Impulsivity and inattention
Core characteristics of ADHD include lower impulse control and difficulty paying attention. Both traits can cause ADHDers to offend others inadvertently.
Inattentiveness, for example, can be seen as disinterest. Getting distracted or struggling to stay on topic during conversations might be part of your ADHD, but to those around you, it could signal indifference. Impulsivity might look like interrupting or dominating conversations. Or, it could look like making insensitive or hurtful comments without realizing it. 3
Executive dysfunction
Those with ADHD often struggle with executive functioning. These cognitive processes involve scheduling, planning, and time management. 4
Deficits in executive functioning can lead to someone with ADHD consistently showing up to events late, failing to respond to text messages, or struggling to initiate contact. What others might interpret as being flaky or inconsistent though could be forgetfulness or poor organizational and planning skills.
Emotions and mood swings
Many ADHDers struggle with emotional regulation or the ability to control emotions appropriately. Adults with ADHD might deal with their anger in destructive or maladaptive ways, such as yelling or becoming confrontational. 3
One study found that those with ADHD were more negative and less agreeable on social media than those without ADHD. They also displayed more self-criticism and emotional dysregulation. 5 Obviously, being disagreeable, critical, and quick to anger can cause relationship problems.
Anxiety and depression
Adults with ADHD are more likely to suffer from anxiety, depression, and low self-esteem 6, making socializing more difficult.
Rejection sensitive dysphoria (RSD) is another common struggle. With RSD, people experience intense negative emotions in response to social rejection – either real or perceived. As a result, those with ADHD are more likely to use avoidance as a coping mechanism. 7
Feeling overwhelmed
Executive functioning difficulties mean ADHDers must work harder to pick up on social cues, manage emotions, and plan effectively.
Even when we do try to keep up, we might abruptly interrupt others, space out in the middle of a conversation, or forget to respond to messages. We might constantly worry about how our behaviors come across to everyone else.
Imagine how overwhelming that is! But, unfortunately, for ADHDers, that's our reality, so sometimes we feel exhausted and burnt out just from the thought of socializing. Maintaining friendships is hard enough, and making new friends can seem downright impossible.
How to make friends as an ADHD adult  
Fortunately, there are things you can do to improve your friendships.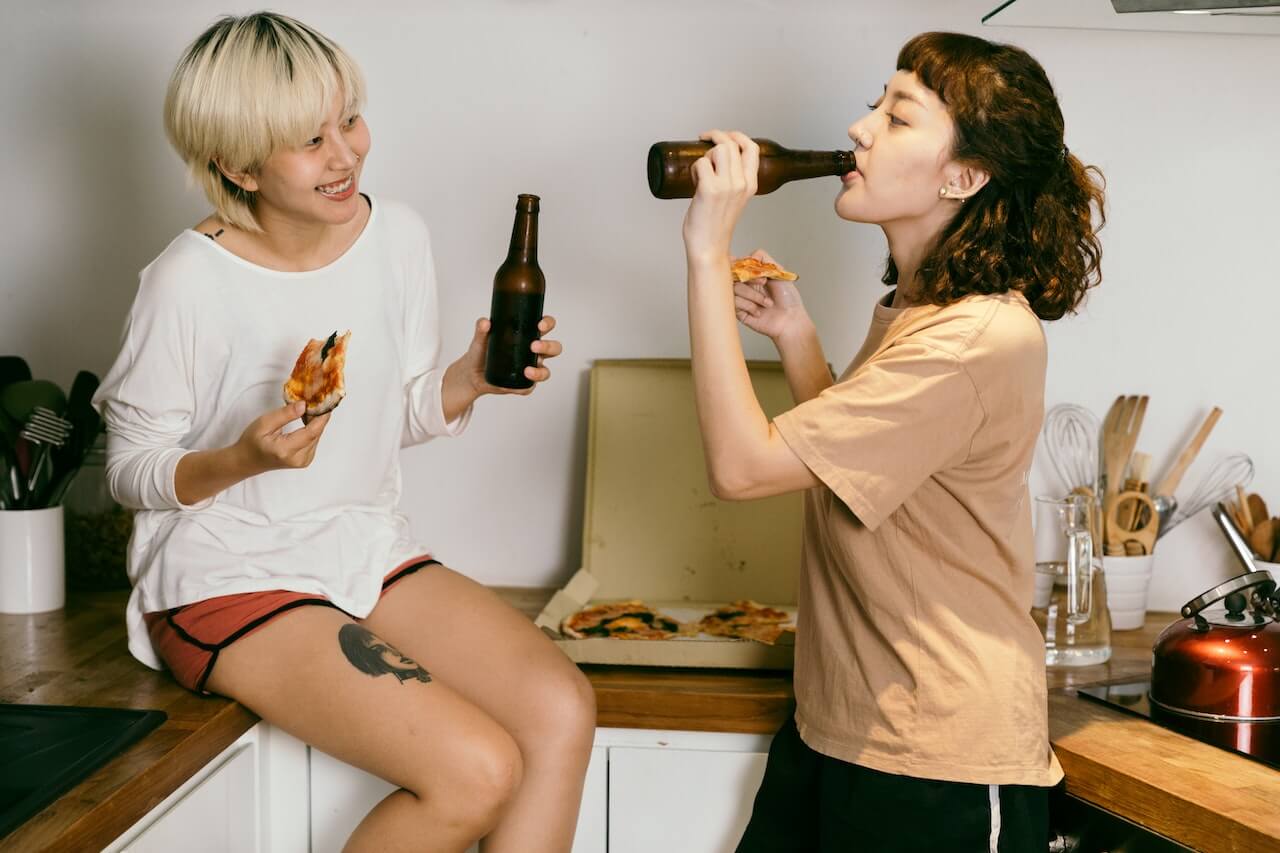 Practice self-awareness.
ADHD can make it harder to interpret social cues. Those with ADHD are more likely to have an overly optimistic view of their behavior. 4
We may think we had a great conversation while others didn't. When our feelings aren't reciprocated, it can be confusing and disheartening.
How to be more self-aware in conversations:
Observe how others interact.
Pay attention to your body language.
Ask a trusted friend for help.
Work on your communication skills.
Many ADHD-related social mishaps are unintentional. We don't mean to forget a new colleague's name or interrupt a friend's funny story, but afterward, we might feel a lot of shame and embarrassment.
One way to combat this is by communicating openly about your ADHD symptoms to help others understand you better. Good communication is essential, even if you're uncomfortable opening up. A simple "I can't believe I forgot to text you back!" can go a long way.
If it's been especially rough, saying something like, "I'm sorry I haven't been a great friend lately, and I appreciate you making a big effort to reach out to me," shows a lot of self-awareness.
Schedule your social life.
Sticking with the texting example, an apology for leaving someone on read is good (but replying in the first place is even better). So, next time, set a reminder for the next day to ensure you remember.
Schedule regular check-ins with your friends to easily maintain your relationships. If you have trouble socializing, pick a specific day each week, like Tuesdays, for social engagements. Pick a specific time of day to reply to all your messages. For example, I like to do it right after I take my medication while I drink my morning coffee.
Invite everyone over (so you don't have to go out.)
I once ghosted so many friends that I joked that I should invite them all to my house and simultaneously knock out all my looming social obligations. Turns out, that's just called "throwing a party," and it's now my not-so-secret life hack.
If it's hard for you to maintain friendships, socialize with more than one friend at a time. You'll introduce more cool people to each other, which is a great way to earn some social points.
Added bonus: Inviting people over might motivate you to clean your house!
Practice self-care.
ADHDers can easily experience burnout, so it's important to practice self-care. Exercise, yoga, and mindfulness are beneficial. 3
Setting boundaries with friends, especially when you feel socially exhausted, is another way to care for yourself.
Choose the right activities.
I could talk about books all day long. But as soon as somebody starts talking about science, it's impossible for me not to tune out completely.
So, choose an activity that you enjoy when you socialize. Your engagement will be much higher doing something you're passionate about.
‍
-
Sources
1 Survey Center on American Life | The State of American Friendship: Change, Challenges, and Loss
2 Emotional and Behavioural Difficulties | Friendship quality, emotion understanding, and emotion regulation of children with and without attention deficit/hyperactivity disorder or specific learning disorder
3 The ADHD Report | Understanding the Friendships of Individuals with ADHD from an Executive Function Perspective
4 The Yale journal of biology and medicine | Social Functioning in Youth with Attention-Deficit/Hyperactivity Disorder and Sluggish Cognitive Tempo
5 Journal of Attention Disorders | Language of ADHD in Adults on Social Media
6 Frontiers in Psychiatry | The Direct/Indirect Association of ADHD/ODD Symptoms with Self-esteem, Self-perception, and Depression in Early Adolescents
7 Journal of Psychopathology and Behavioral Assessment | Adult ADHD, Emotion Dysregulation, and Functional Outcomes: Examining the Role of Emotion Regulation Strategies