Bruxism refers to a condition in which a person repetitively grinds their teeth or clenches their jaw.1 Teeth grinding usually occurs during sleep, though it can also happen during the day. It may cause other health issues, like headaches, jaw pain, long-term tooth damage, and temporomandibular joint (TMJ) disorders.
People with attention-deficit/hyperactivity disorder (ADHD) have a higher risk of bruxism because they are prone to experience anxiety, stress, and hyperactivity. This article will explore the different types of bruxism and various coping strategies to help.
Too long; didn't read
Bruxism refers to a condition in which a person repetitively grinds their teeth or clenches their jaw.
ADHD does not cause bruxism, but there's a high prevalence among ADHDers from anxiety, stress, and hyperactivity.
Bruxism can cause headaches, jaw pain, long-term tooth damage, and temporomandibular joint (TMJ) disorders.
Treatment methods include therapy, mouthguards, splint therapy, medications, and stress-reduction techniques.
What is bruxism?
Bruxism refers to repetitive teeth grinding, gnashing, and jaw clenching. It can involve just the front teeth or all of them, and there are two main types:2
Awake bruxism (AB): Daytime bruxism occurs when people are awake, and the symptoms progress throughout the day. This type is more common in women.
Sleep bruxism (SB): Also known as nocturnal bruxism, this occurs during sleep, with the worst symptoms noticeable just as a person wakes up.
How is bruxism related to ADHD?
ADHD does not cause bruxism, but people with ADHD have a greater chance of developing both types of bruxism than neurotypicals.3
While the exact reasons for this relationship need further exploration, researchers suggest a few possible ideas.
Comorbid conditions
ADHD symptoms can increase a person's risk of developing other related sleep disorders, such as insomnia, sleep-disordered breathing, or restless leg syndrome.4 Bruxism is closely related to all of these co-occurring conditions.
ADHD medication
Certain stimulant-based medications can cause teeth-grinding and jaw-clenching behaviors. For example, methylphenidate-based drugs—Concerta and Ritalin—cause both AB and SB.5
Yet, other research has found that adding adjunctive clonidine effectively treats bruxism, though more research is needed to confirm this.6
Common side effects of bruxism
While teeth grinding may seem inconsequential, it can cause long-term physical and emotional damage. It damages your teeth and can lead to other issues, such as headaches, jaw pain, and temporomandibular joint disorders (TMD).
The temporomandibular joint connects the mandible (lower jaw) to the skull, allowing it to open and close. As a result, it is crucial for speech, eating, and general functioning.
For those with bruxism, their TMJ is under constant pressure, leading to inflammation—causing headaches, dental issues, and pain. As a result, TMJ disorders can significantly impact a person's quality of life.
Signs and symptoms of bruxism
While the symptoms of bruxism vary in severity, general signs to look for include the following:
Aching jaw muscles (particularly when you wake up or at the end of the day)
Frequent headaches—tension headaches or dull headaches starting at the temples
Neck soreness or pain
Severe facial pain
Unexplained tooth damage—worn enamel, flattened tops, loose teeth, and chipped teeth
Damage to dental work—abnormal wear to crowns, restorations, and fillings
Tooth sensitivity—to heat, cold, or pressure
Signs of chewed gums or cheeks
Sleep disruptions
TMJ disorder diagnosis
A locked jaw
Earaches with no symptoms of ear infection or other ear issues
How to manage bruxism as a result of ADHD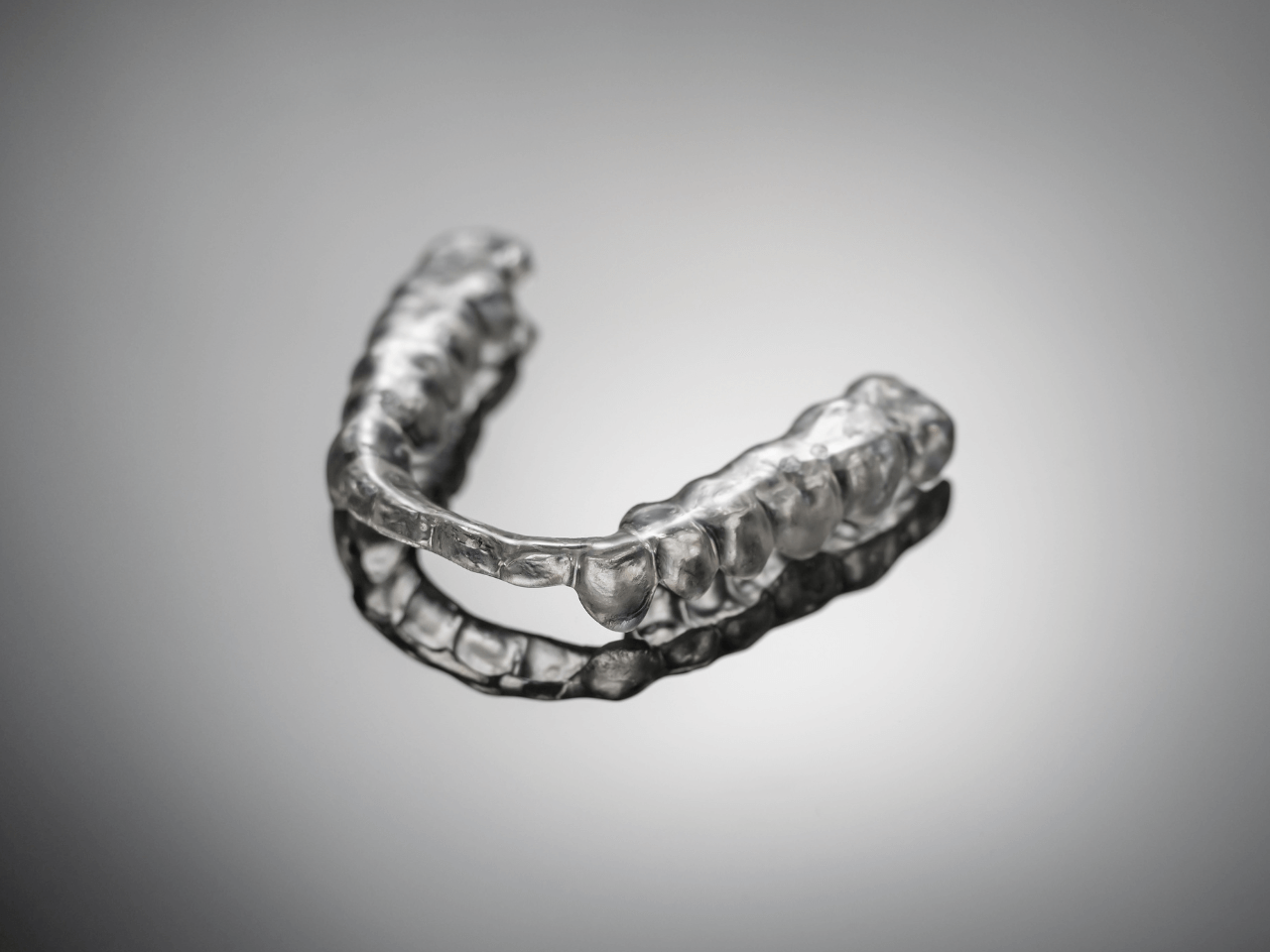 The good news is that bruxism is highly treatable. The bad news? There is no single solution for bruxism because of the range of potential causes, but these coping mechanisms can help.
1. Mouthguards or splint therapy
A mouthguard (aka night guard) is a standard recommendation for those with sleep bruxism. Night guards relax the jaw and protect the teeth from further damage from unconscious grinding.
2. Medication
In some instances, a doctor may prescribe medication. While there is limited data on the effectiveness of certain drugs, muscle relaxants have shown some promise.7 Additionally, a prescription change may help ADHDers whose stimulants worsen their teeth grinding.
💊 Note: You can find more information on ADHD medication options in this article.
3. Botox injections
In cases of severe symptoms, botox injections into the masseter (the large muscle that moves the jaw) relaxes the muscle and reduces symptoms.8
4. Overall stress reduction & sleep hygiene improvements
Yoga, meditation, therapy, and exercise may help individuals who deal with stress-induced or anxiety-induced bruxism. Also, different forms of counseling can help people improve their sleep hygiene, helping them to have a more restful slumber.
5. Biofeedback therapy
Biofeedback has also been found effective for bruxism.9 This is a mind-body technique implemented to help individuals recognize the physical signs and symptoms of stress and anxiety. It is especially suitable for those who want to avoid medication use as it's noninvasive, drug-free, and has a low risk of side effects.
👉 You try it! Check out the anxiety module on the Inflow app to learn more about the link between ADHD and anxiety and sensory management techniques to help you cope.
--
Sources:
1Journal of Prosthodontics | Bruxism in Movement Disorders: A Comprehensive Review
2The Journal of Indian Prosthodontic Society | Bruxism: A Literature Review
3Sleep Medicine Reviews | Is there an association between attention deficit hyperactivity disorder in children and adolescents and the occurrence of bruxism? A systematic review and meta-analysis
4Current Psychiatry Reports | Sleep Problems in Children with Attention Deficit/Hyperactivity Disorder: Current Status of Knowledge and Appropriate Management
5International Journal of Dentistry | Specific Central Nervous System Medications Are Associated with Temporomandibular Joint Symptoms
6Journal of Child and Adolescent Psychopharmacology (JCAP) | Methylphenidate-Induced Nocturnal Bruxism Alleviated by Adjunctive Clonidine
7Current Treatment Options in Neurology | Current Treatments of Bruxism
8Medicina Oral, Patologia Oral, Cirugia Bucal | Efficacy of botulinum toxin in the treatment of bruxism: Systematic review
9Japanese Dental Science Review | Managements of sleep bruxism in adult: A systematic review