⚠️ Content note: This article discusses disordered eating, which may trigger readers with similar experiences.
Do you ever feel like you can't get enough of a particular food, and nothing else seems to satisfy you? That specific dish or snack brings you so much joy for weeks or months - but suddenly, one day, you can't bear to take another bite. (Or maybe you just forget that it exists, because same.) This may be a sign of food hyperfixation, a phenomenon that can be experienced by anyone but is more common among people with ADHD and those on the autism spectrum.
It's important to remember that general hyperfixation is not exclusive to neurodivergent people. Neurotypicals have also reported intense focus on things that capture their interest. However, it's worth noting that the experiences of hyperfixation for ADHDers and people with autism may differ—in intensity, frequency, and length—from those of neurotypical individuals.
⚕ Medical advisory and disclaimer: This article is for informational purposes only and is not intended to replace professional medical advice. Eating disorders are serious mental health conditions that require professional and medical attention. If you or someone you know is struggling with an eating disorder, please seek the help of a qualified healthcare professional. We recommend the National Eating Disorders Association (NEDA) for support and resources.
Too long; didn't read
Food hyperfixation can be described as an intense and prolonged preoccupation with a particular food, usually described as the person's 'safe food'.
While anyone can experience it, food hyperfixation is more common among individuals with ADHD and/or autism.
Hyperfixation and hyperfocus are two different ideas described in more detail below.
If you need to adjust your diet for health reasons, it's easiest to start by making small changes and consulting a healthcare provider or registered dietitian.
Are hyperfixation and hyperfocus the same thing?
Hyperfocus and hyperfixation are terms used to describe an intense concentration on a particular task or topic. However, there are some differences between the two.
What is hyperfocus?
Hyperfocus is when an individual becomes so absorbed in a particular task or activity that they lose track of time and their surroundings.1 This can occur in anyone, regardless of whether or not they have ADHD or other neurodivergent conditions.
Although it can lead to time blindness and neglecting your personal needs, hyperfocus still has its benefits. ADHDers often say that hyperfocus states help them accomplish tasks and goals, especially if there's urgency involved.
What is hyperfixation?
"Hyperfixation" describes an intense and longer-term fixation or preoccupation with a topic or interest, often to the point where it interferes with other aspects of life. Compared to hyperfocus, hyperfixation is more likely to occur in people with autism or ADHD. However, it is still possible for neurotypical individuals to become hyper-fixated on topics and interests.
So, why do I keep eating the same food?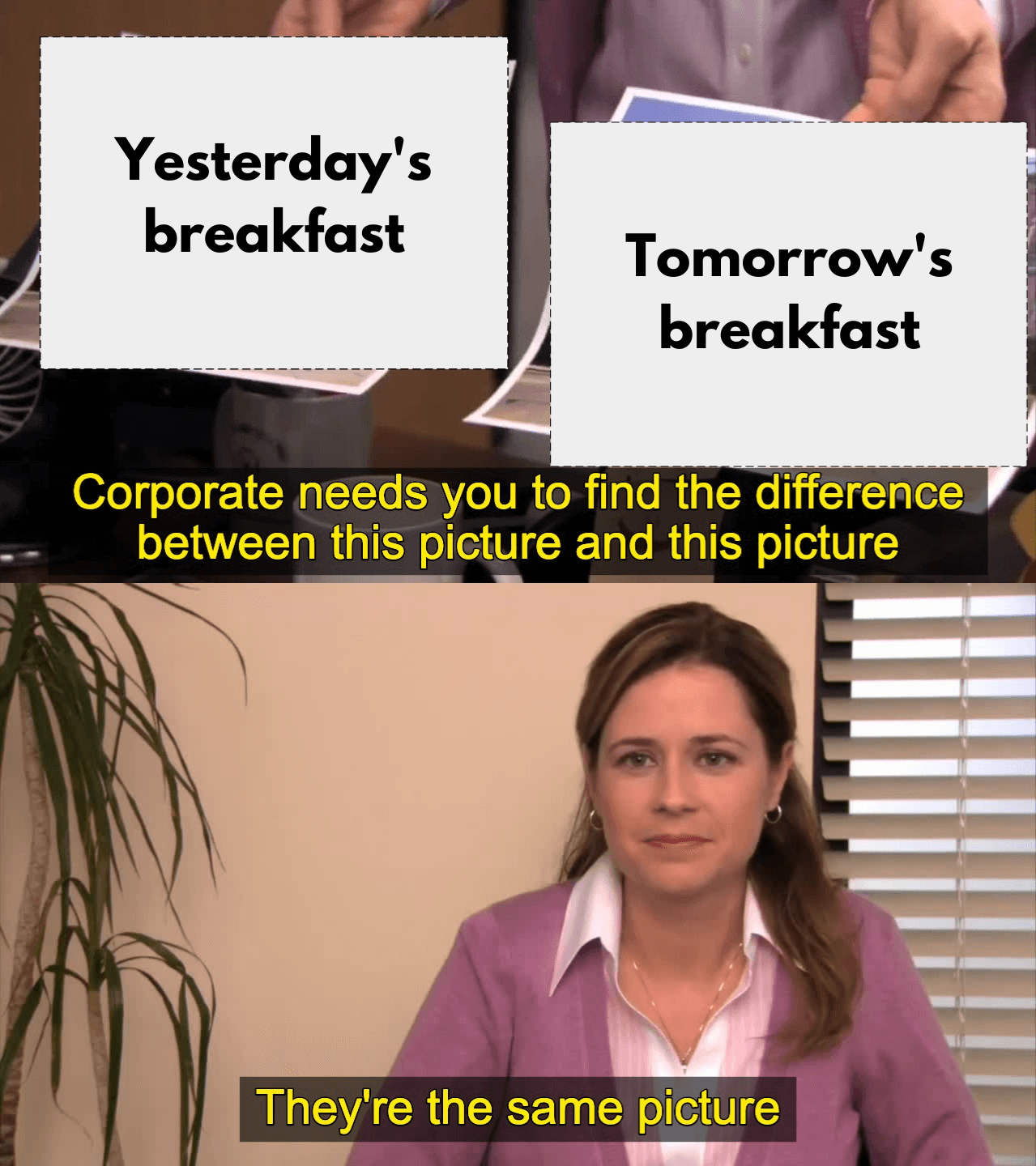 It's not uncommon for individuals with ADHD and autism to prefer to eat the same food—multiple times a day sometimes—for extended periods.
‍Why? Because it works! And we usually find some comfort in it, which is why many neurodiverse individuals call them their 'safe foods'.
I can even relate - I've been eating cheese and bacon sandwiches every morning without fail for the past few months. After researching this topic to write this, I realized it might be related to hyperfixation—where my intense focus on the sandwich makes it hard to imagine eating anything else.
However, I also know my interest in this food will probably fade eventually, just like it does with my hobbies.
Can my ADHD affect my eating habits?
Many people may assume that repeatedly eating the same food is only associated with autism, but it's also quite common among ADHDers.
ADHD traits and behaviors that can lead to food hyperfixation
There are other possible explanations for my food preferences and eating habits, and they're all manifestations of ADHD:
A need for instant gratification or reward, also called "dopamine-seeking"
Choice paralysis (aka decision paralysis, analysis paralysis)
Impatience; if the hyperfixation food is quick and simple, we might lose patience with other options
Being a "picky eater" or having limited food, texture, and flavor preferences due to sensory processing issues2
General executive functioning difficulties, making it hard to plan out meals in advance
A note on eating disorders
It's important to note that food hyperfixation alone doesn't necessarily indicate an eating disorder—so long as it's not leading to nutrient deficiencies or other health issues.
It's essential to seek support and treatment if you or someone you know is experiencing symptoms of an eating disorder, as these conditions can have serious health consequences. Remember that seeking help is a sign of strength. Recovery is possible with the proper care and support.
Now what?
First, ask yourself this question:
💭 Is my behavior causing harm to myself or others?
If not, then there's likely nothing to worry about — depending on how "harm" is defined. However, if you're like me and hyperfixate on foods that could have adverse effects on your health in the long run — like eating foods high in sugar or drinking energy drinks every day — we should probably both consider making some changes. This might involve more physical activity or exploring healthier food options that you enjoy just as much.
It's worth noting that food hyperfixation is a common experience among individuals in the neurodiverse community and is not necessarily harmful in and of itself.
Remember to prioritize your physical health and mental well-being. If you're concerned about your eating habits, consult a healthcare provider or registered dietitian for guidance and support. Small changes can lead to big improvements, and with the right resources, you can develop a healthy relationship with food that works for you.
❤️ Important! It's okay to have favorites and habits. But it's equally important to take care of yourself and maintain a healthy relationship with food and other aspects of your life.
‍
Sources
1 Psychological Research | Hyperfocus: the forgotten frontier of attention
2 Research in Autism Spectrum Disorders | Atypical eating behaviors in children and adolescents with autism, ADHD, other disorders, and typical development